We Need More Like Him
Harvey Fierstein Shows How to Be United
Volume CVII, No. 5
May, 2007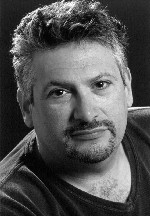 Photo by Martin Steisand
via Flickr.
How often does someone in our business stand up and publicly support Local 802 and live music? Not often, it seems. However, there is one person to whom we owe thanks and appreciation. Harvey Fierstein: actor, playwright and union supporter.
Everyone knows Fierstein as an accomplished actor in movies and TV, but we know him as a mover and a shaker in the Broadway community.
An incredible stage actor, he is among that rare breed of star performer and hit playwright, having won four Tonys in four different categories, and — on more than one occasion — having had two running shows at the same time.
But there is another side to him that is equally as powerful.
He is not afraid to stand up and support the people and unions that surround him; in fact he proudly speaks out on their behalf.
Fierstein stood side by side with Local 802 during our 2003 Broadway strike, making front page headlines in the New York Times.
Speaking out against the virtual orchestra machine, Fierstein told the New York Times, "We're professionals, we're artists — a machine is a dead thing. That's not why people go to live theatre. It's not why I want to be in live theatre."
In support of his fellow actors for his voiceover part in the 1998 Disney animated movie "Mulan," he told the magazine Watermark, "They called and wanted to try my voice for that character, a macho Chinese warrior. I made phone calls first to make sure a majority of the cast would be Asian, because I don't want to take work away from an Asian actor…After I made sure that they were indeed using a mostly Asian cast, then I said yes."
And then of course he is widely known for his relentless effort in speaking out for AIDS research.
Well, Fierstein spoke out again and this time he could not have been more clear.
Fierstein will be starring in "The Catered Affair," a new musical for which he wrote the book. The director is John Doyle, whose previous productions — "Company" and "Sweeney Todd" — featured actors playing instruments on stage. But Fierstein told the New York Post, "I ain't playing no damn tambourine. I'm very pro-union. I ain't taking no jobs from musicians."
Now this is the kind of thing that separates the good from the great. Not just resting on his talents as a performer and playwright, Fierstein lets his convictions speak as well.
In our case he understands full well that live theatre needs live music and he wants everyone to know it.
Maybe he can say this partly because he is a giant in his field, but I think the reverse is probably true: he became a giant partly because he stands by his convictions.
If only more people in our industry were willing to speak out for what they believe is right.
If composers and arrangers would push for fuller orchestras, producers may begin to hear that size does matter. A fully orchestrated show is more fulfilling and exciting. And those qualities can translate to the box office.
However, the burden is on us. It is not a producer's responsibility to hire a large orchestra. It is our responsibility to communicate to the producers — through composers and arrangers, directors and choreographers, and the general public — that bigger is better.
I'm not convinced that the Broadway producers think only about making money. I have to think that they feel the thrill and excitement of a huge live show at their hands.
We need for them to consider us as part of the formula that creates that. We need to find those among us who can have that dialogue with them, for their benefit as well as ours.
Harvey Fierstein has shown that he can speak out for the greater good. We need more like him.
Walter Usiatynski is a Local 802 member who plays in the orchestra of "Hairspray"; he remembers when Harvey Fierstein opened the show in the starring role of Edna Turnblad.