What Does the Labor Union Do For Us? Plenty!
Organizing Matters
Volume 111, No. 3
March, 2011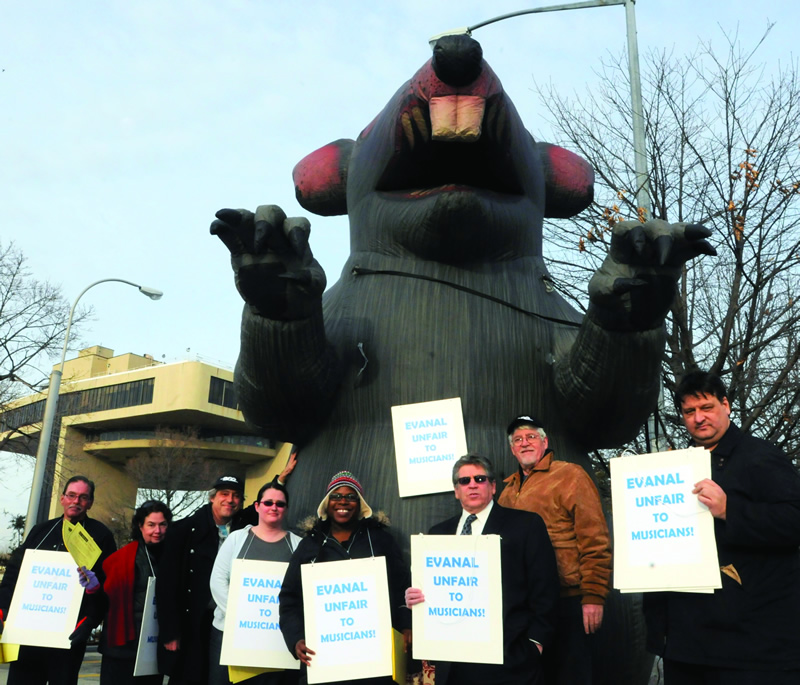 Local 802 was out in force on Feb. 14 as the union went after Chaim Rosenblatt Productions, a/k/a EvanAl Orchestras. We set up at two sites where EvanAl had contracted bands. Union leafleters visited the Eden Palace on Flushing Ave. and handed out flyers that explained that EvanAl undercut union musicians by paying below the industry standards and failing to provide health and pension benefits. At Terrace on the Park in Flushing Meadows, wedding guests were greeted with the Local 802 rat situated prominently at the entrance. The rat became quite a popular figure: neighborhood children and their parents came by to have their pictures taken with our blown-up friend. Coming out as well was the target of the leafleting, Chaim Rosenblatt, who seemed quite amused. We told him that the demonstration was serious and that musicians were being hurt by his actions.
Photo: Walter Karling
The labor movement dates to the beginning of the country when artisans joined together to set the price of the goods they produced, whether they were shoes, bread or any of the items needed for the society of the late 18th century. Over the years workers, and the organizations they created to protect their economic interests, became more sophisticated as the forces allied against them became more powerful. As sophisticated organizations go, the AFM and its locals are surely among the most advanced that have evolved into the 21st century.
Unions, of course do "union" things such as negotiating contracts, representing members in grievances and arbitrations, and generally advancing the cause of their members in the social, economic and political arenas. These functions are vital to musicians, actors, stagehands or any workers who are fortunate enough to find themselves working under a collective bargaining agreement.
In addition to the core operation of Local 802, there are numerous task performed by the staff of the union that have become necessary to the membership and their professional lives. These jobs include:
Assisting musicians with eligibility requirements for health insurance benefits.
Transmitting pension contributions to the pension fund.
Watching over a vast array of new technologies to protect members' artistic production from misuse, abuse and outright theft by unscrupulous employers or anyone who might want to use the work without properly compensating the artist who has created it.
Running a referral service that helps place musicians in jobs that pay union wages and benefits including statutory benefits.
Managing Legit 802, which functions as a payroll service for musicians.
Overseeing the vast assortment of contracts filed with the union.
Providing legal assistance for members with workplace related problems.
Helping musicians in need through the Musicians' Assistance Program.
Publishing Allegro, which keeps our members informed about their union and about vital issues affecting them.
Offering access to the credit union.
Developing a public relations apparatus that keeps the interests of musicians and live music in the consciousness of New Yorkers and people who visit New York.
Managing a political agenda that serves the interests of musicians and live music as an art form.
Running an organization such as Local 802 requires an educated, skilled and savvy staff who are working on behalf of musicians.
Consider what would be missed if Local 802 ceased to exist as an organization. I don't speak lightly of this because in today's politically charged atmosphere, unions are targeted for destruction. Enemies of organized labor do not care about your health care, your pension, your rights as musicians, and your ability to make a living, much less your contractual rights. Sadly, those who have no regard for unions also have no concern for the state of music as an art or the quality of musicians' skills. For many the bottom line doesn't include any of the above concerns. You don't have to look too far around the music industry to see the erosion of musicians' rights, the undercutting of scales, the use of technology to replace musicians and the overall disregard of the arts in American society.
In order to combat these attacks upon your livelihood as musicians you need a strong organization. And your union needs your support more than ever. The more employers see musicians crossing picket lines, taking jobs at less than scale, failing to report union gigs, or not supporting the union against unscrupulous employers, union hating politicians and union busting law firms, the more they will try to further weaken the union. Think about who will watch over your industry if your union is gone.
The history of work in America has been the history of "de-skilling" work. In the not too distant past all jobs were skilled and all workers sold the product of their labor at prices they set.
Today any job that can be done by a machine is at risk. Imagine a world unappreciative of the talents musicians have taken years to learn. Local 802 and the AFM face unprecedented erosions of the protections fought for by generations of musicians. Today it's our turn to fight. Local 802 needs musicians. If you know any musicians who are not members, tell them to call us and join us!
Michael Donovan is the director of organizing and supervisor of the union's single engagement department. If you're playing a job where you feel disrespected or know that you aren't being paid fairly, contact Michael at (212) 245-4802, ext. 141 or MFdonovan@Local802afm.org. You can also call the Local 802 hotline anonymously at (212) 245-4802, ext. 260 to report a job or working situation.