What is flamenco?
Volume 116, No. 6
June, 2016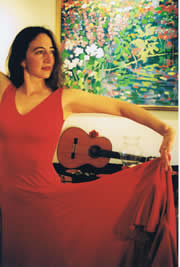 The festive, flashy costumes of the dancer, percussive footwork, and the impressive guitar playing that accompanies it, are usually the first things that come to mind when most people think of flamenco. Originating in the south of Spain, flamenco music draws from many rich cultures and traditions. The Moors, Romans, North Africans, Jews, and Spanish gypsies have all contributed to the flamenco music and dance that we know today.
Andalucía, Spain's sultry southern province, was home to these diverse cultures, but not always a welcoming home. During the 15th through 17th centuries, different groups were persecuted, expelled and repressed. The early flamenco music that resulted was steeped in exasperation and grief. Unaccompanied singing came first, with lyrics reflecting a whole gamut of emotions ranging from melancholy and nostalgia to defiance and resolve. Imagine a solo voice in a blacksmith's shop with the spare sound of the hammer beating on an anvil in the background. As cultural conditions improved for various minority groups, the complex musical rhythms that were created were the backdrop for more lighthearted songs and less tragic subjects, but the intensity of the style remained.
By the 18th century, the guitar was a regular part of the flamenco tradition, providing a robust accompaniment for flamenco singing (cante), dancing (baile), and clapping (palmas). As the dance gained in popularity in the mid-19th century, it was featured in lively Spanish cantinas called Café Cantantes. This lasted into the early 20th century, but the aftermath of the Spanish civil war made the 1940s a difficult time for the art to flourish. In the late 1950s, flamenco's popularity surged again, and many artists were presenting flamenco shows around the world.
Some notable international stars of flamenco in the mid-20th century and later include Carmen Amaya, El Greco, Mario Maya, Sabicas and Antonio Gades. In the 1960s, the guitarist Paco de Lucia became a sensation with his unique style and amazing technique, which had an enormous impact on the modern flamenco music we can hear today. He introduced jazz harmonies and added non-traditional instruments like the cajon (box drum) into his ensemble, along with a virtuosity that forever changed the expectations of flamenco guitar technique.
Flamenco festivals with live performances by solo artists and large dance companies, in conjunction with dance, singing and guitar workshops, are now presented all over the world. New York hosts its own every March (see www.FlamencoFestival.org). Many metropolitan areas feature their own Spanish dance companies. In New Jersey, there is the Alborada Spanish Dance Theater. In New York City there are the Flamenco Vivo, Flamenco Latino, Noche Flamenco and Palo Seco dance companies. There is also a traditional tablao (flamenco performance venue) called Alegrias on West 14th Street that features visiting Spanish artists and local talent on Saturday nights (see www.alegrias.com).
Seeing flamenco performed live is essential to really understanding the art. There is no discussion or article that can viscerally affect you like experiencing flamenco in person. Duende, the elusive spiritual and emotional element in a performance, is a special moment created by a musician, singer or dancer that can make your hair stand on end and elicit shouts of "¡OLÉ!" from the crowd. Those are the moments that connect flamenco's past, present and future and allow the spectator into its emotional and mysterious world, if only for an instant.