When Everyone Doubled Twice
Call & Response
Volume CVII, No. 6
June, 2007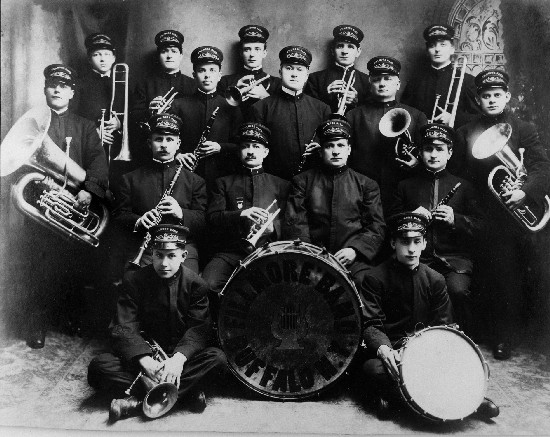 MUSICAL HISTORY: Max Ciesielski (lower right, snare drum) joined the musicians' union in 1919. His story is told in Charlie Keil's book, "Polka Happiness."
Last month, Allegro ran extensive features about Labor History Month. That reminds me of Max Ciesielski in Buffalo who helped us understand the era after World War I when "everyone doubled."
And by that Max meant two working worlds: the day job in one trade or another and the night job of making music.
And within that musical world, all musicians doubled again: most played both a brass and a string instrument.
The following passages from "Polka Happiness," a book I wrote with Dick Blau along with my wife Angeliki, capture that era of plentiful work before "progress" took over and turned people into specialists and then into out-of-work specialists. Check out the references to the musicians' union!
Our story begins…
Max Ciesielski's first organized musical experience was playing at funerals with the Fillmore Band.
Looking at an old photo of the Polish Tailors Organization, Max described the kind of funeral a member could expect: a 16-piece brass band like the Fillmore would accompany him "from home on the walk to church and back, to the hearse and maybe play few selections there at the grave. Sometimes I had to take off from work half a day to play that. They gave you three dollars to play that job. There was no union for us then, till 1919."
Since Dobinski, a trumpet player who organized the band along with Max's father, was a tailor by trade, the band had first call on any funerals or weddings connected with the tailors.
And, of course, they had sharp tailor-made outfits.
Dobinski's son played trombone, and there were other father-son pairs in the group besides Max's father on bass and Max on snare.
When the Fillmore played a wedding, a string group was formed from the brass band personnel.
"All these musicians had to double up, for brass band and dance band," said Max. "See, trumpets would double violin, and clarinets would double violin also. The alto horns do second violin parts, trombone goes to cello, the tuba become string bass. Even my father played a little second violin instead of bass drum."
Max started work at the Rivoli in 1920 after joining the musicians' union on Oct. 19, 1919. He already had his working papers by the age of 15 and was working steadily as a printer at the biggest Polish newspaper, Everybody's Daily.
"My mother was against musicians," said Max. She'd say, 'I got one at home and I don't want to see more.' So I had to be a printer."
But music was Max's passion. He still had his first union book and showed it to me with pride, since in a union of about 500 members when he joined, there were fewer than 20 Polish musicians and most of these were from two or three staunch union families.
Max worked the Rivoli from 1920 to 1929, printing by day and drumming by night, with piano lessons between shifts. He took one year away to play in the 44-piece pit orchestra (later to become the Buffalo Symphony) at Shea's Hippodrome. He dropped printing for a while but was fortunate to get a good job back just before the Depression.
Notice how Max Ciesielski's story is a lot like the stories of musicians in New Orleans a century ago. Musicians were also barbers, plasterers, carpenters, stonemasons, wheelwrights, cartwrights, practicing every kind of craft imaginable and also playing in brass bands where they doubled strings. We forget that New Orleans was typical a hundred years ago.
And what about New Orleans or any city in the world tomorrow? Why doesn't every city have an annual "species parade" like Olympia, Washington, with a growing number of brass bands, samba schools and drum ensembles practicing up for it? When will every union, every tailors' guild, every firehouse, every block in New York City have its own improvising brass band once again?
Charlie Keil, Ph.D., is a musician, author and ethnomusicologist. His latest project is www.BornToGroove.org. Keil's last article for Allegro was about radical street marching bands.