When the 'Cirque' comes to town
Volume CX, No. 6
June, 2010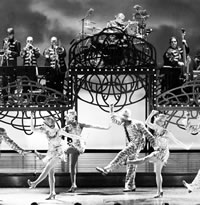 A scene from Cirque du Soleil's "Banana Shpeel," with musicians on stage. Local 802 is trying for a contract.
Local 802 and representatives of Cirque du Soleil recently sat down to open a dialogue about the company's New York productions.
Our goal is simple: to win a contract for Cirque's musicians.
The union met with Seth Popper, who is the attorney representing Cirque. Also at the meeting were two representatives of the Cirque organization.
The initial discussion included the productions "Banana Spheel", "oVo," "Wintuk" and a yet unnamed production planned for next year.
The production schedule looks like this:
"Banana Shpeel" runs through August at the Beacon Theatre.
The production "oVo" runs through the fall, in a tent on Randall's Island.
"Wintuk," a holiday show, comes back to Madison Square Garden in November.
The unnamed production for next year is planned to go into Radio City Music Hall.
Cirque's current advertisements include this tag line: "The Soleil Never Sets in New York City."
The company apparently always wants to have a seasonal Cirque show running in New York at a major venue.
One question that has arisen is this: which union has jurisdiction over the Cirque's productions in New York City?
To answer this, Local 802 has been talking with the League and also with AFM Local 406 (Montreal, Canada).
Montreal is the home of Cirque du Soleil. After difficult negotiations many years ago, Cirque finally came to an agreement with Local 406 for all its productions that tour.
But now, Local 406 and Cirque du Soleil both claim that Cirque tours cannot be covered by other locals.
But when does a "tour" stop being a tour?
That is, if one or more Cirque productions have set up camp permanently in New York City, we say that it's not a tour at all. It's a New York show, and we have the right to negotiate.
This happened in Las Vegas, where Cirque has eight year-round shows, some of them in brand-new, custom-built venues.
These are obviously not tours, and in fact AFM Local 47 (Los Angeles) recently won a year-round agreement for musicians who perform for Cirque productions at the Kodak Theatre in Las Vegas.
In our initial discussions with Cirque, we made it clear that all of its productions are in Local 802's jurisdiction and that we represent the musicians who work in those productions.
We also made clear that the standards in the Local 406 touring agreement are substandard in comparisons to major agreements such as the Broadway contract.
We cited many examples of the inferiority of that agreement including the long workday, the lack of a credible substitution policy, insufficient rehearsal pay, deficient working conditions, as well as the incredible practice of only paying pension on $100 of wages.
Our next meeting with the employers is happening just as Allegro goes to press. Hopefully we will make progress on the many issues that need to be addressed.
Clearly, Cirque plans to have a year-round presence in New York.
And clearly, Local 802 is the local that represents the musicians.