'Without strings, there is no disco'
Volume CV, No. 7/8
July, 2005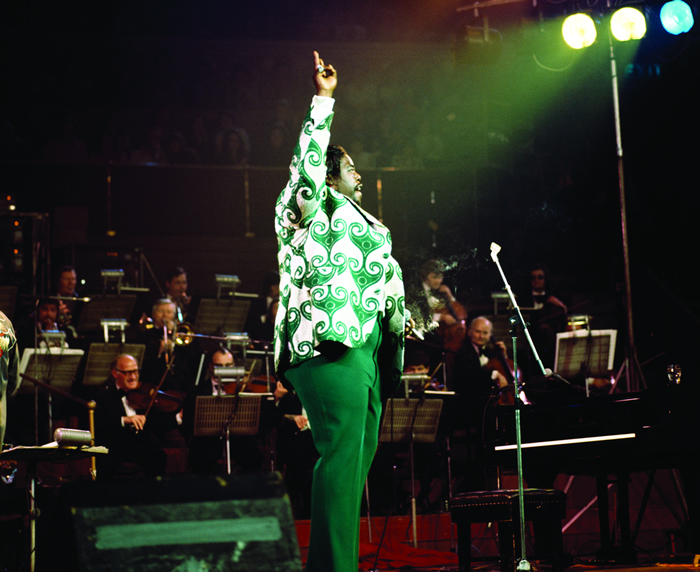 Barry White (1944-2003) during a live concert performance at the Royal Albert Hall, London, in 1975. Check out the live orchestra!
(Photo by David Redfern/Redferns/Getty Images)
When producers of "Priscilla" say that disco plus live strings doesn't work, they are ignoring music history
Listen, without strings, there is no disco." So says disco violinist and Local 802 member Max Ellen, a veteran in the New York City music scene. Although some producers these days may not realize the importance of strings in disco music, history tells a different story.
In recent months, Broadway and the legacy of live music in New York City have been threatened by the producers of "Priscilla, Queen of the Desert."
These producers have decided that live string sections cannot accurately play the songs in the performance, which largely consist of disco tunes throughout the performance.
As a result, the producers have turned to canned music, thinking this will capture the essence of the disco sound. What they don't realize is how this subsequently destroys one of the primary tenets of the genre.
The roots of disco stem back to the late 1960's music scene in New York City, where a well-documented period of cultural transformation inspired artists, poets and musicians to experiment and create new genres.
Early New York City disco musicians drew inspiration from a variety of musical genres including jazz, Latin-freestyle, classical, house and Eurodisco to produce a diverse and sophisticated sound that music writer Piero Scaruffi referred to as "collective ecstasy."
Disco's sundry musical influences attracted diverse groups of fans from LGBT, African-American and Latino communities, who all sought a new sound other than rock, which dominated the city's music scene in the 1960's.
Music historians often cite soul and Motown as the primary influence for disco musicians. Legendary Motown bass players such as James Jamerson established tight, vibrant rhythm sections, which appealed to disco musicians seeking a more dance-heavy sound that rock rarely produced.
Disco musicians also looked towards the work of Paul Riser, a seminal Motown composer famous for using string and horn sections to add layers and depth to his compositions.
Soul music, more innovative in nature, produced experimental psychedelic acts such as Sly and the Family Stone and James Brown. These bands combined the experimental essence and pop sensibility that disco musicians were looking to emulate.
As disco evolved from its experimental roots into a more refined genre, it caught the attention of audiences across the country in the early 1970's. Disco relied on explosive rhythm sections, vocal harmonies, guitars, horns and elaborate string sections to generate a big sound that live audiences craved.
In the early 1970's, disco began to attract several well-known composers and musicians with jazz and classical backgrounds who were looking to experiment and play gigs with a new style of music that was exploding nationwide.
"It was a new style of writing," said Mike Comins, a Local 802 musician who played violin with dozens of disco performers, including the Bee Gees and Donna Summers. "It was a different sound than Tony Bennett, Johnny Mathis or Frank Sinatra – it was a whole different use of strings with tons of notes in a big hurry."
Disco, unlike other musical genres at the time, generated its distinct sound through large bands consisting of eight or more musicians. According to Comins, "The power and popularity of disco music can be attributed to the size and presence that bands had on stage during live performances."
The size and presence of most disco bands helped fuel the dance-oriented genre, allowing it to dominate the pop charts for nearly a decade, despite being "much more technical than other genres at the time," said Comins.
String sections not only contributed to the sound of disco music, but also to the intensity of a live performance. According to Comins, "Anytime an audience sees a string section back there doing something, it's better for music in general. I think the audiences get a kick out of it."
The thought of eliminating strings from a live disco performance seems out of the question for disco composers and musicians.
"Taking away strings from the live experience that disco became famous for would certainly make the whole live experience a lot duller for musicians in the band and for audiences," says Comins, "Despite the fact that strings were in the background of most tracks, composers wrote songs to actually feature strings in songs."