Working Together, We Win
Musicians who work for 'Wonder Pets!' get contract
Volume CIX, No. 4
April, 2009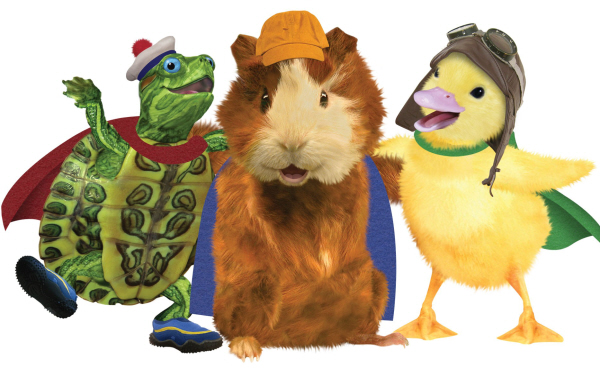 The "stars" of "Wonder Pets!" From left, Turtle Tuck, Linny the Guinea Pig and Ming-Ming Duckling.
Musicians who work for the children's TV show "Wonder Pets!" are set to achieve their first union contract, ending a campaign that began more than two years ago.
"In a climate of rapidly diminishing recording work, striking a deal was a positive thing," Tony Kadleck, who plays trumpet in the "Wonder Pets!" orchestra, told Allegro. "This was a difficult negotiation and many folks worked very hard on this."
The "Wonder Pets!" agreement is remarkable in a number of ways. While all other film, TV and video contracts in the AFM pay 10 percent pension, the "Wonder Pets!" agreement pays musicians 11 percent in the first year and 12.5 percent by the end of the three-year agreement. It also provides $35 in health benefits per session.
"For musicians who aren't on the union plan, this contract could give them health insurance for the first time," President Mary Landolfi told Allegro. "And for all musicians, this contract means adding more to retirement security. Plus, by helping musicians in the cable TV field, we've made a major inroad into new territory."
The "Wonder Pets!" contract is the first AFM agreement for a children's show on basic cable and one of only a handful of contracts the union has achieved in basic cable at all.
"New York City is the home of 'Sesame Street' and we are the home of children's television," said 802 Recording Supervisor Jay Schaffner, who headed the negotiations for both the AFM and Local 802 under the direct supervision of AFM International President Tom Lee. "The 'Wonder Pets!' agreement demonstrates that it's possible to get children's television under union contract — even when it's on cable," Schaffner said.
"The message is clear," Schaffner added. "When work on basic cable is done under an AFM agreement, conditions for musicians can be improved and cable producers can still make it fit into their existing business models."
"Wonder Pets!" is produced by Little Airplane Productions, which was founded in 1999 by Josh Selig, one of the original cast members of "Sesame Street." The show debuted in 2006 on Nickelodeon and Noggin, and won a Daytime Emmy in 2008 for outstanding musical direction and composition.
"I am glad that we will be recording 'Wonder Pets!' under a union contract," violinist Regis Iandiorio told Allegro. "Also, we kept the work in New York City, and this agreement will encourage future projects."
Under the new contract, Little Airplane Productions — as well as its production company, Hootenanny — will pay musicians as employees, which is in fact required by New York state law.
Before the contract, musicians were paid as independent contractors and no taxes were paid on their behalf. That means that at tax time, musicians had to cover their own taxes as well as Little Airplane's share of Social Security and Medicare, for a total of 8.25 percent. The bottom line was that musicians had to pay about $45 to $50 in taxes — or possibly even more — out of their $300 cash fee.
Musicians will now be covered by unemployment insurance, workers' comp and disability.
Other perks of the new contract include a primary hiring list and a grievance and arbitration procedure.
"These protections are unheard of in the nonunion world," said Organizing Director Joel LeFevre, who ran the campaign. "They're just part of the respect that musicians and all workers deserve."
"These kinds of benefits can become models for all other AFM agreements, most of which at present do not have either a first-call hiring list or built-in grievance procedures," added Recording Supervisor Schaffner.
In addition to LeFevre and Schaffner, Local 802 Counsel Harvey Mars also played an invaluable role in obtaining the contract, working through all phases of the campaign.
The contract negotiations started in fall of 2007, when Local 802 first asked to bargain with Little Airplane. The writers' strike halted the talks; when they resumed, progress was slow.
Later, negotiations were severely strained when all of the musicians were let go and the show threatened to go all MIDI or to outsource to Eastern Europe. That prompted Local 802 to file an Unfair Labor Practice charge with the NLRB.
The charge has now been settled. Little Airplane agreed to pay $5,000 in lost wages as part of that settlement, which will be distributed by the union to the musicians.
While most were pleased with the settlement and the improvements made, some saw it as only a first step towards achieving fairness.
"In seeking representation from the union, music prep musicians — orchestrators, copyists and MIDI synthesists — were simply asking to be paid fair wages," Paul Raiman told Allegro. "Under this new agreement, music prep musicians will continue to be grossly underpaid with no limit on the number of hours they are required to work." Raiman does music preparation for the show as a MIDI specialist.
The "Wonder Pets!" bargaining unit is made up of 45 musicians, 18 of whom are on the first call list and 27 of whom are on the sub list. The first call list includes 10 instrumentalists, four orchestrators, three MIDI specialists and one copyist. Musicians sub in and out of these positions, but the contract covers any musician working on the show.
"This is an unprecedented opportunity," orchestrator Fred Barton told Allegro. "Many of my associates in children's television said it would never happen. But it did, and this is a great thing."