'You Only Have One Life'
Volume 114, No. 11
November, 2014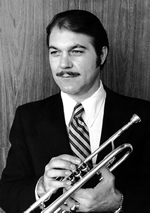 Trumpet great Vince Penzarella always stays prepared, because great opportunities seem to come up when you least expect it…
Trumpeter Vincent Penzarella, a member of Local 802 since 1963, has played with the best. He won a seat in the New York Philharmonic in 1977, after eight years of playing with the Metropolitan Opera Orchestra. He is a native of Philadelphia and a graduate of Curtis. There, he was a full scholarship student and earned both a bachelor's and master's degree in three years. During this period he also performed as a sub with the Philadelphia Orchestra. Following his service in the Army, he studied with Arnold Jacobs and former New York Philharmonic Co-Principal Trumpeter John Ware. Vince has also played principal trumpet with the Baltimore Symphony, the New York City Opera Orchestra and the North Carolina Symphony. In 2000, he was honored at the New York Brass Conference. Vince has taught at Mannes, the Manhattan School of Music, SUNY-Purchase, Queens College and Columbia. He also gives master classes at Juilliard and all over the world. Local 802's Bob Pawlo caught up with Vince recently and asked him about his life in music and always being ready for what's next.
Bob Pawlo: What are your first memories of hearing the trumpet?
Vince Penzarella: The first time I saw a trumpet player was at my aunt's wedding reception. My uncle was a violinist. He noticed that I was sitting by the trumpet player observing, and he saw that maybe there was something there. Later, when I was 13, I heard John Ware of the New York Philharmonic at Carnegie Hall. He played the post-horn solo from Mahler's Third Symphony. I said to my mother that I wanted to play the trumpet and be in the New York Philharmonic with him some day.
Bob Pawlo: When did you know you would be a trumpet player and not a baseball player?
Vince Penzarella: That question deserves some explanation! I played baseball in high school, and was actually scouted by the St. Louis Cardinals and Detroit Tigers. The decision to choose the trumpet over baseball came about when my mother put the trumpet on the table and my father put the baseball glove on the table. After having experienced what it was like to play triple-A ball and knowing what the average age was at that time to become a shortstop, which was my position, I thought if I were lucky – barring injuries – I might play until I was 36 or 37. My trumpet teachers were 50 or 60. I thought, well, maybe if I were good enough, I could play trumpet until I was 70, so I decided that would be what I would do.
Bob Pawlo: I want to fast-forward a little bit and ask you about your teacher Arnold Jacobs.
Vince Penzarella: I had been in a terrible car accident that resulted in four years of rehabilitation. For my first 13 months, I couldn't make a sound. I was frustrated and angry and upset. Arnold brought me around with enormous patience. He had heard me perform as a soloist, which gave him the patience to work with me. My problem, which I didn't really realize, was psychosomatic. When I put the instrument to my lips, I felt pain. But it turns out the pain was all in my head. The car accident had traumatized me. Arnold had me use mental imagery and recall patterns of sound. He had me trust my inner ability of hearing what I wanted. I had no idea that's what I was doing before the accident. He got me to sing things, while imagining the trumpet in my mind. He actually had me buzz into a respiratory bag – a kind of plastic bag – instead of using my horn. I was wondering why I was having such a good time on the bag but as soon as I touched my lips with the trumpet, I felt pain. But he stood by me. Gradually things came around. He saved my life. I went to New York City next, but I never forgot Arnold's patience, outstanding tolerance, knowledge of my abilities and perseverance. I used those lessons in New York.
I remembered a motto from a former teacher: always be prepared because you never know when your first break is going to come. That was the essence of my existence in New York. I always seemed to be in a situation where the unexpected came up and I had to play.
Bob Pawlo: What were some of your more memorable jobs at that point?
Vince Penzarella: My first music job was actually with the New York Philharmonic! I had come to New York thinking I was going to work for TWA Airlines. Eventually I called John Ware. He told he didn't have the time to teach – and he hung up. A couple weeks later I called him again. I said to him that I was told by Arnold Jacobs and Adolph Herseth that I should call him or Nat Prager.
He asked me, "Who did you call first?" I said I had flipped a coin and called Nat Prager. He didn't laugh. On the phone it sounded like he should be behind an 18-wheeler. He sounded really tough. He said, "I don't have the time to teach, but I wish you luck," – and he hung up again.
I thought, what now? I had no idea what to do, except work for TWA. This was 1963, the last season that the Philharmonic was playing at Lewisohn Stadium at City College. About two weeks later, the phone rang at 7:30 a.m. It was John Ware. He asked why he should teach me. I told him about how I heard him play at Carnegie Hall when I was 13 and that's when I knew that I wanted to play in the New York Philharmonic with him. He said, "I don't believe that story."
Okay, I said, how about that you were highly recommended by my teachers Arnold Jacobs and Adolph Herseth? He said, "Well, I might believe that one." He told me to get my butt over to the Mannes School of Music in 90 minutes.
I made it there, and the receptionist sent me to the back of the school where there was a long staircase leading up. I looked up and I saw this little guy. He said, "Are you Vince Penzarella?" I said, "Yes, are you Mr. Ware?" and he said, "Yeah." As I was climbing up the stairs, I thought, "Jeez, this can't be him because he sounded so tough and he's just a little shrimp."
"Is there a problem?" he said.
I told him, "On the phone, you sounded like a real big tough guy and you're just a little guy."
He said, "You haven't played for me yet." So we went in a room and he pulled out some music and I played it. He said, "How would you like to sub this summer with the Philharmonic?"
I said, "You're kidding!"
He said, "I don't kid." I was hired to play fifth trumpet in Debussy's "La Mer." That was my first job and Johnny Ware was so helpful to me throughout my career.
That brings me to my first recording session. In the orchestra there was a contractor named Herb Harris who subbed at the Philharmonic and handled all of Bernstein's work. Johnny put in the word that I was a half-decent trumpet player and said he should call me. Herbie called me and I was hired for fourth trumpet for a Sunday-afternoon session. I was scared to death because this was my first recording date and they had all the big guys like Jimmy Buffington on horn. The date lasted about eight hours. When I got there I saw Teddy Wise, who became a very close friend after that, who was talking to Herbie and said he couldn't play because he had blisters on his lip. I also saw Mel Broiles, whom I later worked with at the Met. The other trumpet player was Freddie Mills. These were great players, but everyone was arguing. I said to myself, what the heck is going on here?
After much discussion, I was asked to play first trumpet. I thought it was a nightmare. Mel was playing second trumpet and it scared the hell out of me just to be near him. During that date I don't think anybody missed a note the whole time. Mel called me a couple weeks later and we started working together.
Teddy Wise liked my playing and asked me if I would like to sub at City Center Opera. Things just fell in line for me. I was ready whenever I had to be ready, like what my first teacher said. You never know when that first break is gonna come, so just be ready.
Teddy had me sub on "Julius Caesar." He told me that Beverly Sills was singing and there were just "a couple things to play." I go in there – three trumpet cantatas, and I said, "Oh, my God!" Julius Rudel was the conductor. I managed to get through that. Teddy used me quite steadily after that. I guess I started getting a reputation as a person who could sight-read pretty well and I started working at various Broadway shows.
I was sent in to play rehearsals for Murray Karpalowsky, who was a very famous trumpet player in the legitimate world. He was the principal trumpet in Westchester and the Brooklyn Philharmonic. He started using me as a sub. So I started doing different things, but I never had a reputation as a legitimate player even though I did some legitimate playing. Most of my playing was commercial. I worked for Lester Lanin, Meyer Davis, the World's Fair, Latin bands, ice shows, the circus – anything to make a living. But I would never call myself a lead player. I just played what was on the music stand. I was a jack of all trades, master of none. I went in and sight-read shows such as "Man of La Mancha," which had an opening fanfare. I thought I would have my first heart attack.
But really I found I could sight-read anything you'd put in front of me. Then I played at Radio City, using it as a base for a year. I was Bob Robert's replacement there, which was the principal chair, and would sometimes do two shows in the morning or two in the evening, or sometimes all the shows. I always worked.
Bob Pawlo: What led to your relationship with the Metropolitan Opera?
Vince Penzarella: By this time I was doing a lot of subbing at the City Center Opera and ballet and doing a lot of playing at St. Patrick's Cathedral with Mel Broiles. Mel suggested to me that I should take the Met audition. I saw the handwriting on the wall. A lot of recording work was drying up, and I had friends like Lou Soloff and John Faddis who used to record from 9 a.m. to midnight and now weren't getting quite as much recording work. So I took the audition. I was notified that I had won the job. It was December 1969. I did a lot of the first playing along with Mel, and we shared the book. I was there for a little longer than eight years. During that time, I got repeated calls from the New York Philharmonic to audition, but I liked it at the Met. Finally, I thought, well, you know, I can fulfill my lifelong dream of playing in the Philharmonic with Johnny. I left the Met on July 31, 1977 and started at the Philharmonic a day later, on Aug. 1.
Bob Pawlo: What were your more memorable performances at the Met and the singers you worked with?
Vince Penzarella: Definitely Franko Correlli in "Turandot." Christa Ludwig, Montserrat Caballé, Joan Sutherland and Birgit Nilsson to mention a few. All Richard Strauss' operas were just incredible, but the eight years I was there, I used to dread to have to play Strauss after Mel Broiles because no one played Strauss like him; it was just remarkable playing. I can't say enough good things about Mel Broiles' trumpet playing and how much I learned there. And to have worked with others such as Mel Davis, Teddy Weis, Fred Mills, Ray Crisara – the list goes on and on.
Bob Pawlo: So here you are at the Met and you decide to move to the Philharmonic, which was your original intention.
Vince Penzarella: To play next to Johnny Ware was the fulfillment of my life. I can't say enough about John Ware, he taught me so much. There aren't adjectives that could even come close to the kind of man Johnny is. Far more than just a fantastic musician.
Bob Pawlo: You've played both principal and also section trumpet. What is the mental process involved in switching? Is it different to play second?
Vince Penzarella: I would say it was easier playing first trumpet because I had done it my entire life and was used to it. When I auditioned for the second trumpet chair in the Philharmonic, one of the stages of the audition was to play with John Ware and Carmine Fornarotto. I remember playing "Ein Heldenleben" and Mahler's Third Symphony, the chorale at the end. Zubin Mehta noticed that I didn't tune when I played with the brass or the trumpet section. At the meeting I had with him, he asked me why. I said, well, as a second player, I had to make immediate adjustments so I felt it wasn't necessary for me to tune. Just keep my ears open. Ultimately, I found that playing second was losing my own identity. It was far more difficult playing second trumpet, because playing first, I could do my thing and feel very confident about it. But when I played second, I had to be a step ahead of where I thought the first players were going to be all the time and make the adjustments that were necessary. Definitely for me second trumpet parts were harder to hear than first parts, which have mostly melodic lines.
Bob Pawlo: Is that the key to being a good section player?
Vince Penzarella: Yes, lose your identity, give of yourself 100 percent. You have to think like that first player is your quarterback; you have to take care to protect them. I saw myself as a lineman taking really good care of that quarterback, giving 100 percent of myself to him always.
Bob Pawlo: What were some of your more memorable performances with the Philharmonic and what made them special?
Vince Penzarella: No doubt being able to perform with Bernstein. Mahler's Second with Christa Ludwig singing, and Phil Smith, Carmine and I playing on stage. Johnny Ware was playing offstage. In the Mahler, there is a trumpet duet with the voice and it was nerve-wracking. I remember when Johnny would play that offstage trumpet part, Phil and I would look at one another and be silently thinking, "Oh boy, back to the drawing board! That's the way a trumpet should sound."
Bob Pawlo: What message would you give to young trumpet players today?
Vince Penzarella: Work hard, and always be prepared; take nothing for granted, and if you're lucky enough to become a professional musician, I think the hardest thing to do is to maintain a healthy mental attitude, no matter what situation occurs. Have a backup plan. I didn't have a backup and I was lucky. Be prepared for the unexpected, and maintain that attitude that I spoke of earlier. You only have one life, one chance, and you should give it your all.