'You've Got to Have Big Ears'
Billy Kaye tells the high notes of his illustrious five-decade career
Volume 111, No. 2
February, 2011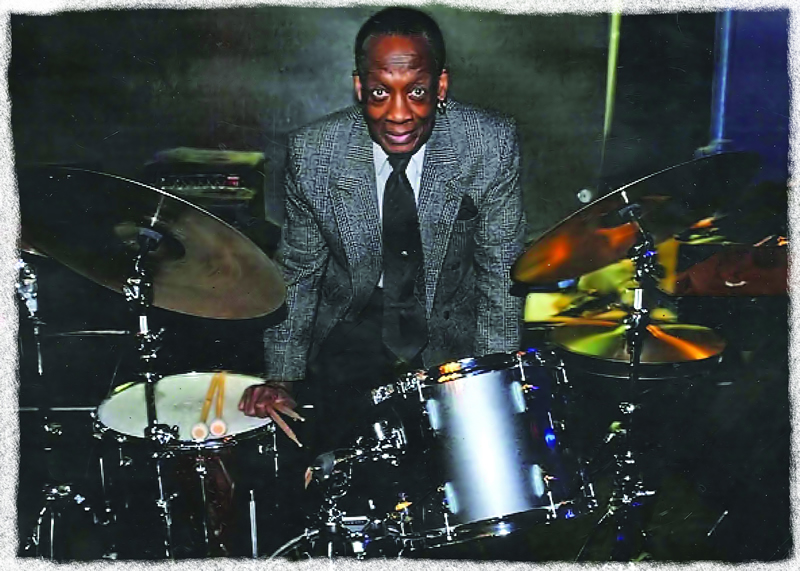 When I was growing up in Wilson, North Carolina in the 1930's, my grandma had a Victrola. We played those old, one-sided records. It was early jazz, kind of like pre-swing.
Wilson was tobacco country. Every spring, producers from up north used to bring acts down to the Carolinas. All the well known bands would play the big community dances – in the tobacco barns. Everybody who was anybody in music at that time would come through there.
Later, when I lived with my aunt in Philadelphia, we had a player piano in the house, with the pedal and spool on it. I always call it the first computer. The music was mixed: spirituals, jazz, classical music. So I heard all these different things early on. My aunt, she had a lot of records. One that was most influential to me was Lionel Hampton's "Central Avenue Breakdown." Of all the stuff, I liked that one.
My father, Cleveland Seaberry, served in the Army. After World War II, he started a cleaning business in Crown Heights, Brooklyn. There on Dean Street is where I started playing ball and learning about music. We used to go to Ebbets Field to watch the Dodgers; Jackie Robinson moved into the neighborhood when I was living there. A lot of ball players lived in Brooklyn.
THE MUSIC BUG BITES
I guess I was 8 or 9 when I saw the Ellington Band up in Harlem with the great Sonny Greer on drums. And he had all these toys up there. He had the bells and the gong, he had everything up there. I guess the toys impressed me, but what he was doing with them also impressed me. And when I finally told my parents that I wanted to play the drums, they said, "So you want to play music? We'll get you piano lessons." The word was "You will play real music, or nothing." And that meant piano.
So I went to my classical piano lessons for about ten years. They were not to my liking. There was a recital every year; it was formal. And I had to go walking through the neighborhood every spring in a tuxedo, which meant sneaking out – because you were "Little Lord Fauntleroy" if you got caught. With a tux on, you had to fight your way out of the neighborhood – forget about getting back in.
We had a really mixed neighborhood – Irish, Jewish and black – and everyone got along. My drum teacher spoke Yiddish. His name was Rector Bailey. He had about 300 private students when he died.
I enlisted in the Air Force in 1950, the same year the Korean War began. I was on active combat duty in Korea for a short time, during the worst of it. You're flying through zones where people are firing at you all the time trying to get out of there to the hospital zone.
But before Korea, I was stationed in Selma, Alabama. There was a band on the base, and mostly I spent my time in the rec room beating on the drums. The kit was set up wrong, but I didn't know it.
One night, there was a black dance appearing at the VFW, on the other side of the tracks. And the great Percy Mayfield was performing. Everyone is dancing, having a good time. So somebody decides to play a joke on me. He sneaks up on the stage and tells Percy Mayfield that I'm a drummer. So I go up there reluctantly and now the drums are set up properly, I know what to do. So I go up and I don't even know what I want to play. So I played the blues. And Percy turned to me and said, "You really can play, can't you?" I said, "Well, I'm practicing," And he said, "You keep on practicing and you'll be a drummer one of these days." Actually we kept our friendship until he died.
When I was overseas, most of my playing was with jazz people and I played just about all the legendary European jazz clubs; that was my stomping ground, so to speak.
I was once stationed in Libya, and I met a trumpet player from Belgium, Jean Renard, playing at the officers' club. I was the only enlisted man playing there.
Later, I was on a temporary duty assignment in Frankfurt and I met Hans Koller. He was a fantastic saxophone player. And I also met a very famous pianist named Jutta Hipp. Peter Ind played bass, and I also played with Ronnie Scott, who had a club in England. Ronnie and Hans and all those guys were my mentors in jazz.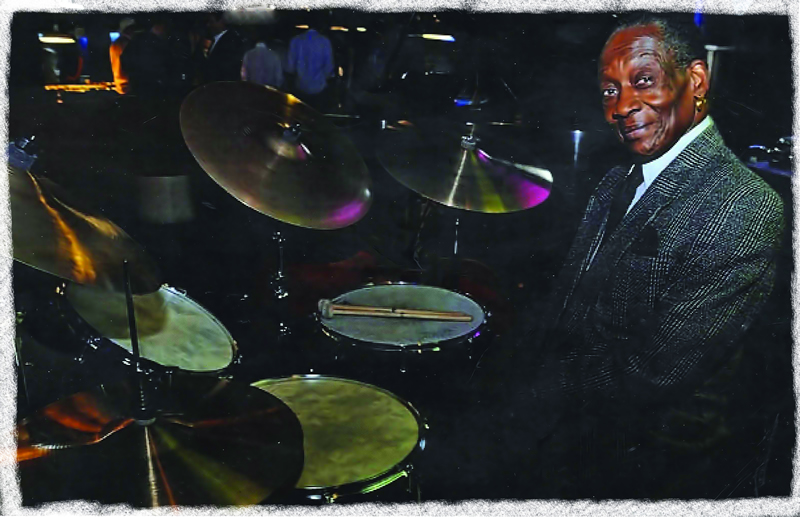 BACK HOME
When I got out of the service, I finally bought a drum kit of my own. I started doing the R&B and Blues circuit in earnest, on the "Chitlin' Circuit."
In New York, out on Long Island, they had a lot of blues clubs on the North Shore. And the bread was so much better; the music was so popular all around Brooklyn and the island.
I played with Jimmy Reed and Johnny Rockhouse. I did a little short thing in Kansas City with with the "Waters brothers" – Muddy Waters, Clear Waters and Swamp Waters.
By that time I was working with Lou Donaldson and the saxophonist Sil Austin. With the Austin tour, one of the acts was Iron Jaw. He's the guy that used to have this table with the steel bottom and he'd pick up the table with his teeth. He'd be dancing and his daughter would be dancing on top of the table while he's doing the thing with his teeth.
I later worked with Lonnie Smith in the George Benson group. In 1966 we did the Newport Jazz Festival, and in 1968 we did an album called "Cookbook."
Sil Austin had an organ player named Jinx Jingles. And Jinx was a guy that would disappear. On our night off one time Jinx disappeared. And Sil said, "Man, run down to New York and get somebody quick."
I came down to New York and went to Minton's and I asked about somebody playing organ, and fortunately Thelonious Monk and I had a good relationship, not as musicians but as friends. I saw him doing his little dance in the back; the cats were playing, he was swinging. He enjoyed it, and he was dancing and I said, "I need an organ player really bad." And he says, "If I could play the organ I'd take the gig myself. There's an organ player who lives around 141st Street – his name is Don Pullen." And I went there and woke up Don at five o'clock in the morning and left town.
THE 1970'S AND BEYOND
In 1971, Stanley Turrentine's album "Sugar" came out, which I played on. (It was just re-released again a few months ago.) I don't remember getting any special payments from that. Jazz isn't just hanging out in clubs, talking to masters like Monk, sitting in and so forth. It's a job. And musicians should get paid when their music keeps making money for other people.
In the 1980's, I worked with Sun Ra, but I never lived in Philly. Marshall Allen was there; John Gilmore was there. But I was just one of the drummers; Sun Ra used three drummers all the time.
I once did a tour with Milt Jackson, and the first thing he asked was, "You got those little things in the cymbals that buzz?" (He was referring to sizzle cymbals with the little rivets.) And I didn't, but, thinking quickly, I said, "Yeah…I got some," and I went to Sam Ullano and I had Sam put the holes in the cymbal. That's what Milt Jackson liked.
I also play bongos. I've played a thing they don't have any more, you used to have to make it, and it's the jawbone of an ass. A donkey's jaw, and in Latin music you had to get that jawbone and take the teeth out and realign the teeth, wire the teeth in so they would have a certain rattle. It's vibrating. You hold it in your hand. Now they call it a Vibraslap. They started making it out of metal because they said you don't kill the animal to make that. But originally nobody really killed the animal for that, the animal died and you found it in the desert somewhere and you took the jawbone and you made it by loosening up the teeth.
My drum playing is more melodic than most people's and that's based on my piano chops. That's the one thing that the piano lessons I didn't like gave me – something that a lot of drummers don't have.
I heard the music and where it was going and I could anticipate what was going to happen in the music as opposed to what's going to happen in the form. The music led me to what's supposed to happen by hearing it. I used to hear the elders say, "You've got to have big ears."
I took that to heart. And I'm always listening.
Billy Kaye appears regularly at Fat Cat, 75 Christopher Street. (See www.FatCatMusic.org.) His next scheduled appearance is with his quintet on Friday Feb. 11, at 7 p.m.