A call to music professors
Volume 112, No. 4
April, 2012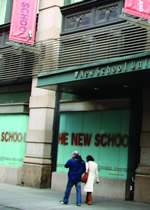 Professors at the jazz program at the New School University have allowed Local 802 reps to come into classes and talk about what it means to be a member of the union.
Every year, large numbers of music students leave school with a limited understanding of what resources exist to help them further their careers. Union awareness is not always a part of a music education, and students often make it through music school without a firm understanding of the power of solidarity amongst musicians.
Even some of the students and recent graduates who are already members of Local 802 have misconceptions about what we do and what being an 802 member means. In recent new member orientations here at the union, we have encountered several recent graduates who learned things about the union from teachers and classmates that turned out to be false, such as the notion that the union would reprimand them if they were caught doing any non-union work. We at Local 802 need to do a better job dispelling myths and ensuring that as students learn about the music business, they learn that our union is an advocate for them and a vehicle for musicians to exercise their collective power.
We know that there are many Local 802 members teaching in music schools all over the area, guiding the next generation of musicians as they begin their professional careers.
If you are a music professor, especially in the field of music business, you have an opportunity to give students a better understanding of what the union does and to dispel any misconceptions they might have.
Several music professors already integrate union issues into their curricula.
Gene Perla, a professor at the New School for Jazz and Contemporary Music, invites a Local 802 rep to speak in his music business class every semester.
"Response from my students has been positive," says Perla, adding that his students have "a better understanding of the benefits of collective bargaining" as a result.
As of now, union reps visit a handful of classes every year, though we are looking to expand this into a much larger program, as well as consult with professors on how they can include union awareness in their curriculums.
If you are a teacher and you would like a union rep to speak in your class, or if you would like information or outreach materials to help you address union issues in your classes, contact me at (212) 245-4802 ext. 143 or Sgasteyer@Local802afm.org.