A Frankie Valli Reunion
Volume CVI, No. 10
October, 2006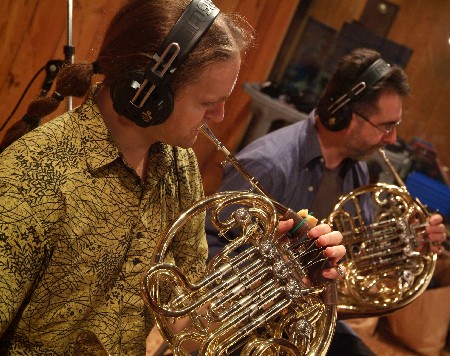 Local 802French horn players Chris Komer and Bob Carlisle.
The last time pop music icon Frankie Valli recorded with Bob Gaudio and Charles Calello in New York City was in the late 1960's. A decade later, Valli returned with Calello to record the chart-topping smash hits, "My Eyes Adored You" and "Swearin' to God" — two of the many Frankie Valli hits featured in the current Broadway play "Jersey Boys," the story of Valli and the Four Seasons. This past June, the three returned to New York City to record together once again.
The success of the Tony Award-winning jukebox musical "Jersey Boys" has reaffirmed the enduring popularity of the timeless Four Seasons' sound, and sparked the idea for Frankie Valli to head back into the studio and record his all-time favorite hits from the 60's.
Naturally, Valli called on his longtime friends Bob Gaudio, Charles Calello and Artie Schroeck for the project. Gaudio, composer of nearly all of the original Four Seasons hits, was brought in to produce the new album, and veteran arrangers Calello and Schroeck joined Valli to arrange the recording.
The recording session also served as a reunion for Local 802 musicians, many of whom had worked with Valli, Gaudio and Calello in the 60's and 70's. The same chemistry that produced chart-topping results years ago once again infused the recording sessions with a special kind of magic. With the help of contractor Jill Dellabate, top stars such as Paul Shaffer, Will Lee, Jeff Mironov, Rob Mounsey, Shawn Pelton, Rodney Jones, Richie Gajate-Garcia and Hugh McCracken filled the studio with performances that may rocket Valli to the top of the charts once again.
Valli also invited the stars of the "Jersey Boys" — Daniel Reichard, Christian Hoff, J. Robert Spencer and John Lloyd Young — to sing with the original "Jersey boy" and provide backup on select songs for the album. The original cast recording of "Jersey Boys," produced by Bob Gaudio on Rhino Records, is number one on Billboard's top Broadway album chart and has moved up to number 85 in Billboard's Top 200.
Recorded this past June at Right Track Studio on 48th Street, the new Valli album is scheduled for release in November on the Universal label.