A New Agreement — and New Model — for the ACO
Volume CIX, No. 1
January, 2009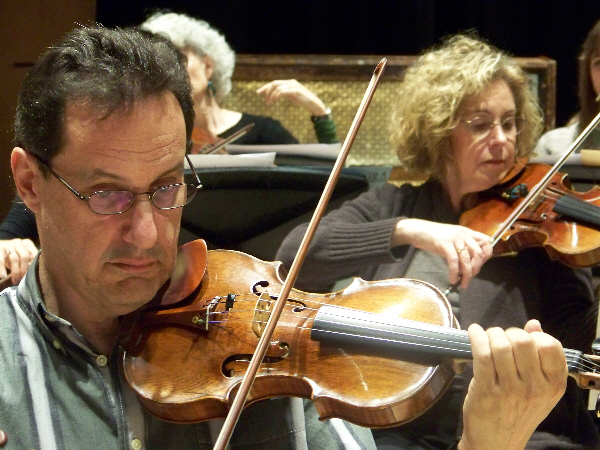 Robert Chausow and Carolyn Wenk-Goodman, members of the ACO.
A new agreement has been reached between the American Composers Orchestra and Local 802. This agreement adheres to the same wages as the other major freelance orchestras. (See the Wage & Contract Info section of this site for freelance classical concert scales.)
One point of friction during the negotiation was ACO's decision to change its organizational model. In recent years, ACO's focus had been on performing works of contemporary American composers whose compositions for the most part were not being programmed by American orchestras. This noble mission served the musical community well for many years, providing exemplary professional performances of rarely if ever heard American works. Slowly, American orchestras came to realize the importance of contemporary American music. Finding these compositions were indeed worthy of presentation, major orchestras across the country began programming these works.
Unfortunately, due to financial constraints coupled with the fact that American orchestras now program American compositions regularly, ACO decided to change its focus. Rather than performing new works for large orchestra in Carnegie Hall, it now intends to perform mostly readings of new works with occasional concert performances presented in smaller venues using a smaller ensemble. ACO's new model will concentrate on helping American composers promote themselves.
It was felt by the union and orchestra committee that this model does not comport with ACO's prior commitment to the musicians: to perform important American music with a full orchestra in Stern Auditorium/Perelman Stage at Carnegie Hall. ACO insisted that this was not financially possible at this time and this was a major factor prompting this change.
In the end, the union agreed to move forward but insisted that the contract contain language expressing ACO's commitment to using a large orchestra as soon as it becomes economically feasible.