A Partnership Continues
802's Support of Festival Yields Results
Volume CVII, No. 9
September, 2007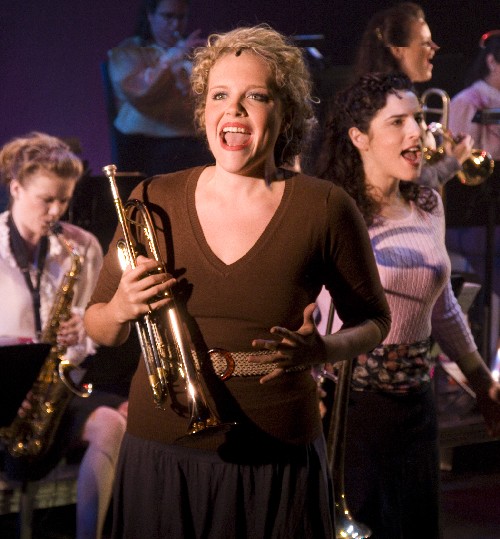 Clarice Mazanec starred in "Hot and Sweet," a musical produced last year at the New York Musical Theatre Festival. Local 802 supports the festival as a way to introduce the union to new musicians and as a way to keep track of new productions at their beginning. See www.nymf.org.
Two years ago, Local 802 began a unique relationship with the New York Musical Theatre Festival. The festival's mission is to present new talent and provide an arena for independent and commercial producers and artists to collaborate.
The union became aware of the festival in 2004, its debut year. We realized that reaching out to this type of festival could provide a mutually beneficial relationship for the theatre community as a whole.
Around then we established the union's Theatre Community Initiative. The concept is simple: Local 802 should be involved in every stage of a theatrical project, from its developmental stage all the way through its Broadway run, if it goes that far. Our job is to get in early, find the shows just as they're starting, and create relationships with the musicians and the producers.
Outreach is the name of the game and our support of the New York Musical Theatre Festival is part of it. The union's Broadway Committee and the Small Theatres Committee are part of the teamwork.
Our work with the festival has paid off. Many of these shows go on to Off Broadway, under an 802 contract. "Altar Boyz," "Captain Louie," "Great American Trailer Park" and "Title of Show" are a few such productions. We find that one in five festival productions go on to commercial runs.
As an added bonus, we get new members.
More importantly, when it comes time to organize a new Off Broadway show, it helps if we already know the players.
This year, Local 802 will continue as an industry patron to the festival, making both a financial contribution as well as purchasing an ad in their program.
Our donation to the festival allows us two tickets to each production. Also, Local 802 logo's and mission statement will appear in the programs. These production "Showbills" are also supposed to include the names of the musicians along with biographical information.
During the festival, Local 802 staff and theatre musician volunteers will attend as many of the productions as possible. In 2005 we attended approximately 40 new musicals.
Our goal is to support the show — and specifically to support the musicians. We take time to speak with the musicians at each show.
The festival opens Sept. 17. Before that, Local 802 reps will provide our updated theatrical showcase guidelines to both producers and musicians.
(These "Theatrical Showcase Rules & Regulations" are also available at www.Local802afm.org; click on "Wage & Contract Info" from the upper right, blue bar menus.)
Once the festival has ended in October, Local 802 will again host a networking opportunity for festival participants — both past and present — in the form of a panel discussion and a meet-and-greet at the union. In 2005 over 60 musicians attended, and we had a panel of 12 theatrical professionals.
The panel this year will include music directors, conductors, orchestrators, playing musicians, music copyists and contractors.
Following the panel discussion, musicians will have time to network and enjoy refreshments.
It is important at this early stage that musicians become aware that there is a community and that being a part of Local 802 is an essential part of building a prosperous career.
THE FUTURE
The union's goal is to reach out to other theatre festivals. The future of live musical theatre begins here. Local 802 has not yet had a presence at the New York International Fringe Festival and the National Alliance for Musical Theatre.
In 2004, the Fringe presented 39 musicals. That same year, the New York Musical Theatre Festival presented 31 musicals and the National Alliance for Musical Theatre presented eight.
Some of the shows from the Fringe that went to commercial productions were "Urinetown," "Joys of Sex," "Debbie Does Dallas" and "Evil Dead."
The responsibility of reaching out to new producers and musicians lies with Local 802. It is important that we continue to support the festivals and the musicians doing this work.
The New York Musical Theatre Festival runs from Sept. 17 to Oct. 17. See www.nymf.org.