A tribute to my friends
Volume 115, No. 5
May, 2015
Given the fact that we all have friends who die, it is easy to be affected by the syndrome called Annually Growing Elderly ("AGE," for short). In the last few years, I have been hit very hard with many of my friends who have passed away. I was named a Jazz Master by the National Endowment for the Arts in 2012, and many of my fellow NEA Jazz Master friends – people with whom I have performed and recorded over the years – have died. That list includes Bobby Brookmeyer, Donald Byrd, Frank Foster, Jim Hall, Yusef Lateef, Marian McPartland, Billy Taylor, Cedar Walton, Frank Wess and Joe Wilder.
Just in the last few months, four very accomplished jazz artists and personal friends have died. I want to speak about these four friends.
CHRIS WHITE
(July 6, 1937 – Feb. 2, 2015)
Chris White was an extraordinary bassist. We go back to 1961, when we would meet up at jam sessions in Harlem and Brooklyn. In the early 1960s, he landed a job with Nina Simone, and I was so happy that his professional career was on its way. Chris performed with Dizzy Gillespie, Billy Taylor, Hazel Scott and with my own group, Jimmy Owens Plus.
One time when we were playing in Europe, I had to buy an airplane ticket for Chris's bass. The airlines named it "Mr. Bass" and put it in a first-class seat. When dinner was served to the four of us seated in coach, Chris asked what the first class passengers (including Mr. Bass!) were eating, and insisted on having the same food and drink brought back to him.
Another very special evening I remember was a concert we performed at the Emma Willard School in Connecticut with the African-American painter Warren Parker, who was painting to our music. Chris was so full of joy with how the painting looked at various stages.
I also remember the happiness on Chris' face in 1978 when we recorded three of my compositions with the 90-piece Hannover Radio Symphony Orchestra and one of his own compositions titled "My Life," which I had arranged. (Besides Chris on bass and myself on trumpet and flugelhorn, we were joined by Jimmy Ponder on guitar and Charli Persip on drums.)
In 1975, Chris and I worked together in Vermont to set up a unique six-week summer jazz camp called Bennington Summers. Years earlier, Chris had also been the director of the MUSE Children's Museum Jazz Program in Brooklyn, where I taught trumpet. In later life, we both attended the University of Massachusetts at Amherst to be part of program set up by Dr. Roland Wiggins. Chris, Bill Barron and I earned our master's degree in education, while Billy Taylor earned his Ph.D.
Our mutual friends included Freddie Waits, Roland Hanna, Bill Barron, Rudy Collins, Don Jay and Billy Taylor, and when these musicians passed, Chris and I mourned their losses together.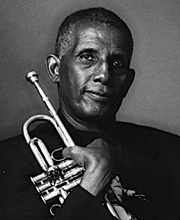 WILMER WISE
(Dec. 21, 1936 – Jan. 30, 2015)
Wilmer Wise was a trumpeter of greath depth who performed in symphony orchestras, Broadway shows and jazz big bands. He grew up in Philadelphia along with Lee Morgan, Bobby Timmons and other jazz artists, but Wilmer was more interested in pursuing a career in European classical music. We became friends in 1970 when he moved to New York. Wilmer worked with the Baltimore Symphony and the New York Philharmonic and we performed in the Symphony of the New World together. He was also a longstanding member of the Brooklyn Philharmonic Orchestra. Wilmer and I played with Lew Soloff in the orchestra of the Alvin Ailey Dance Theatre, performing the music of Duke Ellington. One night Wilmer sent in a new trumpeter by the name of Wynton Marsalis, who did a great job.
After the performances, we'd go for food and drink at a delicious Korean restaurant called Arirang, which was on 56th Street. A few years later, Wilmer became a vegan, and we'd go to GOBO on Sixth Avenue and various other Japanese and vegan restaurants that he liked.
Many times, Wilmer would come over to my house and we'd practice together. We shared trumpet-playing concepts in both the jazz and European classical traditions. In between, we liked to tell each other jokes. I always reminded him to tell me when the joke was over so I knew when to laugh. I wrote three solo trumpet works for him that he performed a number of times.
We spoke three or four times a week and in the last three months of his illness, we spoke just about every day. When I asked him some of his best memories, he said performing Bach with Pablo Casals, and the rehearsals and video of "West Side Story" with Leonard Bernstein. This was about one hour before he died. I was with him in the hospital room in Brooklyn when he passed away on Jan. 30, 2015 at
4:20 p.m. Wilmer died of lung cancer that was in the fourth stage. He had stopped smoking many, many years ago after he noticed that smoking didn't help his trumpet playing. He had also given up drinking all alcohol some 20 years ago.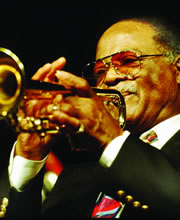 CLARK TERRY
(Dec. 14, 1920 – Feb. 21, 2015)
Not enough can be said about Clark Terry as a trumpeter, composer, educator and entertainer. His sound was so personal that a listener could tell it was Clark after only three or four notes. I knew Clark from about 1962, and we performed on the same stage many times over the years. I was in his first big band along with Randy Brecker, Lew Soloff, Ziggy Harrell and Lloyd Michels. We asked the Half Note Jazz Club to build a makeshift stage out of plywood, which gave us trumpeters a place to stand when we performed in this downtown club. Clark always played his ass off whenever he put his horn up to his lips or when he sang his famous song "Mumbles," in many different language variations.
Clark would send me to sub at the "Tonight Show" rehearsals if he had a record date that would make him late. That was when Milton DeLugg was the musical director.
Donald Byrd put me on a record date in 1964 along with Clark, Snooky Young and Ernie Royal. The album is called "I'm Trying To Get Home." That was a great learning experience for me because being with these jazz giants taught me how to play the trumpet better.
Clark told me about a trick that he did to Bobby Brookmeyer when they worked with the Gerry Mulligan Concert Jazz Band. He placed Scotch tape on the end of Bobby's mouthpiece and placed it back in his horn. No air can get into the horn when you blow and when you look through the mouthpiece it looks like nothing is blocking the air stream. Bobby couldn't get a sound, and he couldn't figure it out. After a few minutes, he discovered what was going on and was ready to fight someone, but he couldn't figure out who had done it.
One time when we were at the jazz festival in Nice, France, Clark had had an operation and wasn't able to blow the horn. I convinced him to join me on stage anyway. The band was playing a Sweets Edison song called "Jive By Five." We played the melody together on the same horn: Clark pushed the valves as I blew. Then we took a solo together. Clark would say "Higher! Now lower! Now middle register!" as he pushed the valves down. We had a lot of fun that night, even though I'm sure it sounded like the playing of an elementary school kid!
When I was in Clark's big band, we were invited to perform at the inauguration of the first African-American mayor of a city of more than 100,000 people. Mayor Richard Hatcher of Gary, Indiana was a huge fan of Clark Terry and hired him and his band. The audience loved the show.
I am very proud to be one of the founders of the Jazz Musicians Emergency Fund of the Jazz Foundation of America. The foundation provided assistance to Clark so he could have 24-hour care. This allowed him to be at home with his wife Gwen and continue to welcome friends. He liked to reminisce and tell his favorite jokes. If he had been confined in a hospital, I don't think that Clark would have lived for 94 years as he did. In addition, many of his friends came to his aid a number of times in a variety of ways. Over the years, these contributions showed the love there was for Clark within the jazz community and beyond. Remember that Clark had not been able to work for 10 years. I went to Pine Bluff to see him several times. The last time I saw him was on Feb. 11, 2015. Clark passed away 10 days later.
Over time, we both missed our mutual friends: Snooky Young, Frank Wess, Billy Taylor (with whom Clark made his first recording on flugelhorn), Gerald Wilson, Bobby Brookmeyer, Harry "Sweets" Edison, Red Holloway, Frank Foster, Dizzy Gillespie and many others. Clark was a member of the NEA Jazz Master class of 1991.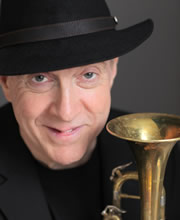 LEW SOLOFF
(Feb. 20, 1944 – March 8, 2015)
Lew Soloff and I go back together to about 1965 when we were both in the Clark Terry Big Band. At the time, Lew was in the National Guard. As I mentioned above, Lew and Wilmer Wise and I were in the trumpet section of the Alvin Ailey Dance Theatre Orchestra. Beside performing fantastic Ellington music, we'd go out after the performances and have some Korean food, drink some sake, or have a Chartreuse to drink. Lew and I performed together in 2010, when saxophonist Nathan Davis at the University of Pittsburgh invited Lew and myself, Benny Golson, George Cables and Donald Harrison to perform a concert and conduct workshops.
Lew also worked with Blood, Sweat and Tears, Carla Bley and Gil Evans for many years.
During the Ailey Company performances, Lew would many times run in at the last minute to change into his tuxedo. One time the saxophonist Alex Foster, who was sharing a locker with Lew, climbed into the locker, and we closed the door with him inside. When Lew opened the locker, Alex said "Hello, Lew!" Lew was so shocked, he slammed the locker door closed and backed away from it. We all had a big laugh.
After Clark Terry's funeral, Cecil Bridgewater, his ex-wife Dee Dee, Lew and myself drove up to Woodlawn Cemetary in the Bronx to the burial site. The car was full of stories, jokes and a lot of talk about Clark. The jokes were the thing. Lew had a few really good ones. After the burial we drove back into Harlem. Somehow the discussion got around to business matters. Lew said he was feeling great. He had changed his diet to a more healthy one and was happy that he'd lost 15 pounds. I then asked Lew if he had a will and a health care proxy. The answer was no to both questions. He said he was going to call me to discuss these matters. That was on Feb. 27, 2015, Lew had a heart attack and died nine days later as he was leaving a restaurant with his daughter Laura.
I relate this story to encourage musicians to think about putting their estate plan or will in place. Both a will and health care proxy are very important. A health care proxy makes sure that your family and your doctors will follow your wishes if you cannot communicate yourself. A will can make sure your valuables are inherited by the right people you choose. Wilmer Wise didn't have a will, but I did get him to designate someone as a health care proxy, who happened to be me. That's the reason I was allowed to be in the room with him when he died. I also wanted him to see the importance of having a will and I wanted him to see a lawyer to take care of that business. I think all musicians who have valuables should make sure they have a will and designate a health care proxy. I am sure your family will appreciate one less problem upon your death.
Rest in peace, all friends of mine.