A tribute to Virgil Jones
Volume 112, No. 7/8
July, 2012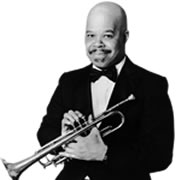 Virgil Jones (1939-2012), a Local 802 member since 1962. He is survived by his wife Carol Orito Jones, son Justin, stepson Joseph, brother George, sisters Marcia and Connie, stepfather George, and many neices and nephews.
Sweet Basil's jazz club. December 1998. Virgil Jones was on trumpet with the Barry Harris and Charles Davis Band, and Barry's jazz choir was part of the gig in which I sang soprano.
During a break, Virgil and I met. I expressed my admiration of his trumpet solos and I said I was in awe of his musicianship. He was so humble, so approachable, standing with his back to the post. He asked what I did. I could not explain the complex life of caregiving my son and part-time work I did to survive, so I told him about my B.S. and M.A. degrees in music therapy from NYU and the couple of clients I did have.
He was fascinated to learn what it was about and wanted to know how I thought it played out in my singing. His unexpected interest caused me to panic as I groped for an answer.
We spent the next 14 years in a romance that was sculpted by our mutual interest in astronomy, bird watching, bike riding, spirituality, and of course jazz.
When I remember Virgil the man, I will always remember his bravery. His courage is the pillar upon which his beautiful and tender character traits shined.
Virgil and I were writing a book about his life as a musician. The following is an excerpt of Virgil's words:
"How fortunate I was to be a young developing trumpet player in Indianapolis, the home of Freddie Hubbard, Wes Montgomery, J.J. Johnson, Leroy Vinegar, James Spaulding, Carl Perkins, Michael and Larry Ridley, Slide Hampton and family, Melvin Rhyne, Killer Ray Appleton, Charlie Cox and many others. I jammed and listened to these players in George's Bar, the Missile Room and elsewhere. It was the best way to learn. My only other formal education was Crispus Attucks High School, where my band student teacher was David Baker. Around 1960, David Baker recommended me to Lionel Hampton, who was looking for a trumpet player. Because I was not yet 21, Hamp came to our home to ask my mother for permission to go on the road and she happily agreed. Off I went on the adventure of my life. It was the beginning of my 45 years as a professional trumpet player.

"I traveled nationally and internationally with many bands big and small, and one of my favorites was Dizzy Gillispie's big band. Once in Japan, we spent a whole week playing in a ski resort. It was summer, and one afternoon it started pouring. We were outside but the stage was covered with a canopy so the musicians were dry but the audience was sitting there in the pouring rain, uncovered and listening intently. They were a polite and quiet group. I realized how much they loved Dizzy and the music and I felt good about that. Everybody had solos and the Japanese applauded everyone. It's gigs like that that always gave me a feeling of being appreciated. But I have to laugh now because they ignored the rain just to listen. Now that is almost like a prayer for jazz.

"Once I had a chance to play with Horace Silver and at the same time I was asked to return to the Ray Charles Band for a tour. I returned to Ray's band – but I wish I hadn't. During a performance in Tennessee, I fell about 11 feet off the stage and injured my back. My yoga practice saved me because I was so flexible and managed to get into a protective position. But this injury haunted me all my life. In the end, my back pain stopped me from exercising because the pain was unbearable. I was unable to walk and do things I enjoyed. I always wondered what would have happened if I had played with Horace Silver instead of Ray Charles, but I'll never know."
– Virgil Jones