A User's Guide to the Self-Produced Tour
Volume 119, No. 4
April, 2019
You've got a killer set list, you need to make some money, and you know that it's time to book a tour – but what's the first step? That was the question tackled at Jazz Mentors 18, when three formidable artists came to Local 802 to discuss the opportunities and challenges of booking your own tour. The talk was moderated by Local 802 Jazz Committee member Henry Conerway III. The panelists were:
Anna Webber, the avant-garde flutist, saxophonist and composer, and winner of a 2018 Guggenheim Fellowship and the 2014 BMI Charlie Parker Composition Prize.
Trumpeter Keyon Harrold, who tours with his own band as a headliner and also backs up top artists. He recently provided Miles Davis trumpet parts for the Don Cheadle biopic "Miles Ahead."
Bassist Chris Mees, co-owner and director of J. Chriss & Company, a New York-based jazz booking agency.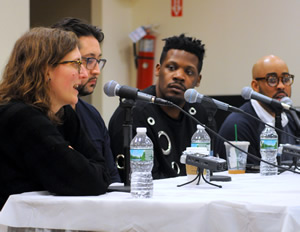 The distinguished trio discussed the logistical, economic and artistic demands of touring, from the unique perspective of the indie jazz artist. A highly diverse audience of seasoned professionals and emerging artists showed up to listen and ask questions.
With a nod to some of the more specific aspects of the self-designed tour, Chris Mees helped define something that all agreed was an essential piece of any successful road schedule: the "anchor gig."
"An anchor gig," said Mees, "is as an engagement that is viable on its own and can become the pivotal show. This gig can be at a university or festival. It just has to pay enough so you then have the ability to hunt out other venues in and around that location."
The freewheeling discussion covered other facets as well, including the logistics of working with management, defining and attracting audiences, and even which warm-up band to pick.
Anna Webber has extensive experience putting together her own tours internationally and across the U.S. "When choosing a venue," said Webber, "you have to cast a broad net. When you approach club owners or booking agents for festivals, you're not necessarily going to hear back. Be real, be polite and be patient. No response probably means they're booked, or they simply don't know you. When I performed in a small town where no one knew me, I used a local band with a strong 'street team' to open for us. That really helped with turnout."
Keyon Harrold's focus on diverse genres has allowed him to appear and record with artists ranging from Common to Lauryn Hill to Gregory Porter to Dr. Lonnie Smith. Harrold has also been booking his own tours for years, both in the U.S. and abroad. His approach to touring is at once pragmatic and idealistic: "It's a process," said Harrold to the rapt audience. "You need a record or product that people want to hear or see. It's best if you can find a manager to book the gigs, but if you are doing it on your own, be prepared for chance events that may present themselves – a last-minute invitation to play in a club or small room. You never know what may come of them. It doesn't matter where you are in the game; it's always a humbling experience. Do what you need to do to find your audience, and in that process of transition between ugly duckling and swan, you'll discover the people who are looking for you and who want to hear what you have to say."
In addition to moderating the event, drummer Henry Conerway III also helped choose the panelists. Conerway, who leads the monthly Jazz Mentors Student Jam, understands the need for the Jazz Mentors panels to serve the current community of indie jazz artists by providing up to date information relevant to their experience.
"Being in community with one another," said Conerway, "grants us a unique opportunity to share information. The Jazz Mentors panels have provided a platform for us to collectively seek the information most helpful to our community. I'm grateful to be a part of an organization that is in service to the needs of its membership."
Jazz Mentors, now in its fourth year, connects up-and-coming musicians with some of New York City's premier artists and industry professionals to discuss the business of jazz. The ongoing series is sponsored by a grant from the New York City Council and administered by the Council for Living Music. The program has encompassed a wide variety of topics, including business-oriented discussions of social media, marketing one's creativity, and social justice issues of race and gender equality. Past panelists have included such luminaries as Maria Schneider, Ron Carter, Paquito D'Rivera, Christian McBride, Joe Lovano, Camille Thurman and Regina Carter. The events are free and open to the public and have brought over 600 people through the doors of Local 802 and other venues. The next panel discussion will take place at Local 802 on April 11 from 5 p.m. to 6:30 p.m. Certified occupational therapist Aviva L. Wolff will lead a discussion about the widespread phenomenon of hand injuries in musicians, the various therapies available, and pathways to recovery. For more information, see www.local802afm.org/jazz-mentors, or send an e-mail to Todd Weeks.