A View from the Podium
Broadway music director gives an inside story in new book
Volume 115, No. 6
June, 2015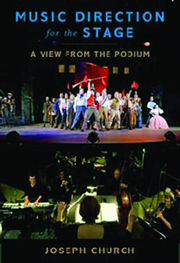 As well as being a great honor, it is especially fitting to introduce my new book, "Music Direction for the Stage: A View from the Podium," here in Allegro, as my involvement with the musicians' union was one of my first incentives for my undertaking the book's writing.
In the book I recount how in 1994, a group of music directors instituted a committee within Local 802 to address a concern that their work was encroaching into areas for which they were not properly compensated or recognized, in particular extensive transcription and arranging, composing additional music, and doing music preparation. Several of us were helping composers realize their work as elaborate Broadway scores. Among our campaigns was an appeal to the Tony Awards committee to reinstate the Tony for music direction, discontinued after 1964. We presented our case in person and with a meticulously detailed and well-produced demonstration video about music direction, showing the transformation of a raw piece of music to its final form. The Tony committee were unmoved by the impassioned plea. They still expressed bafflement at a music director's work, and were unable to remember the criteria by which they had judged the award until 1964, even though some of them had been on the awards committee then. Ironically, and very gratifyingly, one outcome of our failed attempts to explain our occupation and lay a groundwork for acknowledgement thereof was the American Theatre Wing's establishing a Tony award for orchestration, beginning in the 1996-97 season.
Our quest revealed how misunderstood, or more accurately "un-understood," the job of music direction was then, and it continues to be. Its impenetrability is not difficult to accept, for a variety of reasons, two foremost among them: first, because the job varies so greatly from situation to situation, and second, because when a music director does his or her job well, the music is woven almost invisibly into the fabric of a larger entertainment, and the music director disappears.
The definition of music direction that I propose in the book sheds even more light on the confusion, so to speak. A music director is responsible for all aspects of preparing and performing the music for a musical production: a varying, fluid combination of creative, technical, and administrative functions. He or she is the nominal head of any music department that might exist within a production organization. Among the duties: accompanying (usually, but not always, at the piano), conducting, rehearsing, giving notes, coordinating with technicians and designers, explaining or demonstrating music to others, teaching singing, instruction in harmony and counterpoint, composing, arranging, orchestrating, determining music cues, contracting and managing music staff and instrumentalists, overseeing the physical and technical aspects of the music, maintaining and revising performances over time, acting as a supporter, mediator, counselor, psychotherapist, and executive decision-maker when musical indecisions and disputes arise. To prepare for each job, music directors acquire a comprehensive understanding of every aspect of the musical score, and of the on-stage content – the story, the style, and so on. They must execute their work in an effective union with many other creative and production personnel.
Local 802 and the AFM make many appearances in "Music Direction for the Stage," partly because I use Broadway production as a model of stage production, regardless of whether the discussion is of Broadway theatre, a stock theatre, a community theatre, a nightclub or a university. The standards and practices that the union upholds on Broadway are applicable in all work situations, with regard both to reliability and excellence of the product – the musicians and music – and to the working conditions. Though the union makes no reference to music directors in the Broadway agreement, many of the tasks that fall under the heading of music direction are under the union's protection, including, of course, conducting, playing, and arranging. (The managerial duties of music directors prohibit their coverage under a collective bargaining agreement.) Music directors are both management and rank-and-file, and during the contentious negotiations between employers and the union, music directors often find themselves with one foot on each side of the border.
There is little doubt in the writing of my pro-union bias, and my strong preference for live music performed without undue orchestra reductions. An audience member deserves to hear the energy of a living horn player blowing into a metal mouthpiece or bamboo reed, deserves to hear the sound of the player's spit, and even deserves the musician's mistakes, which confirm the sound's reality, its personality, and its immediacy. Surely the few dollars that might be saved with reduced and synthesized orchestras cannot be worth the loss in humanity.
In my book, I give strong cautions against nonunion work. These are the least excusable production situations, and least advantageous for a music director. The presenters of these shows egregiously decimate orchestras and casts and employ low-fidelity electronic emulation, yet they bill their productions as "Broadway" shows. Musicians on these productions can be worked at will, going weeks without days off and traveling nightly by bus to the next stop, all at subpar wages. On the road, when not under a union contract, with many or all of their belongings in tow, including perhaps their instruments, exploited musicians have little remedy should their situation become dire. In my opinion, music directors (and all musicians) should avoid these productions entirely, even when looking to build a resumé. Nonetheless, my book addresses music direction situations of all kinds, even those at the amateur or semiprofessional level.
Finding the balance between instruction and information, between depth and comprehensiveness, and between theory and practice were among my many challenges in organizing the wealth of knowledge related to the subject matter. While it's certainly meant as a textbook for aspiring and curious music directors, my hope is that my book will be read by all those who work with and experience the work of music directors, including orchestra musicians, singers and dancers, directors, producers, and of course the interested, enthusiastic audience member – a typical profile of a Broadway attendee in the 21st century. The material covered within is relevant not just to conductors and pianists but to all musicians and instrumentalists who might someday find themselves in the position of music director, for a singer or club act, for a revue or a benefit concert, for a local gala or an awards ceremony, or even for a Broadway musical.
Many of my colleagues, professional and academic both, encouraged me to write the book, and were supportive throughout the process. I have done my best to include their insightful and inspiring voices in the chorus of approaches, methods, and opinions I present. As I state in the introduction, it is mostly the lack of understanding of music direction that creates space for a study of the subject. A music director is not just an interchangeable part, nor just someone who plays the piano really well, nor just someone who happened to be available when a music director was needed, but rather an individual who can provide a unique and significant creative contribution to a production, as well as absolute musical and accompanimental proficiency. If I have a loftier goal, it is the desire to improve upon the discipline and its execution in both professional and amateur situations… What qualifies this author as a resource or an expert? In no way whatsoever do I profess to be the sole or utmost authority. It is not boldness, but rather inquisitiveness that motivates this work.
Joseph Church, a member of Local 802 since 1983, is best known for his work as music director and supervisor of two groundbreaking Broadway musicals, "The Who's Tommy" and "The Lion King." He has worked on countless other productions as music director, conductor, keyboardist, and/or arranger, on and Off Broadway, nationwide, and worldwide, among them, "In The Heights," "Sister Act," "Les Miserables," "Little Shop Of Horrors," Randy Newman's "Faust," and Radio City's Christmas Spectacular. Also an active composer, he has written for film, television, the concert stage, and over 30 plays and musicals.