A virtuoso and a gentleman
Volume 113, No. 6
June, 2013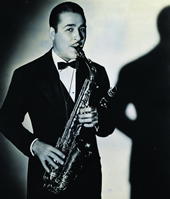 Without a doubt, Al Gallodoro, who would have turned 100 on June 20, will be remembered as a woodwind phenomenon and a virtuoso on alto sax, bass clarinet and clarinet. For countless musicians he set a standard so high, it still cannot be reached. Al was my mentor, inspiration, teacher and friend. I remember his life as one with no fears and no limits to his dreams. I studied with Al from 2005 until his death in 2008. He was always gracious to share his secrets of practice and performance, stories of the past, and love of food and drink. I will never forget the four-hour lessons at his humble home in Oneonta, New York. He used to tape our lessons. We would play literature, etudes and duets together. I am glad that his music is still a part of my life today.
I was introduced to Al in the 9th grade. I played in a community band and one of the clarinetists gave me a tape, simply called "Al Gallodoro: Virtuoso." I couldn't believe what I was hearing. I could feel the heart and soul coming from the speakers, and I decided that music was for me. That tape, which I still own, is a reminder of how far I have come and the impact Al had on my musical journey.
Al Gallodoro is the reason I began to double – even in middle school. My principal instrument was alto sax, and I first started doubling on clarinet, bass clarinet and flute. Though this might be difficult for others to imagine, I felt a musical bond between Al – a musician whose life spanned nine decades – and me, who barely spanned one.
Though most of us know of Al's limitless talents, few really know how he was as a person. Al was a man of his word and principles, and countless stories tell of his self-confidence. Some say his competitive edge came from his love of baseball. He often mentioned he would have played professional ball if it hadn't been for his passion for music.
While writing these words, I am listening to Al's recordings and am still in awe for many reasons: his beautiful sound, impeccable technique and – first and foremost for me – his heart.
This year, I'll be performing on a birthday tribute concert to Al, and I'll be honored to have the chance to perform on Al's gold-plated alto, made in 1958.
Thank you, Al, for your inspiration. I will continue to keep your legacy alive and well: passion for music and love of life.
For more on Al, see www.AlGallodoro.com.
Chad Smith, a Local 802 member, performs on saxophones and woodwinds on Broadway as well as in the classical field and on recordings. He is a leading authority on 1920s saxophonist Rudy Wiedoeft. Chad was a student of both Ted Hegvik and Al Gallodoro.