Achtung!
Local 802 musicians add spirit to German-American Parade
Volume CX, No. 11
November, 2010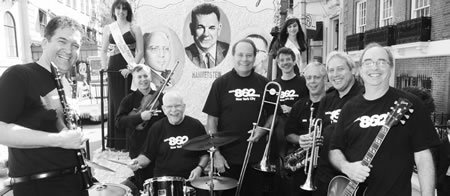 From left, Greg Thymius, Stan Kurtis, Bobby Shankin, Carl Schickler, Tom Kirchmer, Tony Gorruso, Ralph Olsen and Greg Utzig. All photos: Walter Karling.
They weren't dressed in lederhosen, but Local 802's musicians provided live music for the 53rd annual Steuben German-American Parade on Fifth Avenue on Sept. 25. The parade celebrates German-American culture and was named after Friedrich Wilhelm von Steuben, a Prussian-born general who served under George Washington in the Revolutionary War.
"It's always a joy to be in the company of great musicians, and even more joyful to get to play with them," said clarinetist Greg Thymius, who contracted and led the Local 802 musicians at the parade. "I got to do both for as enthusiastic a crowd as I've seen in a long time. It was a beautiful and powerful reminder for us and for the public of the wonderful feeling that can only come from live music. I'm so glad we had the opportunity to share that gift, and I hope that we can put more bands in more parades in the future."
The musicians performed on a float that was a tribute to Germans on Broadway, including Oscar Hammerstein, Bertolt Brecht and Kurt Weill. Some of their repertoire included the music of Frank Loesser, whose father was a distinguished, German-born classical pianist and teacher and the music of Frederick Loewe, who was born in Berlin to Viennese parents.
Lars Halter, the general chairman of the parade, told Allegro, "The musicians of Local 802 brought their music to life and were cheered on by tens of thousands of spectators alongside Fifth Avenue. I am certain that the float was not only a tribute to German contributions to Broadway but also a great way for Broadway to present its music to a broad audience. I am grateful for the participation of Local 802 and would certainly be excited to do that again anytime."
The parade ended with an Oktoberfest in Central Park, with German beer and the finals of the National U.S. Championship in Masskrugstemmen, a Bavarian strong-man contest that features competitors holding a full one-liter stein of Hofbrau beer on their outstretched arm. The winner flies to Munich to visit the legendary Hofbrauhaus.
Thymius added, "I really appreciated the help and support of President Tino Gagliardi, executive secretary Robin Donach, Recording Vice President John O'Connor, my fellow Communications Subcommittee members, the Theater Committee, the Executive Board, union reps Marisa Friedman and Claudia Copeland and P.R. Director Paul Molloy. Finally, Rich Schillio and Jim Hannen helped me draw up the contract so that the musicians could get paid."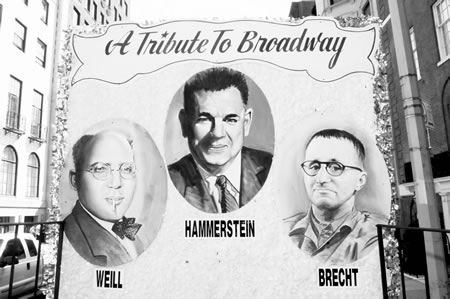 Kurt Weill, Oscar Hammerstein and Bertolt Brecht all had German ancestry and were featured on the musicians' float.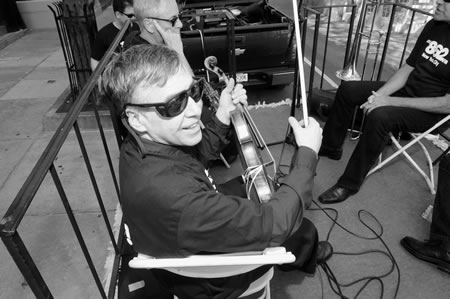 Stan Kurtis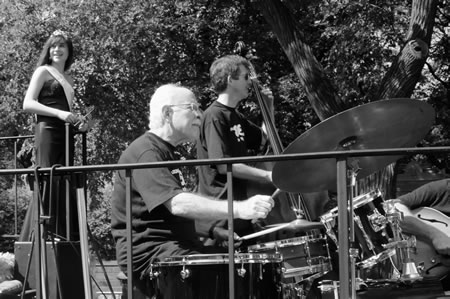 Bobby Shankin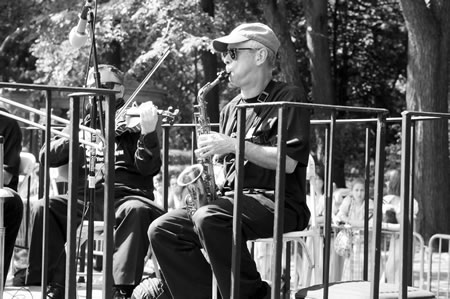 Ralph Olsen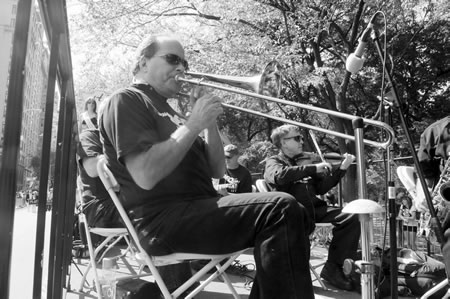 Carl Schickler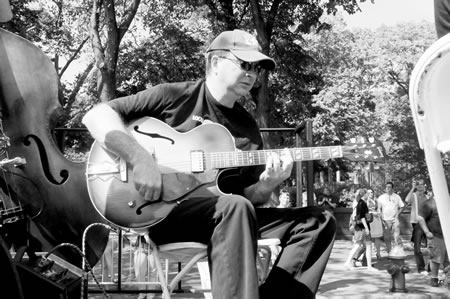 Greg Utzig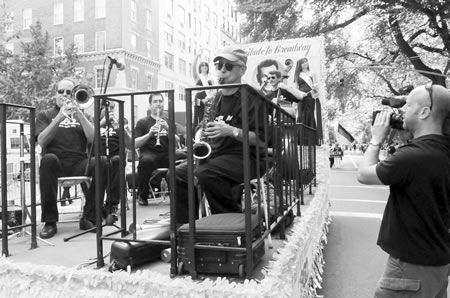 The band on the parade float