Always Striving
Andy Bloch's musical journeys
Volume 115, No. 12
December, 2015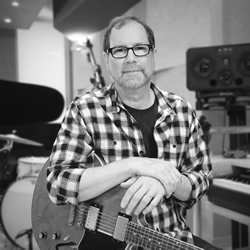 Andy Bloch, a member of the AFM since 1980, is a founding partner of Human, one of the most highly regarded and successful music and sound design production companies in advertising…and a longtime supporter of AFM and the cause of working musicians. An active composer, performer, creative director and managing partner, Andy has been involved in the production of thousands of commercials and projects for TV and film.
The son of concert pianist and teacher Joseph Bloch, Andy developed an early love of classical music. Pop music was also a significant influence via the extensive record collection of Andy's older brother John. Andy pursued formal studies in classical guitar with Oscar Ghiglia at the Aspen Music Festival, and with Leonid Bolotine, Fred Hand and Eliot Fisk at Mannes, where he graduated with a degree in classical guitar performance. He later studied jazz guitar with Howard Morgan and Tony Perrone, arranging with Don Sebesky and classical orchestration with Lowell Liebermann.
During the 1980s, Andy established himself as a live performer with his fusion band Nite Sprite, and as a studio performer working with George Benson, Keith Sweat, Teddy Riley, The Roches, Dr. John and Atlantic Starr. Additionally, Andy co-owned and operated Acme Recording Studios in Mamaroneck.
After one too many all-night sessions behind the recording desk and five years of the touring lifestyle, the world of music for advertising beckoned. Andy worked as a freelance jingle and underscore composer before assuming a staff position at JSM in 1996. In 2001, Andy formed Human, which now has a staff of 30.
"Ironically, we at Human have had our music heard by more people globally than any of the albums I've ever played on," Andy says. "Now we're considered savvy and cool musicians by our peers in the recording industry."
Local 802's Bob Pawlo recently sat down with Andy Bloch to hear how his adventure in music all began.
Bob Pawlo: How did you get started in music?
Andy Bloch: I'm the son of a concert pianist. Since I was born, I started listening to music. It was always in the environment – it's in my DNA. But the first instrument I studied seriously was the drums. I started in elementary school when I was seven. By fifth grade, I was playing first chair. My older brother, a great influence on me, was really into pop music and brought home all the latest records. He had a ukulele. I started picking on that, then upgraded to guitar. I played along with records of the Beatles and the Stones. I think I decided to devote myself to the guitar full time when one summer my brother brought home the Hendrix album "Are You Experienced" – and I just flipped. I started my first band, and that was the beginning of my career – a fifth grade garage band. By the time I was a senior in high school, I started to think maybe I needed a more formal musical education. I auditioned and was accepted into Mannes and studied with Leonid Bolotine, Fred Hand and Eliot Fisk. I also spent summers at the Aspen Music Festival where I studied with Oscar Ghiglia. During college I lived in a sprawling eight-room apartment on the Upper West Side with four roommates, among them the classical guitar virtuosos Michael Newman and Robert Seacrist. Their presence helped sober me up to the realities of having a career as a classical guitarist.
Bob Pawlo: What were the key things you learned in the classical world?
Andy Bloch: First of all, a deep love of music. When you're in love, you can – and will – do anything! But seriously, the education that I got at Mannes was invaluable, because – unlike a lot of conservatories today – they basically gave you a 19th century musical education. So you had four years of dictation, ear training, solfege, music theory, Schenkerian analysis, piano and score reading. It really expanded my ear and my mind. You end up studying composition in the process, so it's a really solid, useful foundation: you can hear and analyze anything with those tools. While studying there, I was also moonlighting by taking jazz guitar lessons with Howard Morgan, a legendary jazz teacher who lived in Queens. He played finger style a la Lenny Breau. He was fascinated with what I was doing on the classical guitar. He would often ask me to play him pieces I was working on. He taught me what I know about fingerboard harmony. He had the best system of teaching that, bar none.
Bob Pawlo: At what point did you start playing professional gigs?
Andy Bloch: After graduation, I decided to go in a different direction. I started a fusion band with fellow Mannes alumnus Brendan O'Keefe. Believe it or not, in the 1980s, you could work five or six nights a week playing fusion and make enough money to pay the rent. It was a great live music scene. My band was called Nite Sprite. We had Dave Weckl on drums, Danny Wolinsky on sax, Jay Oliver on keys, Paul Adamy on bass, Joe Bonadio on percussion and Vaneese Thomas on vocals. Other members at various times included Fred Vigdor and Rob Aries, and my friend Brendan O'Keefe, who I must say wrote some amazing music.
Bob Pawlo: So now you're playing clubs, you're playing fusion. How did you proceed from there?
Andy Bloch: Well, after a year and a half doing that, some friends of mine wanted to start a recording studio, which still exists – Acme Recording – and I wanted to partner up with them because I thought it would be a great way to record the band. In those days, the cost of recording was prohibitive. I thought it would be wonderful to have a place where we could record and develop our sound without having to spend $50 an hour. (By the way, that is actually the same rate people still pay, 30 years later. Not a good business to be in!) I signed up for a crash course in studio engineering but learned mostly by doing and having partners who were a lot smarter than me. So I started working as an engineer and producer. I met a lot of great musicians. I co-produced the record "No Tresspassing" for The Roches, Then one day, I met the guys from the R&B group Atlantic Starr when they booked time at Acme. They didn't realize I was a guitar player until by chance they saw me playing at another studio. The told me, "Oh, you have to come play on our record!" My first session for them was on this tune called "Always," which turned out to be a number-one hit. I played classical guitar on that track along with a 12-string that was lying around the studio. That guitar had a neck so warped I had to overdub one chord at a time so I could tune each one – pretty funny. I ended up touring with them for the next four years. I had realized by then that I didn't want to be spending so much time running a studio business and engineering all-night sessions.
Bob Pawlo: What were some of the more memorable venues that you played on tour?
Andy Bloch: Madison Square Garden. We did the Budweiser Superfest, which was a travelling, star-filled R&B stadium tour. Going from playing little clubs to all of a sudden being in front of 20,000 people was your classic "Oh, so this is what the big time feels like" moment. We played the Rose Bowl, opening for Luther Vandross in front of 80,000 people all waving their lighters during "Always." It was crazy. But whenever I had a free night, I kept doing club dates with my other band. Gotta fill up that date book! Back then, club date work was bread and butter for most musicians in New York. I remember one weekend I was playing the Garden and the next weekend I did a gig at some catering hall and we played "Always" as the first dance.
Bob Pawlo: From the Garden to a club date, playing the hit tune that was played around the world.
Andy Bloch: Never turn down a gig. The club date band I played with was wonderful. All the musicians were great. Cornelius Bumpus was our saxophone player at the time. He was a legendary musician who played with the Doobie Brothers – and then he also played with us! We'd laugh about it, but he had no ego about it. He was a wonderful man and musician. But back to Atlantic Starr. At a certain point I felt I was in a rut, my mind started wandering during the shows. The thrill was gone. Killing time alone in my hotel room made me gain a deeper understanding of how things can go wrong in a life on the road. So after four years, I was looking for something else. I had a friend who was a very successful jingle singer and he introduced me to a few people in the business. One of the first things I wrote, a song for a toy commercial around 1990, ended up making me more money than I made in a year on tour with Atlantic Starr. Once you get a taste of that type of success you want to repeat it, but you soon realize it's not so easy.
Bob Pawlo: How was technology starting to change the jingle business at that point?
Andy Bloch: MIDI had been around since the early 80s, and people were starting to really incorporate it in composing and producing. You still had predominantly live dates up until the late 90s and then it really started to change. As a composer in that business, you would demo everything in MIDI and then the client would expect you to redo it with a live band. Today, of course, what they hear is what they get. Clients rarely come to sessions anymore. When they hear something, it will usually be on their laptop or iPad – and the demo has got to be as good as a finished product.
Bob Pawlo: You already had a background in technology from being a studio engineer. Did that contribute to your success?
Andy Bloch: Yes, it helped me. Some composers had great ideas but they didn't have the gear or the chops in the studio. Those guys were still very successful but they just got other people to do the work for them. I tend to do everything myself; it's just my process.
Bob Pawlo: And so at this point you realize that you're going to make a career in the jingle world?
Andy Bloch: It just kind of happened. Many people I knew had this attitude about composing for jingles. They were filling in the gaps between major gigs, slumming. But I'm reminded of the line from the song "Beautiful Boy" by John Lennon: "Life is something that happens to you while you're busy making other plans." Jingles happened to me. Before I knew it, I was just writing all this stuff and doing less and less performing.
Bob Pawlo: Tell me how you ended up founding your own company.
Andy Bloch: In the mid 1990s, I met Jon Silberman. He had a company called JSM, which was one was one of the top jingle houses. John gave me a shot writing on a Dodge truck commercial. I remember sitting in this incredible studio complex, which sadly no longer exists, and freaking out because this was my shot, but his usual writers all had the best technology: Synclaviers, racks of gear, SSL consoles – everything was over the top. So I immediately went to Manny's and bought some new synth gear on my credit card. I needed some competitive new sounds. Cut to the chase, I won the spot, and I was officially hooked on jingle writing. After about five years at JSM as a staff writer, I felt the urge to do it for myself, as did my future partners (also JSM writers). I wanted to create an environment for myself where I wanted to get up every day and go to work. I was always starting bands, that's all I've ever done, so my company Human is just a continuation of that pattern. Fifteen years later, I'm still in business with my partners Morgan Visconti and Gareth Williams. We've had a few personnel changes, like any band, but the core is still there and we're still crankin' out the hits.
Bob Pawlo: As an artist, how does composing for a commercial feel different to you from other composing? How is it satisfying artistically?
Andy Bloch: Scoring a commercial is the same as scoring a film except it's usually only 30 seconds long. That's very hard to do, to make your point in a short space of time. Another challenge is that you are often tasked to write to very specific instructions from the ad agency. In regards to artistic expression, we can get into the debate of film music vs. concert music, or Top-40 songwriting vs. Bob Dylan. However, there is no denying that today many songwriters, film composers and concert music composers – such as Ryan Tedder, Atticus Ross, and Philip Glass, to name a few – compose music for advertising. I personally get great satisfaction out of doing the job well and making people happy, whether writing a very minimal 30-second underscore or crafting a deeply personal long-form composition. There is so much rejection in the music biz, you have to enjoy the process or you'll never last.
Bob Pawlo: For our members who don't compose for jingles, can you describe the artistic process? Does a separate agency film the entire commercial first with actors, which you get to watch before you add the music?
Andy Bloch: The process is varied. Usually we have a visual to work to, provided by the agency. Sometimes we write a piece of music based on a few sentences such as "needs to be anthemic, it has to build, it should be cinematic and modern sounding…and we need to hear broadcast-quality demos by tomorrow evening." An important part of the composing process for ads is that often the dialogue or the announcer is your lead instrument, so you have to arrange for that as you would a singer.
Bob Pawlo: How do you look at a product and get its "sound sense" – how do you decide what kind of music will sell a certain product?
Andy Bloch: Now you want me to explain how we make the secret sauce – not easy! A lot of deciding what music to write for a spot is logical, whether it's something that was arrived at through the conscious vetting of ideas or something that just popped into your head. You have to understand what the product is, who they are selling it too, how certain music affects that demographic, and how music affects emotion in general. You also have to be aware of current trends in the culture. For example: if you look at the technology sector in advertising, a lot of these advertisers want to humanize their products and emphasis everything it does to make you feel more "human" and happy, as opposed to emphasizing the product features or perhaps the more disturbing aspects of the machine. You would write music that makes you feel warm emotions rather than something from the soundtrack to the sci-fi film "Ex Machina." You would use acoustic, organic sounds, rather than synthesizers.
Bob Pawlo: How do you keep up with the technology?
Andy Bloch: I do my best, but it's a full time job to stay current. However, the music production technology is so good now, it's almost become invisible. So no matter what computer, software or sound samples you have, you will be competitive. Everyone, for the most part, can afford to buy the same stuff. The technology on one level is becoming like the piano. The piano has basically stopped evolving. Pianists focus on the music and not tweaking and hot-rodding their instrument. I think John Cage was probably the last to really try to reinvent the instrument. Now I'd like to say that the good news for traditional musicians – those of us who spent years years in our rooms practicing an instrument – "performance" matters. At this point, for me personally, keeping up with technology involves how to make it bend to the expressive needs of a live piece of music, music that really sounds like it was made by a person – "enhanced reality," if you will.
Bob Pawlo: Do you ever get the urge to go back to playing live gigs?
Andy Bloch: I would love to. One of my great sadnesses in life is that I don't perform as much anymore. I think some of the happiest and most relaxing moments in my life were spent on stage.
Bob Pawlo: You are one of the most recorded and listened-to guitarists in the world, thanks to your jingles and commercial music.
Andy Bloch: I guess you could make that argument. But – and not to be too self-deprecating here – I doubt if anyone cares. Maybe in the distant future, people will begin to listen to compilations of ancient ad music from the 21st century and some geek will actually take notice.
Bob Pawlo: What advice would you give to a guitarist starting out in today's music world?
Andy Bloch: I think for guitar, technique has reached its apex. Like piano or violin, there is nothing really new to discover in technique. When an instrument is invented for the first time and evolves, its technique evolves. But it seems to me that the guitar is done as far as evolving as a physical instrument. So, first thing is to master technique as best you can, then find a way to make your own sound. So much of that now involves gear and pedals, but the basis of everything is the touch. Once you've got something there, you have to think like a composer, producer and promoter – all that fun stuff. There are very few jobs for those who are only amazing "chopmeisters." You need to be able to bring all styles to the table. A classical pianist has to be fluent in the last 300 years of repertoire. A modern working guitarist should be able to play all styles and have an encyclopedic knowledge of songs, solos and riffs. If you're lucky enough to have a career as a great stylist and play your own music, then God bless you – but for the majority of guitarists, it's probably necessary to be a musical jack-of-many-trades, if not a jack-of-all-trades!
Bob Pawlo: What do you still look forward to in music?
Andy Bloch: Learning more music. Music is not a business, even though you must be a business person. Music is really a passion or a religion. It's what we do. I've always found that it's one of those things in life that if you invest, it pays real dividends. It's just such a spiritual endeavor. What we can't say in words, we can say in music. So for anybody's who's coming up, you just have to keep the faith and focus on what is important. Although the music business has become very complex, things will work out. Keep the faith, my brothers and sisters!