'Bebop Is My Mojo'
Listening to jazz master Rudy Sheriff Lawless
Volume CX, No. 1
January, 2010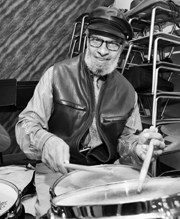 "Once you take an interest and keep an open mind and an open heart, you'll never be the same. You'll never let go, because something about the music…"
A full transcript of Todd Bryant Weeks' interview with Rudy Sheriff Lawless available for download.
Rudy Sheriff Lawless has been around. He's been playing the drums professionally since 1947.
He was born in Manhattan's Gramercy neighborhood in 1931 and, while still a young child, he moved to Harlem.
A longtime Local 802 member, Rudy witnessed the end of the big band era and the flowering of modern jazz first hand.
His conversation, punctuated as it is by an array of wild digressions and flights of complex bebop scatting, is always lively and engaging, and his memory is sharp.
Whether he is regaling the listener with tales of his childhood uptown, or flexing his considerable labial muscles on current events, Lawless is always unabashedly, cannily straightforward.
Lawless plays and records with Valerie Capers, Lenore Raphael and Hilliard Green, to name a few. He is also one of the leaders of the Jazz Foundation's weekly jam sessions on Monday nights at Local 802.
Here are excerpts from a long interview conducted in September 2009. The words are almost all Rudy's; my comments are in italics.
---
On my mother's side they were all Caribbean. My great grandmother came all the way from Ethiopia. My father's family was Trinidadian. They came to New York in the 1910's. We were a close family, with seven kids. Even with that Caribe accent, my parents and aunts and uncles spoke closer to the King's English.
The only time you ever heard anybody really use the dialect was when they got angry. It'd frighten you to death. As long as they didn't use the accent, you knew you were cool. But if things were different, and you heard that sound comin' at you, you knew you had better get out of the way quick.
Lawless started dancing lessons as a three-year-old, at a Harlem studio on 132nd Street between Lenox and 7th Avenues.
I danced with my brothers and sisters to different kinds of music, mostly stuff like Eubie Blake and, later, boogie woogie. We ended up doing the jitterbug and the swing and ballroom steps that were popular – this was about 1936-37. My performance partner was a girl named Streemy Webb. One of our numbers was "Oh, Johnny, Oh Johnny, How You Could Love," and if you can imagine a four- or five-year-old kid doing this kind of number – my eyes would be bubbling and I'd be doing my little dance, and Streemy would walk by coquettishly.
As we grew older, our costumes got more sophisticated until by the time I was nine I was wearing a tuxedo.
At dancing school, during the intermissions, the curtain would come down and I'd run up there and get on the drums.
I remember that first kit I sat behind was a green sparkle. And I was so small, I couldn't reach anything.
But the drummer, Jimmy Parker, had left his sticks out. And I just took them and I was bashing stuff, and they didn't bother me, but just quieted me down. Because other things were happening. This was backstage, after all.
That was my first hands-on encounter.
Rudy was bitten by the jazz bug while still in high school.
It was during the summer of 1947, when I was about 16, and I suddenly thought, 'Oooh, what is this?' Well, I didn't necessarily think that way right off the bat, but due to the fact that [original Basieite trombonist/guitarist/arranger] Eddie Durham lived next to me, and the show drummer Jimmy Crawford lived across the street, I had a glimmer.
At that time, everybody knew about Chick Webb, who had died when I was about eight.
And I was aware of Max Roach and Kenny Clarke, and Denzel Best taught kids in the neighborhood.
I got my first real set of drums on 42nd street in 1948, for my 17th birthday.
I had saved up my tips from making deliveries for a chain of dry cleaners.
It was a Slingerland, and it was painted silver and black and it had a twenty-four inch bass drum, a snare, one modern tom-tom, and a cymbal that was as big as my hand.
Back in those days, they figured you could augment with a cowbell, a glockenspiel, and it all hung off the kit.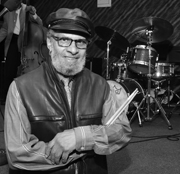 "Everything would be real quiet in a given number, then all of a sudden it'd be big. And it was beautiful."
And then, suddenly, a real gig.
When I went out with Eddie Durham's big band, I wasn't the actual drummer. That was Slick Jones. I went along to help set up the drums, and to learn how to play.
We went cross country. It was about a month…but I wasn't just a valet – I ended up playing with the band. I think Eddie wanted to see what I was made of.
And then within a year, I was actually playing with them at a restaurant up in Goshen, New York.
And there I was, sitting behind Slick Jones's drums, and Eddie would come back at us with the guitar, and play rhythm.
And then he'd go up front with the trombone, and play with the other two horns. And then he'd come back.
But what did I know? I was a minor! Eddie was a great arranger and composer too.
My dear mother, she let me go out with Eddie because she used to say, 'He plays music…and he writes music' – and she loved this part the most – 'and he makes children' [i.e. he was a father]. Eddie didn't drink or smoke. All of this was a plus.
It wasn't until a year later that I was making gigs with other people, and mother had been under the impression that Eddie was on the gig, and she was cool, because I didn't say anything – there was no real reason to say anything.
I said something years later and she said, 'You didn't tell me, boy?' And I said, 'Well, it didn't have to happen that way.'
One of my things with Eddie, was that when I was playing, he'd come back to where I was and say, 'Rudy, don't play that.' And I'd say, 'Oh. OK,' and I'd go into something else, and he'd be very happy, and then he'd go back up front.
And then, maybe three to five minutes later, he'd be back and he'd say, 'Remember that thing I told you not to play?' I'd nod my head, and he'd say: 'Play it now!!' And he was right, he was so right.
In the 1950's, Lawless worked in and out of music, never straying far from the scene.
At one point, he toured the South with a small group that put in promotional appearances a town or two ahead of an early Ray Charles touring unit.
Later, he worked with the great Ellingtonian trumpeter Rex Stewart.
When we rehearsed, Rex would take rhythm patterns from anywhere and insert them into a tune.
Now, he had about six or eight patterns that he used – but you never knew what tunes they were gonna go into – and he'd end up making it all sound like a big band.
For instance, he used the song "Pick Yourself Up." He'd take a rhythm pattern like that, and put it in every tune, but make it big.
And it was groovy.
He'd give me the cue just at the end of his solo – oh, and he'd be playing two horns…he'd play two solos simultaneously! We'd always know when to come in.
Everything would be real quiet in a given number, and then all of a sudden it'd be big.
And it was beautiful.
Lawless has a truly spiritual connection to the music, and over the years he has developed a kind of preternatural feeling for when things are right.
Once you take an interest and keep an open mind and open heart, you'll never be the same.
You'll never let go, because there's something about the music, you end up dedicating your entire day and night and week and whole months go by.
And this is what happens: You feel that you can't do anything else in life.
Of course, you can't do it 24-7 You have to do other things; you have to read other books. But you always come back. And discipline is a major part of it. Without the discipline, you're in trouble.
But, in music, if you're serious, it grabs you so that you don't even know you're being disciplined.
You're floating on a cloud that's not even come down from the sky, man. That's how it grabbed me.
I could play any popular style if I needed to. But that's not where my mojo's at.
Bebop is my mojo, and that's the major. Everybody has a major. That's mine. I wouldn't trade it for anything.
In fact, it's just the kind of thing where you'd like to live your life all over again so you'd appreciate it even more!
Throughout, Rudy has maintained his sense of humor Here he is on the subject of cruise ships.
I've worked a lot of them and I've had a ball doing it. The first time I went out, I got sick with my heart thing because I was eating up all that chocolate while I was on board from the buffet.
You come back to work on another ship and you see them all eating and you think, 'Oh man.'
And another thing on the cruises.
There'll be like five Caribbean guys, man. Five pieces in the band, and 3,000 people on the ship, but everybody, black and white, will be saying, "Yeah, mon. No problem, mon!" Five Caribe guys on the boat and everyone talks like they're from Barbados! The workers, and the guests!
That's because of that Caribe language. It sings, it dances, and you feel like you have to have a piece of it for yourself.
It's part of the beauty, man. In the end, it's all beauty.