A taste of Broadway for percussion students
Local 802 members share their knowledge at NYU's Broadway Percussion Seminar, as audiences get ready for Broadway's re-opening
Volume 121, No. 8
September, 2021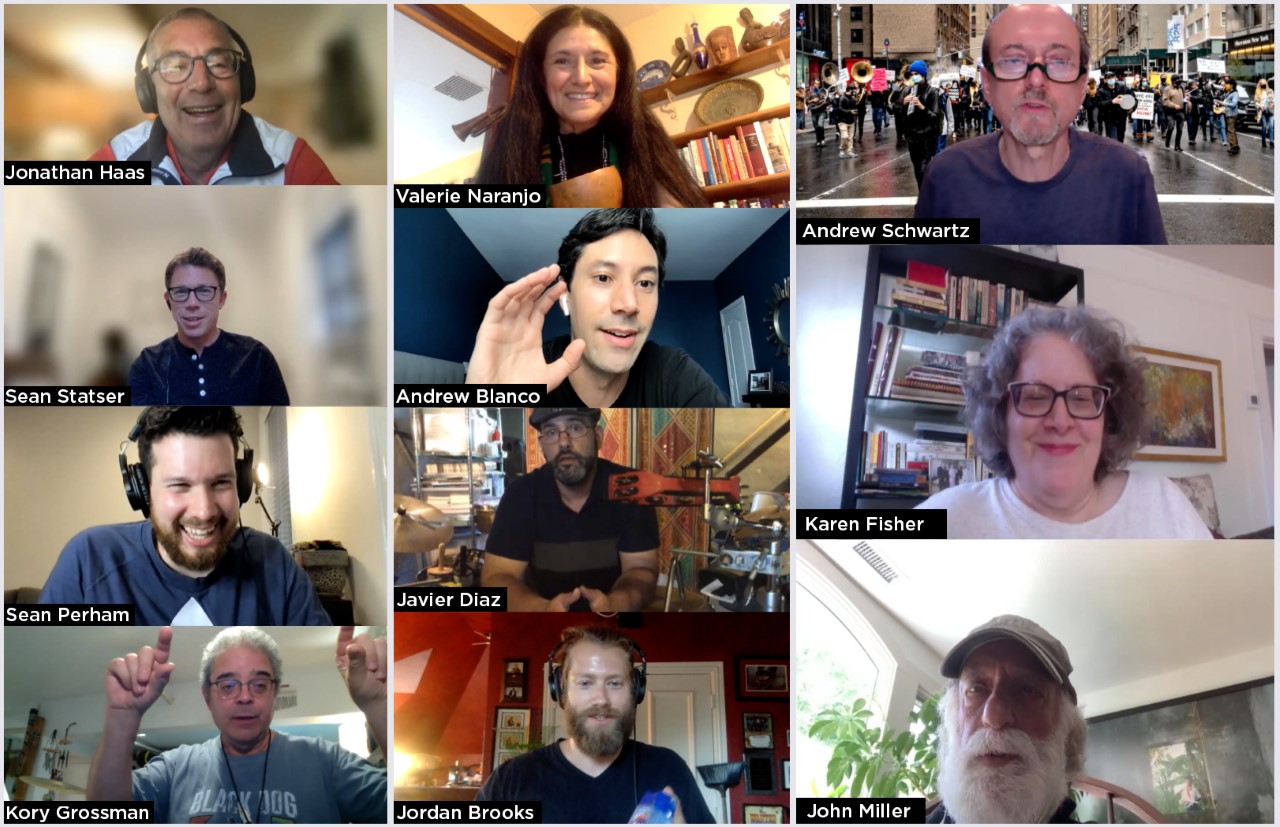 This summer, percussion students from all over the world once again got a taste of some Broadway magic from Local 802 musicians at New York University's Broadway Percussion Seminar, directed by Local 802 member Jonathan Haas. Even though Broadway was closed at the time, the seminar was still an incredible opportunity for talented percussionists to learn from some of the biggest names in the industry. The seminar, which was virtual this year, began on a Sunday with an introductory session, revealing the expanse of audience that NYU reaches. In addition to nearly a dozen U.S. states, participants from the U.K., India, Japan, and Taiwan were represented, all tuning in to experience the expertise our Local 802 guests had to offer.
After the opening session, the group reconvened for our first guest lecture by recent NYU alumni Sean Perham and Jordan Brooks, who are members of the Off Broadway smash hit STOMP! The session was incredibly informative as to what an audition process will look like for this kind of show. STOMP is very unique in that the percussionists aren't locked away in a pit, they're the full show — actors, comedians, percussionists, and all-around entertainers. In addition to taking the participants through some of the basic exercises the cast members use for body independence, Sean talked about how STOMP is really an opportunity to put his acting skills to work, which he never expected to in a professional musical setting.
Day two opened with the annual Super-Sub presentation, this year hosted by seminar-mainstay and superb percussionist Kory Grossman. Not only did he recently hold the percussion chair for My Fair Lady, he's a Broadway legend for his incredible ability to sub on myriad of different shows. Kory is undoubtedly an expert, having been on 10 different sub lists at once for a large chunk of his career. He took the audience through a general path of his career and explained how he came to take on such a wide breadth of roles. He left the audience with a general understanding of what it takes to be a rock solid sub on Broadway, being able to adapt to exactly how the regular sounds. "At the end of the performance, you shouldn't want to hear 'good job tonight!' from one of the other members of the pit. That means you stood out. Instead, you want to hear 'I didn't realize there was a sub in tonight!' — that's how you know you did your job."
The second day continued with an awe-inspiring session by percussionist for The Lion King and Saturday Night Live, our very own NYU faculty member Valerie Naranjo. Valerie is one of the leading experts in West African music, and puts her extensive knowledge to work in The Lion King. She showed a series of clips, all performed by her, of traditional West African songs, followed by how they are used and adapted for The Lion King. She also gave some insight on how to prepare for an audition when a show calls for one — Valerie was part of a team that conducted auditions for percussionists seeking a spot on the show, since it requires expert level skills on hand drums and marimba. She made a point to give everyone tips on what to do and what NOT to do when presenting yourself to a panel.
The seminar went on that night with a presentation by one of the younger faces of Broadway percussion: Andy Blanco. Andy took the audience through his role as percussionist and assistant conductor for the new revival of West Side Story. Being one of two percussionists, Andy talked about how he and his stand partner go about dividing the parts, how to navigate a shared setup, and how he detailed his instruments and interpretation with an understanding of how this revival has changed. In the opening number, for example, Andy made the decision to use toms tuned much lower than they have been in past versions to help communicate the contemporary setting, choreography, and musical sensibilities. Andy also explained how he landed the job as assistant conductor and the importance of being versatile and having multiple skills sets in the music industry.
The next morning the group reconvened for a brief presentation about college admissions, and we were joined by representatives of both NYU undergraduate and graduate programs. This was all in preparation for the main event of the day: the virtual pit tour, presented this year by Andy Blanco.
Using a video taken by one of his subs, Andy took us through a 2015 performance of An American in Paris. He discussed his setup and the importance of making sure one's books are all in order, especially when using multiple. He also took us through the changes made to the show, the virtuosic vibraphone part that the orchestrator uses to fill out the ensemble, which contrast the more traditional xylophone and timpani parts. Andy explained the process of playing new musicals (and new arrangements). The difficult, yet rewarding job of playing music that's still being written all the way to opening night with very little room for error. Andy also talked about the reality of working in such a small theatre that he had to set up on the seventh floor of the theatre. It was truly an insightful experience!
Day three of the seminar concluded with the most wonderful presentation by two officers from Local 802. Financial Vice President Karen Fisher (who plays clarinet) and Recording Vice President Andy Schwartz (who plays guitar) both joined us and gave invaluable advice from their combined decades of knowledge working on Broadway. They explained what the union does for working musicians, the horror stories of working on nonunion jobs, the peace of mind and security that the union is able to provide for artists, even during the pandemic. They also took the members through their own personal stories of finding work as freelance artists and took the time to really explain what it takes to get the dream job as a Broadway player. Karen and Andy's session was perhaps the most insightful of all sessions, providing advice on not just how to be a good player, but how to be secure in one's employment in such a volatile field.
The final session of the seminar was presented by expert hand drummer and percussionist Javier Diaz. Javier also serves on the faculty at NYU, teaching Latin percussion and hand drums. He's the percussionist for the hit show Ain't Too Proud, and also was recently the percussionist for shows such as Once On This Island and the film adaptation of the musical In The Heights. Javier showed the participants how he sets up for shows with extensive Latin percussion and hand drum parts, as well as tips for how to read the score when all that is given is a generic pattern. Everyone was amazed by how much he could teach about playing the tambourine and shaker. He broke down the main types of grooves that one might see in a musical theatre score, as well as how to deal with starting and stopping the tambourine without making any extraneous noises while the microphones are still hot. His words and teachings were an inspiration to all of us.
The seminar concluded with a roundtable discussion on Wednesday. Students came into this session with a wide variety of questions, after considering all that they learned through the week. We were joined by the legendary bassist and Broadway contractor, John Miller. John offered some insight on how to put yourself out there as a musician to be noticed by the Broadway scene in the age of social media and technology. "We all just want one thing, and that's for the phone to ring," says John. His words stuck with us as we all waved goodbye to each other. The seminar only lasted a few days, but the information, insight, connections, and friends will last a lifetime. It was a week that none of the participants will soon forget, and a fantastic way to start NYU's summer music programs!
If you have any percussion students in your life who might want to sign up for next year's seminar, tell them to keep an eye on this page. Registration will open in January 2022.