Broadway: We're Back!
Financial Vice President's Report
Volume CVIII, No. 1
January, 2008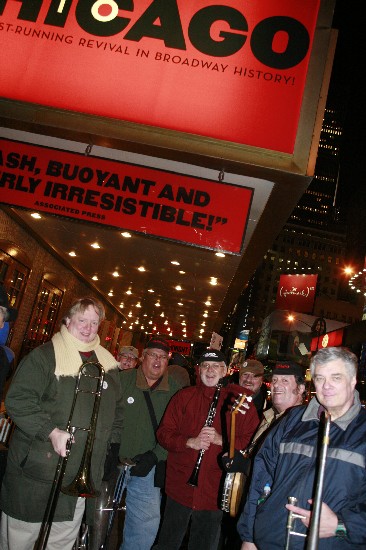 Musicians performed on the stagehands' picket line each night. Photo by Claire Houston.
The night of Nov. 28 was cold and blustery. Many Local 802 musicians along with numerous IATSE Local 1 stagehands and Equity actors waited patiently outside the offices of Proskauer Rose, the legal firm representing the League.
Television lights illuminated the building's entrance while cameras lined the curb ready to capture all that was about to unfold. Reporters made their way through the crowd interviewing those who were eagerly awaiting breaking news regarding the story that had captured the attention of the world. Rumor had it that an agreement had been reached between Local 1 and the League, ending the Broadway dispute.
The lights had been dark on Broadway for 19 days. Each time an agreement seemed within reach, hopes were dashed and a return to the negotiating table was delayed yet another time.
One hundred and twenty-one years without a stagehand strike had made many skeptical that either side would allow Broadway to go dark. But things were different this time. The League was asking for numerous concessions, while Local 1 felt a perceivable lack of respect coming from the League. These two factors combined to create a volatile mix that exploded into an acrimonious labor dispute, the effects of which sent tremors far beyond the "Great White Way."
The city comptroller's office reported that the strike cost $2 million a day, or approximately $40 million in lost revenue during the nearly three-week dispute. Broadway posted ticket sales of $7.2 million for two weeks during the dispute, as opposed to $42 million grossed for the same period during the previous season.
Throughout the dispute, Local 1 members showed great resolve.
One stagehand on the picket line told me, "I'd sooner sell my house rather than give in to the League's demands!" This determination gave strength to the union leadership who were fighting valiantly on behalf of the Local 1 stagehands.
Tremendous solidarity was shown by the musicians of Local 802 as well as other members of entertainment unions. Musicians consistently showed up to the picket lines, many playing their instruments, bringing a hopeful atmosphere to what was a difficult situation. Local 802 members can be proud of the way they conducted themselves, giving unflagging support to our fellow union members.
In recognition of the many sacrifices made by Broadway musicians, Local 1 has contributed over $165,000 to Local 802. The Local 802 Executive Board immediately added these additional monies to the work loss benefit checks paid to Broadway musicians during the strike, increasing the amount paid out for each missed show. Representing only a portion of what was actually lost, these checks were nevertheless welcomed by musicians, helping to make ends meet during what turned out to be a rather protracted dispute.
THE DEAL IS MADE
Back to Nov. 28. Suddenly, a hush came over the crowd that had now swollen to over a hundred. Charlotte St. Martin, executive director of the League, stepped into the lights, announcing that performances would begin the following evening. A collective sigh of relief could be heard from the crowd. A short time later James Claffey Jr., president of Local 1, appeared to a rousing round of applause. He thanked those who had been waiting and commended his membership for their actions during the dispute. He announced that voting by the membership would take place in ten days.
Claffey ended by saying, "I want to get my members out of the cold, so I'm leaving now. It's been a long day."
And so he left, with reporters nipping at his heels trying to get one last sound bite. The Broadway dispute had finally come to an end.
Hats off and a heartfelt thank you to our Local 802 musicians and staff who responded big time when called upon to do what was necessary.
Now let's get back to work doing what we love to do — what we do best: making beautiful music.