Canned Music? No Way!
President's Report
Volume 112, No. 4
April, 2012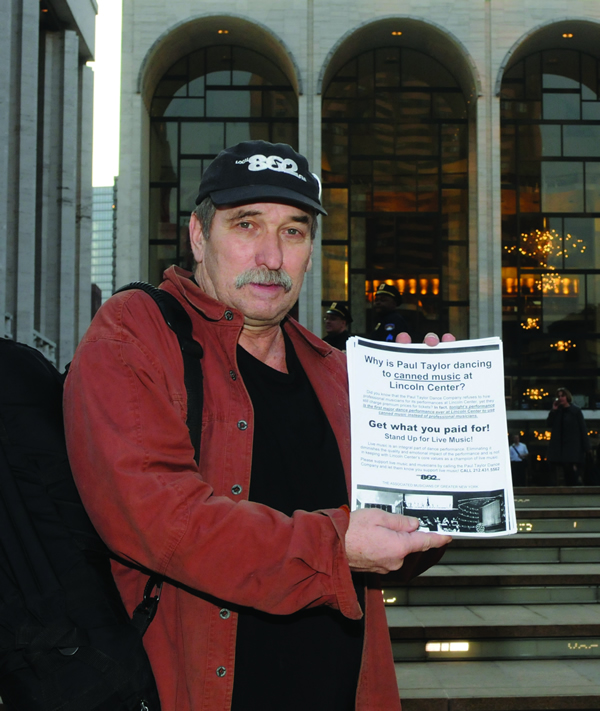 Say no to taped music! Musicians leafleted the March 13 performance of the Paul Taylor Dance Company, which now has the dubious distinction of being the forst resident company in one of Lincoln Center's "big three" theatres to perform without live music. Above, Local 802 member and trumpeter Frank Hosticka.
Photo: Walter Karling
Lincoln Center must be held to the highest standards
A major cultural player in New York City has shortchanged the public by presenting canned music at Lincoln Center. As disappointing as this is, what's even more surprising is that this arts organization should have known better: the Paul Taylor Dance Company.
From March 14 to April 1, the company performed a dance series at its new home at the David H. Koch Theatre at Lincoln Center. Instead of using live music, the company used tape.
Our position is that any presenter of art at Lincoln Center must use live music. In fact, it is unprecedented for a resident company in one of Lincoln Center's "big three" theatres to perform without live music.
Last year, I met with the executive director of the company in an effort to persuade it to uphold the tradition of Lincoln Center and use live musicians. My proposal was rebuffed.
As New Yorkers, we are proud that Lincoln Center continues to be recognized as the world's premiere cultural institution, offering unmatched performances each year to millions of New Yorkers and visitors who cherish the performing arts.
We are concerned that the allure of saving money by eliminating what is an integral component of live ballet not only diminishes the quality and emotional impact of the performance, but is not in keeping with Lincoln Center's core values as a champion of live music.
Our goal is to make sure that Lincoln Center never again allows one of its resident companies to use taped music. We've sent a letter to the chairwoman, president and board of Lincoln Center requesting that they adopt such a policy. The letter was signed by the chairs of all of the resident Lincoln Center committees as well as Rep. Jerrold Nadler, State Senator Tom Duane, Assembly Member Linda Rosenthal, NYC Public Advocate Bill de Blasio, Manhattan Borough President Scott Stringer and City Council Member Gale Brewer. See a copy of the letter on page 7.
We also leafleted the premier performance of the Paul Taylor Dance Company to let the public know that they were not getting what they paid for.
Producers in New York City, please be advised: any time you try to present a live show with taped music in a major venue, this is what you can expect.
For more about this situation, including photos from our protest, see Sara Cutler's story on page 6.
As for Local 802, when it comes to live music, we're putting our money where our mouth is. The union's executive board recently voted to contribute $13,500 to co-sponsor "Piano in the Park" at Bryant Park this summer. For more info, see www.BryantPark.org.
'PRISCILLA' UPDATE
Speaking of live music, the arbitration of our case against "Priscilla" may once again be put on hold.
As musicians well remember, the show opened a year ago at the Palace Theatre to our great alarm. Producers had hired fewer musicians than the Palace Theatre's minimum and were using a recording to provide the sound of strings and to augment the winds and brass.
Over the next several months, we staged massive protests and launched our live music campaign.
On the legal front, producers have stalled us for almost a year, and it looks like we once again may have to reschedule the arbitration.
Reports are that a key witness for management is suffering from health issues that may force another delay in the hearing. With the help of legal counsel, Local 802 is exploring ways to finally bring a close to this extremely contentious issue.
JAZZ APPRECIATION MONTH
Jazz is truly one of America's gifts to world music. Many Local 802 members are jazz musicians and jazz is a critical part of the history of both Local 802 and New York City. Congress has even declared jazz to be a national treasure. In 2002, the Smithsonian designated the month of April as Jazz Appreciation Month.
This issue of Allegro features an interview with our very own Bill Crow, one of the master bass players of the field as well as a master storyteller. Bill's column "The Band Room" is often the first thing that readers flip to when they open an issue of Allegro. Bill's own story is incredible and it's a story worth reading.
We were thrilled with the turnout and energy for our March 1 leafleting action, where musicians visited six major jazz clubs and demanded justice for jazz artists. Our campaign is growing and we have a terrific new Web site at www.JusticeForJazzArtists.org. Please visit it and sign our petition.
While previous Local 802 administrations were quietly laying the groundwork for many years, we've decided to really push and make this a public campaign. "Power concedes nothing without a demand…it never has, and it never will," said Frederick Douglass. That's simply the truth.
THANKS TO MITCH AND TO L.P.
Local 802 member Mitch Frohman recently facilitated the donation of a set of congas, bongos and timbales by the Latin Percussion (L.P.) music company to the Local 802 club room. Latin percussionists have always had it tough in the city. It's difficult to cart their large gear on the subway. It's expensive to drive and park. So we're thrilled that we now have a house set of congas, bongos and timbales here at Local 802. This will increase our appeal to Latin bands and to our members who play Latin jazz. It's good outreach for the union and good for everyone. Thanks, Mitch, and thanks, L.P.!
If you're a member of Local 802, you can reserve our practice rooms for only $10 per hour by calling Maureen Cupid at (212) 245-4802, ext. 111. We rent out the large club room, the smaller "Room B," and a soundproofed practice chamber.
WELCOME BENNETT AND THERESA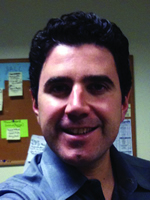 Bennet Baruch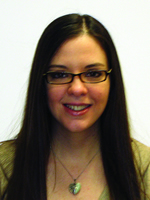 Theresa Couture
I am pleased to announce that Bennett M. Baruch is our new director of organizing. In 2008, Bennett helped do the leg work for President Obama's campaign in the battleground area of northeastern Ohio. Later, in New York City, he was a deputy chief of staff for the New York City Council, advocating for residents in northern Brooklyn and western Queens. Some of his areas of concern involved housing and education as well as fighting harassment, inadequate services and unlawful behavior. He has dedicated himself to helping people empower themselves while giving a voice to the vulnerable.
Previously, as a communications professional with a background in strategic marketing and crisis communications, Bennett created programs that helped people define and tell their own stories.
Bennett earned a bachelor's degree in television, radio and film production from Syracuse University. Members can reach him at (212) 245-4802, ext. 141 or Bmbaruch@local802afm.org. Please read Bennett's personal essay in this issue.
I am also happy to announce that Theresa Couture has joined the Theatre Department as our newest business representative. Theresa attended Rutgers University before earning a degree in music with a concentration in music business from Five Towns College. During her time in school, she interned at a New York entertainment law firm, the creative department at EMI Music Publishing, and the A&R department at Blue Note Records. Prior to coming to Local 802, she also worked temporarily at Warner Music Group and Reprise Records.
At Local 802, Theresa has worked as the Music Performance Trust Fund administrator and the Referral Service/Teacher Registry Coordinator. For the past several years, one of her major projects has been the Piano in the Park Series at Bryant Park. Her work with both MPTF and the Referral Service has given her a great deal of experience with various employers and she has always worked to assist musicians with contracts to ensure that they receive proper wages and benefits. Theresa can be reached at Tcouture@Local802afm.org or (212) 245-4802, ext. 115
Finally, I want to let members officially know that K.C. Boyle, who I introduced in the June 2011 issue of Allegro, has been working as my assistant since January. He is also the union's political and public relations director. As my assistant, he represents the president's office whenever I am unavailable. He can be reached at Kboyle@Local802afm.org or at (212) 245-4802, ext. 176.
OFF BROADWAY ROUNDUP
The Theatre Department recently organized "Super Fly," a developmental production that runs from March 12 to April 14, under a Local 802 agreement. The scale wage is $1,000 for a 42-hour/six-day work week. Musicians also earn health payments ($170 per week per musician) and pension (8.72 percent). The show is based on the 1972 film "Super Fly" and features music by Curtis Mayfield.
We also organized "Old Jews Telling Jokes," a reading production. Scale pays $865.66 for a 40-hour, 6-day weekly rehearsal in accordance with our Off Broadway area standards for a 200-299 seat theatre. Benefits include 4 percent vacation pay, $15.34 per day for health contributions and 9.81 percent pension. Rehearsals called by the day for a minimum two-hour call pay $69.63 with each subsequent half hour or part thereof paying $17.40.
As usual, thank you to theatre reps Claudia Copeland, Theresa Couture and Marisa Friedman for these contracts. If you get called to play in any kind of a theatre production, no matter how informal or small, please call the theatre department at (212) 245-4802. You deserve a union contract!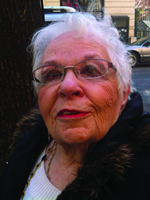 Judy West
JUDY WEST HONORED
Former Local 802 political and public relations director Judy West was recently given the Clara Lemlich Award, which honors unsung activists and women who have been working for the larger good all their lives. The award is named after Clara Lemlich Shavelson (1886-1982), who was a leader in the massive strike of shirtwaist workers in New York's garment industry in 1909. Lemlich was later blacklisted from the industry for her labor union work. She spent her last years as a resident in a nursing home, where she helped to unionize the staff.
West, who will turn 89 on April 30, said, "Growing up during the Great Depression convinced me that an economic and political catastrophe of this magnitude should never happen again. From that young age, and for the rest of my long life, I have been active in a score of movements that define 'power to the people.' I participated against war, racism and against the stacked economic system. I was a singer and a marketing and media executive in advertising until 1973, when I opened with the Black Panthers the book and record store Seize the Time." Since her retirement from Local 802 in 2000, West has served as the labor coordinator for Tenants and Neighbors and for Tenants PAC.
The award was given by Labor Arts and the Triangle Shirtwaist Coalition. Congratulations, Judy!