An interview with Chris MacDonnell
Volume 123, No. 3
March, 2023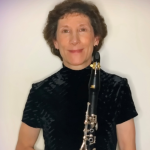 CHRIS MacDONNELL
I was eight and a half when I started playing the clarinet, which was my first instrument. My parents used to take me to symphony concerts and my mother, who favored string instruments, would point out the violins. I was always more interested in the woodwinds, especially the bassoons and clarinets. When it came time at the end of third grade to choose an instrument for fourth grade band I wanted the bassoon. My band director steered me away from that. Meanwhile, my parents took me to a Dixieland concert and I was completely charmed by the clarinet and decided that was the one I wanted.
My standout experiences include playing principal clarinet in the Rio de Janeiro orchestra and playing Rhapsody in Blue in front of 5,000 people. I was the only female principal player in the orchestra at that time and years later when I returned to Rio to do a master class, one of the young teachers remembered me as "the woman who played first clarinet in our orchestra." Other standout experiences include playing in the Marine Band for the president and performing with the Marine Band at President Clinton's inauguration.
My teacher, George Koenig, had played with Benny Goodman and he would play old recordings of the band. I loved the sound of the saxophone section in addition to Goodman's clarinet playing. At Loyola in undergrad, I majored in clarinet and minored in sax. My teacher, Paul McGinley, had Eddie Daniels come for a master class. I already knew Daniels' clarinet playing but at the class I heard him play amazing tenor sax and flute. He inspired me to really learn to sound good on everything.
The challenges for me are the same challenges everyone has when they are new in town. It is hard to break into playing on Broadway. When I did a tour of Miss Saigon the contractor, Mel Rodnon sent me a cassette tape of Sal Spicola playing the alto sax solo on Broadway and told me to make it sound like that. When I came back from that tour I was very lucky that Sal needed subs because it was a very busy time and he had lost subs. I began subbing for him and eventually began subbing on the clarinet book as well.
I got two pieces of advice. I played some oboe. Sal said, "dust it off and pick it back up." He gave me the names of chair holders on Broadway who double on oboe and that was a way in for me. The other advice came from Ken Adams who said everything I did would be remembered, be it good or bad because as a woman doubling on woodwinds, I stood out. He said to make sure I was super well prepared so people would remember that. I feel indebted to Ken and especially to Sal.
---
BIOGRAPHY
Chris MacDonnell, a graduate of The Juilliard School, is a clarinetist and multi-woodwind specialist. As a professional performer, she is proficient on all clarinets, saxophones, flutes, and double reeds. She has been featured as a clarinet artist on the Washington DC radio station WPFW "The Jazz Collectors". She has served two US Presidents in the "President's Own" Marine Band as a clarinetist and saxophonist. Chris regularly performs in various Broadway and Off Broadway productions as well as Radio City Music Hall, Madison Square Garden, Carnegie Hall, Lincoln Center, Paper Mill Playhouse, Albany Symphony, New Jersey Symphony, Hudson Valley Philharmonic, Northeast Philharmonic Orchestra, and others. National performances include the Walnut Theatre and The Philly Pops in Philadelphia, John F Kennedy Center for the Performing Arts in Washington, DC, and Atlanta's Fox Theatre. Christine has performed abroad as principal clarinet in the Orquestra Sinfonica Brasileira in Brazil and the Nova Philharmonia Portuguesa in Portugal. In addition, Chris is a woodwind instructor at the United Nations International School. She conducts master classes at various Universities within the United States, South America, and Taiwan. She has also recorded two CDs, "Enchanted Saint Saens" and "Clarinet Rhapsody" which has been hailed as "beautifully played and well-deserved of its title". Her latest recording, "Chris' Journey, A Whimsical Collage of Music", is a piece composed for her which showcases her multi-woodwind talents on 11 woodwinds depicting various musical styles. Chris is also a Yamaha Performing Artist and a D'Addario Performing Artist.
---
This interview by Martha Hyde and Sara Cutler first appeared in the March 2023 issue of Allegro, the magazine of the NYC musicians' union Local 802 as part of a feature called "Women's Lives, Women's Stories"