Coming His Way
Dan Manjovi's tune has a big role in new film
Volume CX, No. 1
January, 2010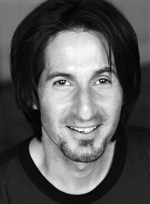 Dan Manjovi
It's nice to get heard on the big screen. Local 802 member and singer/songwriter Dan Manjovi's song "Somethin's Comin' My Way" is featured in the film and on the soundtrack to "Precious: Based On The Novel Push By Sapphire," which won a Golden Globe nomination for Best Picture in mid-December.
Manjovi, who filed the track with Local 802, wrote "Somethin's Comin' My Way" at the request of the film's director, Lee Daniels, whose previous films include "Monster's Ball," "Shadowboxer" and "The Woodsman."
Manjovi explains, "After reading the screenplay, I thought about how Precious Jones admires these strong iconic African-American women such as Harriet Tubman, and the first line – 'on my mind Tina Turner' came into my head. After that, I knew I had the song."
"Somethin's Comin' My Way" was included in its demo form for the film's premiere at the 2009 Sundance Film Festival.
After "Precious" took the festival's Grand Jury Prize and was optioned by Lionsgate with Oprah Winfrey and Tyler Perry as co-executive producers, "Somethin's Comin My Way" was re-recorded for both the film and the soundtrack.
The current version was also arranged and produced by Manjovi, and the featured vocal performance is by Grace Hightower, who also has a role in Precious as a social worker.
Manjovi was a featured artist at the 2006 Tribeca Film Festival's ASCAP Music Lounge where he appeared along with John Mayer, Nellie McKay, and Elvis Costello at the Canal Room.
He also performs annually at Byrant Park's Piano In The Park concert series, which Local 802 helps to support.
Manjovi is currently finishing the score for a new musical comedy, "I Am, I Will, I Do" for which he has written the book, music and lyrics.