A tribute to Doris Goltzer
Volume 122, No. 1
January, 2022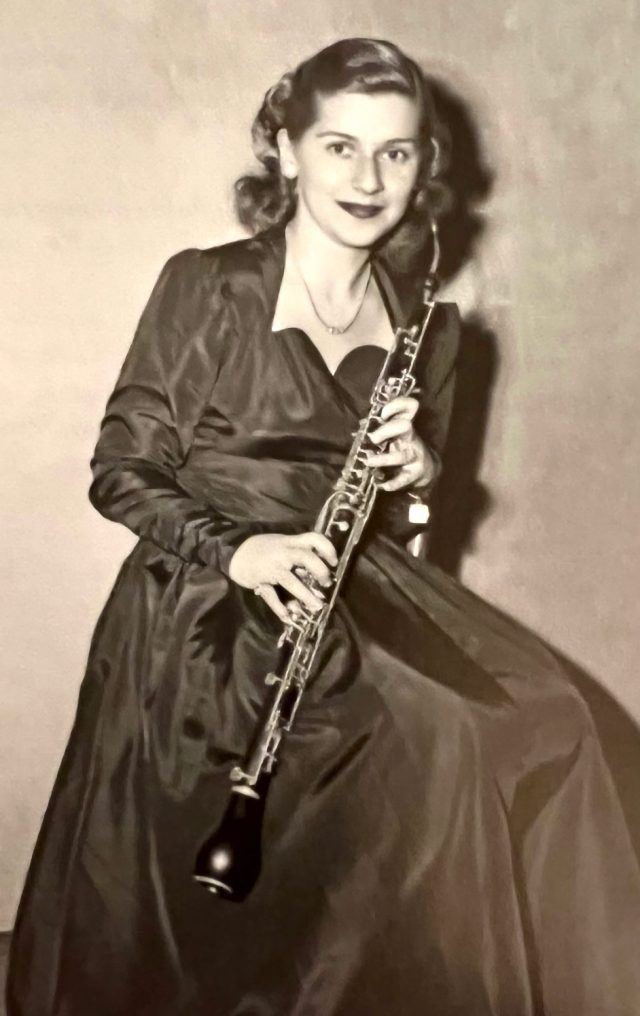 As we all must accept the inevitable empty chair, we must also remember those who left their highly personal touch upon our lives. The oboist and English horn player Doris Goltzer was a dear friend and colleague, and it's difficult to comprehend the great space that she leaves behind. She passed away on October 24, 2021 at the age of 97 after being a member of Local 802 since 1942.
Doris was born in Brooklyn, and her mother was a pianist and artist. Her brother was offered the chance to play oboe — and rejected it. But this instrument fascinated Doris and she took to it like a duck to water during her time at the High School of Music & Art, where she studied with Lois Wann and later with Bruno Labate, who played principal oboe under Barbirolli, Toscanini and Rodzinski at the New York Philharmonic. She continued her musical training at Juilliard, and also studied with Robert Bloom and Fernand Gillet.
Doris joined the NYC Opera Orchestra around 1955. She ended up playing there for over 50 years under Rosenstock, Leinsdorf and Rudel. She also played oboe and English horn with Leon Barzin's National Orchestral Association Orchestra. During the opera's off seasons, she performed with the Guy Lombardo orchestra at the Jones Beach Summer Theatre.
Doris was married to Albert Goltzer, who was also a member of Local 802 and an exceptional oboe player. He was principal oboist of the St. Louis Symphony Orchestra, but left in order to accept the post of associate oboist of the New York Philharmonic Symphony. Both Albert and his bassoonist brother Harold were members of the CBS Symphony Orchestra and later became members of the New York Philharmonic under Leonard Bernstein.
Doris later enjoyed performing with the Local 802 Senior Concert Orchestra, which performed annually at Carnegie Hall for decades thanks to a grant from the Lucille Lortel Foundation. Doris also served as secretary to the orchestra.
Doris and Albert (who died in 2008) had two sons: George, a lawyer specializing in criminal law, and Seth, a professional photographer. Both survive their mother.
Late in her career, Doris was a member of the Connecticut Alliance for Music and was proud of serving as an officer there. She won an award from the Westport Arts Council in 2012.
Doris will be sorely missed by all the musicians of Local 802 who were privileged to know and work with her.