Drumming Up Justice
How did Max Roach's missing drums turn up in a barn?
Volume CIX, No. 9
September, 2009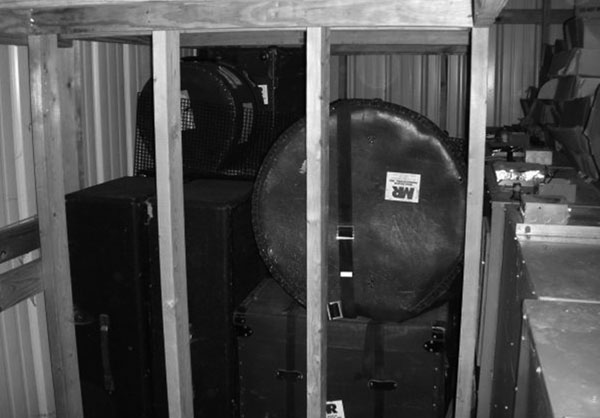 Max Roach's drums (above) were found in a Tennessee barn, where they had been hidden.
The Deputy Sheriff who had his hand on the top of the gun holstered at his side looked at me and said with a pronounced Southern twang "So what's going on here, chico?"
I was in Byrdstown, Tennessee, a minuscule town about 150 miles from Knoxville, trespassing in someone's barn.
I knew I had to speak fast before the two deputies who had just arrived came to the conclusion that we were unlawfully breaking and entering.
I mean, they could just shoot us there and no one would ever know what happened.
I explained to the deputy that I was counsel to the estate of Max Roach and that I had a court order permitting me to retrieve property that had been unlawfully retained by one of Max's former friends.
Deputy Sheriff Conner looked me in the eye and asked, "What does 'JSC' stand for?"
I replied, "Justice, Supreme Court."
With a smile finally on his face, the deputy patted me on the back and boomed, "Well, if it's signed by a judge, it's good enough for me."
Both deputy sheriffs then proceeded to help me, Maxine Roach and Anton Reed (Max Roach's former band manager) move the heavy heating units that hid musical instruments that had once been used by Max Roach.
It was then that I realized that we were going to retrieve everything that was in the barn. The trip was a success.
Why were Max Roach's drums hidden in a barn in Tennessee?
At a hearing last May, one of Max Roach's former friends, Frank Mabry Jr., admitted that he had the drums and further admitted under cross examination where they were.
Mr. Mabry had unlawfully held onto Max Roach's drums for personal reasons.
As his defense, Mr. Mabry stated that he should be compensated for storing and transporting the property. As the saying goes, the person who acts as his or her own counsel has a fool for a client. The judge quickly instructed Mr. Mabry to return the instruments and indicated that the court would hold him in contempt of court if this was not promptly accomplished. The following day we went to Mr. Mabry's home in Long Island and collected some of Max Roach's property. Three weeks later we were on a jet to Knoxsville.
Interestingly enough, the owner of the trucking company we retained to move the instruments was also a drummer and when he saw what was in his loading bay he immediately called a Nashville T.V. station that then ran a story about the instrument retrieval on the evening news. (For those who would like to view this video, go to WSMV.com and search for the June 10, 2009 video "Jazz Drummer's Stolen Equipment Found.")
From our initial review of the instruments recovered, there still is property not accounted for and it looks likely that we will have to move for a contempt order against Mr. Mabry. In any event we are committed to recovering or at least accounting for every item taken from Max Roach.
Max Roach once said, "You can't write the same book twice."
The same goes for the law. No piece of litigation is the same as any other. Each suit exists within its own microcosm. In the microcosm of this suit, fact is far stranger than fiction, and it's not even over yet.