Earn Health Care By Playing Your Horn
Volume CVI, No. 12
December, 2006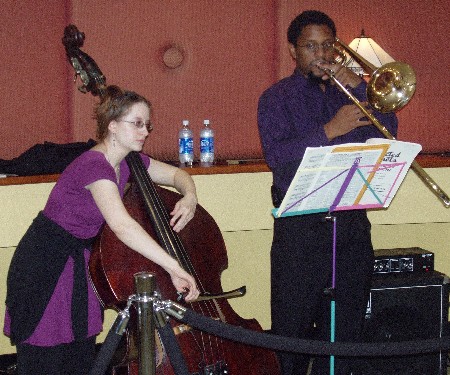 Rebekah Griffin (bass and cello) and Terry Greene II perform at Woodhull Hospital in exchange for their health care.
For more information, click here to see this related story.
When I first arrived in New York City in the year of 1979, I did not have health insurance. Being primarily a jazz musician, I could barely make enough money to pay the $240 monthly rent on my railroad apartment in Hell's Kitchen.
Fortunately, it only took me several (stressful) years to become eligible for the Local 802 health plan.
Unfortunately, many of my peers could not afford health insurance and sadly joined the ranks of approximately 45 million Americans who are unable to afford it.
But help is here! An amazing program at Brooklyn's Woodhull Medical and Mental Health Center is one of New York's best-kept secrets.
Here, artists can exchange or trade their talents for health care needs. The program is called Artist Access. It was founded by Edward Fishkin, Woodhull's hospital medical director.
I am a Local 802 member and music therapist currently serving on the Artist Access committee at the hospital. I want to make sure other 802 members know about the program, too.
Artist Access offers affordable health care for all New York City artists and art workers and allows musicians to exchange creative services for medical care.
Your financial eligibility will be based on your income and will be determined by financial counselors who are aware of the nature of artists' employment cycles. Eligibility can be determined either well in advance of your first physician visit or just prior to your first appointment.
No artist will be turned away from medical care.
HOW DOES IT WORK?
We want musicians to perform for other patients in exchange for credit towards their health care bills. Woodhull Medical Center recognizes that artists possess special talents that can lift spirits, bring hope, and provide a momentary break from one's concerns.
Let's say you are a musician who wants to perform for others here at the hospital. For each hour of performance, 40 credits worth of health care services will be added to your personalized health care account. Credits may be exchanged for an equivalent value of health care services in dollars. When you need health care at Woodhull, the fee will be charged to your health care account. (Your fee scale will be determined at your first visit with a financial counselor.)
For example, when you perform for one hour, you will earn 40 credits. If your doctor visit costs 20 credits (as determined by your fee scale), 20 credits will be deducted from your health care account.
The result? A free doctor visit plus enough credits left over for another free doctor visit or prescriptions!
You can perform as many hours as you wish to build up a bank of credits, tailored to your particular health needs.
Being without health insurance can be very stressful, especially when one is in the throes of pursuing a career in music. I hope that many musicians will avail themselves of this wonderful program.
Interested? Call Amy Duquette, the Program Coordinator, at (877)244-5600 or (718)630-3069 for mor information.
Woodhull Hospital is located at 760 Broadway just south of Flushing Avenue in East Williamsburg, Brooklyn. The nearest subway stops are the J or M to Flushing Avenue (at Broadway) or the G to Flushing Avenue (at Marcy Avenue). The hospital's Web site is www.nyc.gov/hhc. (Select "Woodhull" from the facility list drop-down menu at the upper left.)