Ears Wide Open
Pianist Peggy Stern and her musical journeys
Volume CX, No. 4
April, 2010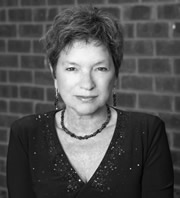 Peggy Stern is an unusual musician. She's as comfortable playing classical piano music as she is improvising jazz or playing Latin clave grooves, and you may even see her launch into leading a holiday singalong, as I did on a gig we had in Pennsylvania last year.
As an accompanist, she's worked with Lee Konitz, Gerry Mulligan, Diane Schuur, Stanley Turrentine, Emily Remler, Gene Bertoncini and Jay Clayton, to name just a few. Her compositions are featured in Sher's Real Book series, and her discography contains nine recordings as a leader, including "Pleiades" (1993), "Fuchsia" (1997), "Room Enough" (1999); "Actual Size" (2000) and "Estrella Trio" (2006).
Her current projects include the Estrella Trio, which is a traditional acoustic piano trio with a focus on authentic Latin and Brazilian rhythms, featuring Lew Scott on bass and Peter O'Brien on drums. She also conducts, accompanies, composes and arranges for her RiverJazz Chorus and Blue Belles Choir (the latter of which may need a name change, as you'll see later.)
Peggy spoke to me from her home in Kingston, New York in early January.
Sue Terry: Who were your first teachers?
Peggy Stern: I had this fabulous teacher named Louise Greenfield. She was my primary influence as a child, besides my mother who played the piano, and besides the fact that my father had show tunes on in the house all the time.
The teacher that did it for me, that really got me into music, was Louise. She sat at the piano and she would play music. She'd say, "Listen to this – is this not cool?" or "Oh, you've got to hear this," and then I would want to play!
So it wasn't about me, it wasn't about her – it became [more] about the music, and less about being a talented child.
When you went to Eastman and then to New England Conservatory, were you studying classical or jazz?
Totally classical. There was no jazz for proper young ladies at the time.
That's true. Right. (Laughter.)
Although it was going on. Tony Levin, Mike Holmes, Steve Gadd –these people were all at Eastman the same time I was, and they were doing Jazz. Gap Mangione and Chuck. And Lew Soloff.
There was a really seminal moment where Chuck Mangione wrote a piece for Lew Soloff's senior recital at Eastman, and it was the first time that non-classical music had been played in Kilbourn Hall. And it was astonishingly wonderful. There was a small big band, and Lew was soloing, and the piece brought the house down.
How did you start trying to play jazz? How did you learn it?
I learned the discipline of music, and I learned a ton of theory, because I knew all the Brahms and Bach and Beethoven, Mozart, Ravel, Debussy. I knew this music very well. I had a lot of it in my memory by the time I got to jazz at the age of 28. I heard Chick Corea playing the solo improv albums –it was his own music – and I said, "That's what I'm going to do." So then I holed up in my apartment in Berkley, California and did that. Or tried. And I wrote my first piece of music ever. It was good. I said, "Wow, I'm going to be able to do this." Then I came out of my hole and went looking for teachers.
The first person I found was Art Lande. I mean, you can't do any better than Art Lande, he's a master. This is San Francisco. At the time, I hooked up with the guys that were in [Herbie Hancock's] Headhunters band, Paul Jackson and Mike Clark. And I started hanging out with these guys and going to listen to the [local] big band. Jack Walrath was in that band; that's how long I know Jack.
Do you listen to classical music?
The Fauré "Requiem" became a very big deal for me. The Beethoven "Emperor Concerto" is so ebullient, such a wonderful, glorious piece of music. Everything Brahms ever wrote: the piano quartets, all four symphonies, the requiem. Ravel: all the piano music. Although if I listen to it now it just depresses me (laughter) because I could never begin to do that. And Bach.
I remember practicing Ravel when I was at Eastman, when they finally figured out who I was and got me to the right teacher, who was Frank Glazer. Excellent pianist, excellent teacher. He had me play "Jeux D'eau" – this music was impossible! It was four minutes long – it took months to learn it. It was black! You opened it up, it was like, oh my God. How could anybody play that!
[There were] a few years I spent like 11 hours a day at the piano. Me and Steve Gadd had adjoining practice rooms during those years at Eastman. He was a graduate student, I was an undergrad. We used to take turns getting each other food. Both of us were up in the practice annex. And Sue, I was there a couple of years ago, and it hadn't changed one bit!
Really!
Yes, it was frightening! The pianos were the same – the initials were still there. (Laughter.)
Let's wrap up by talking about your jazz choirs.
I've always sung in choirs. In college, the piano players had to be in the choir with the singers, 'cause everyone else could be in band and orchestra. The choirs were quite good – we did incredible repertoire. All the requiems, the Mendelssohn, the Brahms, the Berlioz. So I have a huge respect for choral singing. I love part writing, I love theory.
I think it was out here that I started the jazz choirs. It was a way to get into the community when I first moved up from New York. I was living in the woods – how do I meet people, how do I get people together in my house to play music? So I started writing this music, and they literally came out of the woods!
I have a junior jazz choir that just admitted men for the first time. It was all girls, for years. And now the girls are growing up, and they want the boys in it! (Laughs.) And these boys can sing! They can read music and they can sing, and the whole vibe of the group has changed.
And of course, my adult choir RiverJazz. They just appeared with me at Kitano in New York City. That gig was really fun, with Ron Horton, Martin Wind and Anthony Pinciotti. I'm really inspired right now, and writing for my next small group recording.