A tribute to Elliot Lawrence
Volume 121, No. 8
September, 2021
Elliot Lawrence, the music director, conductor, composer and music producer, passed away peacefully on July 2 at New York Presbyterian Hospital. He had been a member of Local 802 since 1951.
Over the course of his long and multifaceted career in the music business, he worked with legions of singers of note and every prominent arranger and orchestrator. He won ten Emmy awards for his musical direction and was nominated for many others.
As the music director of the Tony Awards, he worked on every show from its very first 1967 television broadcast until 2013 — an astounding 46 year run in a fickle business. Elliot was himself a recipient of a Tony Award for music direction for "How to Succeed in Business Without Really Trying."
He was born Elliot Lawrence Broza on Feb. 14, 1925 in Philadelphia. His parents, Stan Lee Broza and Esther Broza, were radio and television pioneers. In 1927, they created and produced the "Horn and Hardart Children's Hour," which ran on WCAU radio from 1927 to 1958 and concurrently on television from 1948 to 1958. Celebrities who appeared on the show as children include Eddie Fisher, Frankie Avalon, Joey Bishop and Bernadette Peters.
Elliot took the name Elliot Lawrence to distinguish himself from his family when he became the music director of WCAU's house band in 1945. The band premiered on January 18, 1945 as the Elliot Lawrence Orchestra, broadcast a weekly half-hour "Listen to Lawrence," which vaulted to a national broadcast on CBS radio later in 1945 after a rave review by George T. Simon in the March 1945 issue of Metronome.
From 1946 to 1954, the Elliot Lawrence Orchestra toured the United States, performing at dances, concerts, college prom, and headline gigs , while also recording albums for Decca, Columbia, RCA, Fantasy and Vic records. From 1947 to 1949 the band was the "campus choice" in Billboard's most promising new orchestra polls.
Elliot's recording of his and Gerry Mulligan's composition "Elevation" was named one of the top 50 best jazz recordings of the 20th century by the Smithsonian.
In 1953, Elliot was asked to go to the Soviet Union with the Ed Sullivan Show to be part of the first American band to broadcast there. On the show were Marge and Gower Champion, the well known dancing and theatrical couple. Gower asked Elliot to be the musical director of his next show, "Bye Bye Birdie," for which he was nominated for a Tony award.
Soon after, Elliot began composing and arranging for television, film and stage. His film career includes composing and conducting the score for the Oscar Award-winning film "Network" and the opening sequences of "The French Connection."
In addition to "How to Succeed in Business" and "Bye Bye Birdie," Elliot music directed a dozen other original Broadway shows including "Golden Rainbow," "Sugar," "Georgie," "The Apple Tree," "Golden Boy" and "Here's Love."
Among his many television credits, Elliot was the musical director and conductor for the Kennedy Center Honors for 15 years beginning in 1993, and other big gala shows like Night of 100 Stars, the bicentennial celebration for the Statue of Liberty and the Irving Berlin 100th Birthday Salute.
He conducted television specials for Placido Domingo, Anita Baker, Jack Lemmon, Ann Margret, Anne Bancroft, Joel Grey, Patti LaBelle, Comden and Green, Burt Bacharac, and Dionne Warwick, as well as eight televised "command performances" for presidents Jimmy Carter, Ronald Reagan and George H.W. Bush to benefit Ford's Theatre in Washington D.C.
From 1978 to 2002, he executive produced all the music for the advertising agency N.W. Ayer, including the army's iconic "Be All You Can Be" jingle, AT&T's "Reach Out and Touch Someone," and Folgers Coffee's "The Best Part of Waking Up Is Folgers in Your Cup."
In 1956, Elliot met Amy Bunim on a blind date in New York City. They married three months later, and were together until Amy's passing in 2017. They had four children, Alexandra, Danny, Jamie and Mia. Over the decades Amy and Elliot built an extensive and significant African and Oceanic art collection including pieces that have been exhibited around the world.
He is survived by his children, daughter-in-law Margot Herrera, and five grandchildren, Oliver, Jack, Jacob, Carmen  and Rumi.
This tribute to Elliot Lawrence was submitted by Jamie Lawrence, who is also a longtime member of Local 802.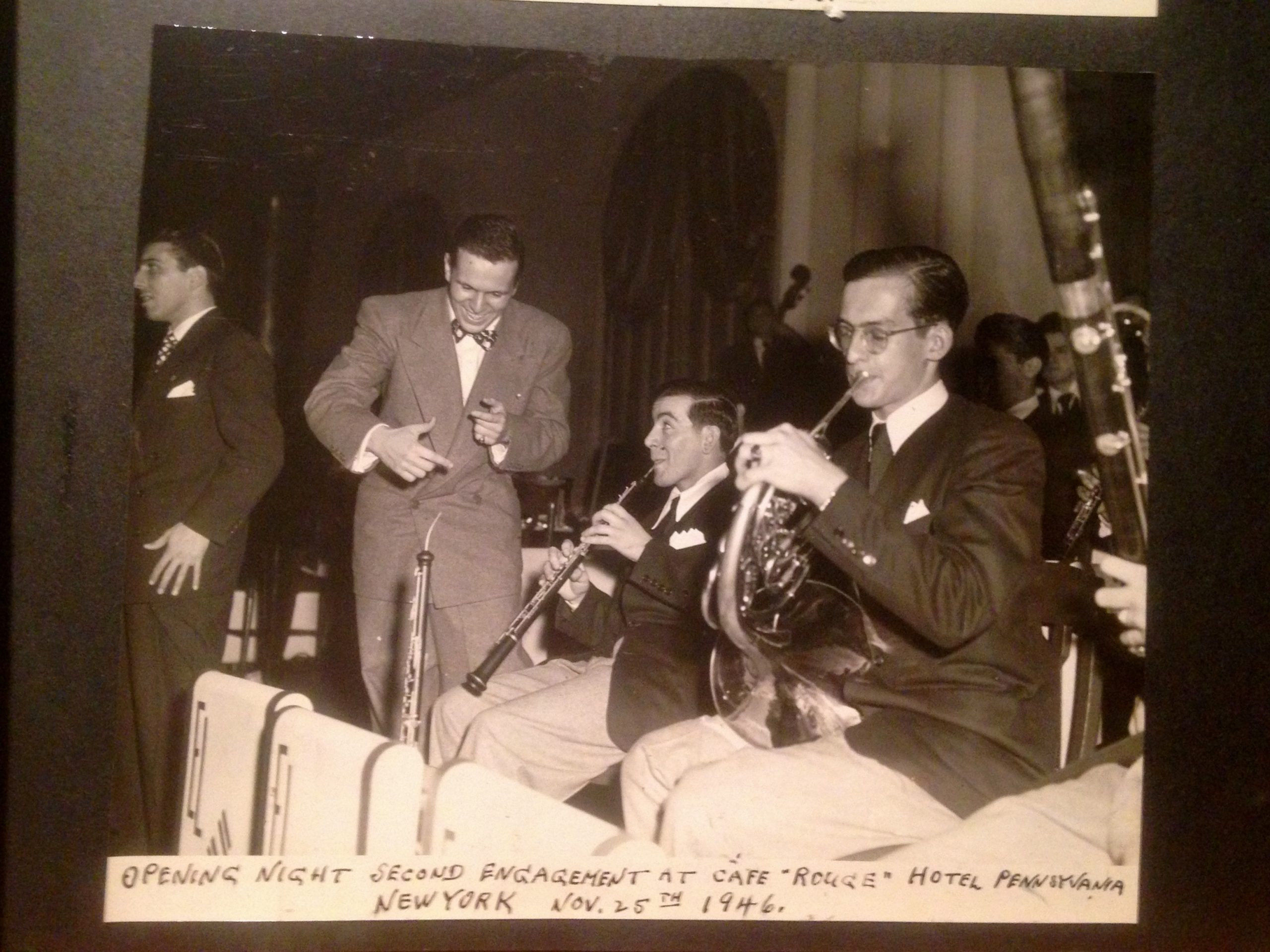 The caption to this historical photo says, "Opening night, second engagement at Cafe Rouge, Hotel Pennsylvania, New York, Nov. 25, 1946."