Essie Hayes, New Jazz Rep
Introductions
Volume CVI, No. 9
September, 2006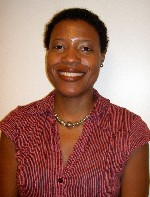 Essie Hayes passed her six-month probation on July 3 and joins the Jazz Department as a business rep. She earned her bachelor's degree in political science at Central Connecticut State University. Shortly after, she held a position as researcher/organizer for SEIU Local 511 (Middletown, Conn.), during the union's Working Women's Campaign. While at SEIU, Essie developed a passion for advocating for the rights of exploited workers. She moved on from SEIU to earn a law degree from Western New England College School of Law.
Essie interned with the NLRB and worked as a law clerk for Livingston, Adler, Pulda, Meiklejohn and Kelly, a Connecticut plaintiff-side labor law practice.
At Local 802, she has already sat on negotiating committees for contract negotiations with Jazz at Lincoln Center and the Apollo Theatre. She will also help lead the work of Local 802's Jazz Advisory Committee.