'Local 802 is us'
Volume 122, No. 11
December, 2022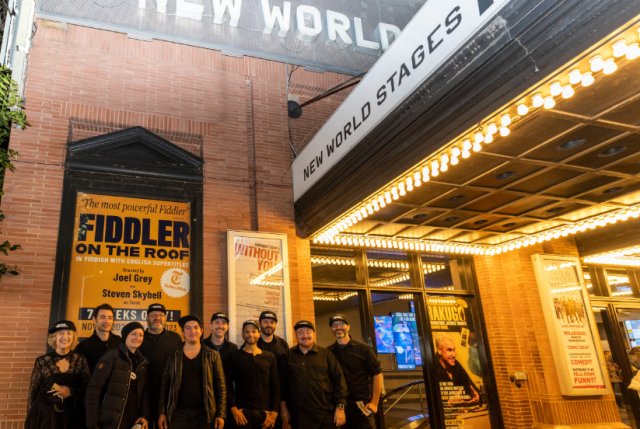 My recent experience helping to organize the orchestra of the Off Broadway production of "Fiddler on the Roof in Yiddish" has entirely inverted my understanding of how a union can, and maybe should, operate in order to get the best results for its people — both for contractual terms as well as group morale. In the best sense, to our musicians Local 802 is not some "other" or some impersonal organization that one can offload responsibility to, the way that people talk about the DMV or even their representatives at different levels of government.
Local 802 is us.
It is the individuals in the orchestra who each, to a person, contributed uniquely in order to help produce concrete results. We were fortunate enough to have had a bit of experience from the previous production that largely — but not completely — inured us to the discomfort and uncertainty of the negotiation process. (See the article that I wrote for Allegro in 2019 with more background on that successful campaign.) There were definite costs to holding on throughout, both emotionally and in terms of hours and days spent doing the actual organizing work. That work boils down to people – connecting to, writing to, and ultimately meeting with and speaking to people.
Ultimately, though, we got through it because we listened to each other, kept each other in check, and encouraged each other, and so held together resolute. Our Local 802 representatives were invaluable to achieving a positive result with their wealth of experience in these situations. Without the orchestra's cohesiveness and engagement, however, the directive may not necessarily have been as clear or as urgent and our union representation would not have had the information they needed to reach the equitable agreement that we currently benefit from.
An honestly unexpected, but powerful factor in the success of this effort to hold the pay scale standard, though, was the support of Actors' Equity. I was in contact with the Equity deputy fairly early on and knowing that the cast was in our corner was invaluable to us personally and as a highly influential factor in negotiations, and I know that the musicians would and will return that support whenever it is asked for. In this production, much like the largely returning cast possesses knowledge and experience of the language of the show which made them especially suited to interpreting and delivering the story, so too do a significant number of the original orchestra musicians have a great deal of experience in Yiddish and Klezmer music with which to bring Larry Blank's orchestrations to life. In this aspect, there had grown a bit more kinship between the musicians and actors, which only helped us.
Just as much as the original orchestra who played this fantastic and timeless music together for 18 months deserves recognition for helping to protect the working standards of NYC musical theater musicians, so too are the many musicians who turned down the non-union offers that had been extended their way when the production was approaching replacement musicians due to stalled negotiations. These musicians declined the opportunity to work, often at great personal cost, including one musician whose visa status would have been greatly bolstered by the work. They, whether actual union members or not, still acted in solidarity with the union's principles. In response to their supportive stance, the members of the Fiddler orchestra in several cases — myself included — have contacted them to establish professional connections, provide a more complete context to their understanding of the situation, express gratitude, and to discuss some level of subbing involvement on the production. We are treating this experience as an opportunity to forge stronger connections between NYC musicians.
Because, of course, there will be a next time.
Peter Saleh is the author of "A Percussionist's Handbook" and co-host of the working musician's not-always-serious podcast "Hit, Haul, & Hang." He has been a member of Local 802 since 2010. He previously helped organize the 2018-2019 production of "Fiddler on the Roof in Yiddish," which he wrote about here.