Film Scoring Course Available at Lehman College
Volume CXI, No. 1
January, 2011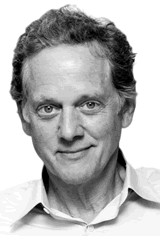 Michael Bacon
Emmy Award-winning composer and songwriter Michael Bacon will teach a new film scoring course at Lehman College starting in spring 2011.
Bacon's class, "Scoring For Film," is the only such course to be offered at a public institution on the East Coast.
Lehman College is also home of the Local 802 program, which allows working musicians the chance to earn a degree in performance or composition.
"My teaching plan is to bring my personality, talent, skills and experience to the classroom for my students in the same way that my teachers at Lehman did for me when I was a student here," Bacon says.
He added, "I studied with a lot of great teachers, and when you study music, you learn that music is a sharing experience."
Besides being one-half of the recording and touring duo known as the Bacon Brothers (along with his younger brother, actor Kevin Bacon), he has scored a dozen feature films and hundreds of hours of television in his more than 40-year career.
His awards include an Emmy for his score of the PBS documentary "The Kennedys," an ACE Award nomination for the film "The Man Who Loved Sharks," and a BMI Award and Chicago International Film Festival Gold Plaque Award for his work in the film "LBJ."
Most recently, he scored the groundbreaking PBS series "Faces of America," hosted by Henry Louis Gates, Jr.
The hands-on course is designed for students with a background in musical theory, composition and orchestration, who will learn how to:
"spot the film" (decide at which points the music should be heard)
choose a musical style, such as large orchestration, small ensemble or atmospheric synth sounds
use sample libraries and convert files to music notation.
By the end of the course, they will have scored a five- to ten-minute film.
As Bacon has learned from his personal experience, the course also will enable working musicians to open up another potential revenue stream.
"Ultimately, my goal is to teach my students everything I know and also help them figure out a way they can make a living in music, because that's the challenge," Bacon says.
He himself graduated from Lehman with a music degree in 1995 – after learning about the college's music program from reading Allegro – and studied composition and orchestration with Academy Award-winning composer John Corigliano, a distinguished professor of music there.
Now he has returned to his alma mater as a distinguished lecturer to teach in a specially designed, sound-attenuated, computerized music classroom, located in Lehman's new $16 million Multimedia Center.
Each student will have his or her own iMac and keyboard in the classroom.
COM 451: Scoring For Film (3 credits) is open to all students with the permission of the instructor.
It can be taken for credit or as a continuing education course.
For permission or more information please contact Michael Bacon at Michael.Bacon@lehman.cuny.edu.