Finding Your Niche
Jazz Mentors 5 explores the changing face of jazz
Volume 116, No. 11
November, 2016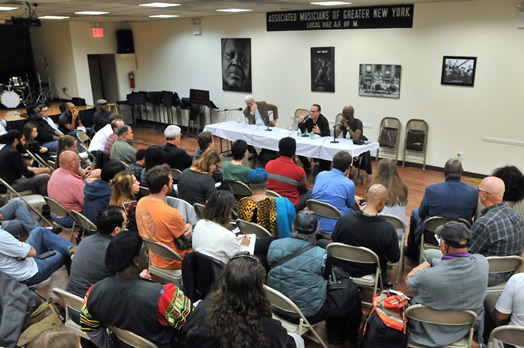 All photos by Walter Karling.
As a packed crowd poured into Local 802 on an early October night, it was clear this was going to be an exciting evening. Jazz Mentors held its fifth successive event as part of what is fast becoming one of Local 802's most acclaimed and well-attended series in recent memory.
Panelists Bobby Sanabria, Randy Sandke and Omar Hakim held sway before an audience of more than 70 people, members and non-members alike. The subject at hand was "Finding Your Niche in the Jazz World."
Moderated by Local 802 Jazz Rep Todd Weeks, the open conversation ranged from discussions of stylistic choices and career track issues to musicians' problems dealing with exploitative employers.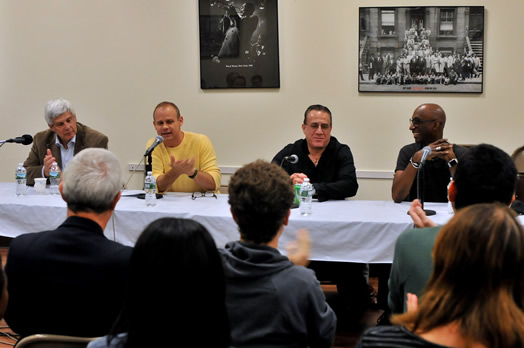 International drummer and percussionist Omar Hakim is one of the most exciting performers and session players of the last 40 years. He is widely acclaimed for his versatility, technological prowess and sheer groove. At the age of 23, Hakim was given the honor of putting together the rhythm section for the revamped fusion band Weather Report in 1982. He went on to collaborate with dozens of prominent artists including George Benson, Lionel Richie, Chaka Khan, Anita Baker, Bobby McFerrin, John Scofield, Urban Knights, Bruce Springsteen, Michael Jackson, Celine Dion, Jewel, J-Lo, D'Angelo, Mariah Carey and Madonna to name a few, and has left his imprint on hundreds of recordings, including several under his own name.
Hakim spoke unapologetically to the audience of students, professionals and emerging artists about the changes in the genre. As music becomes more globalized and the lines between the different musical styles blur, jazz festivals are starting to invite soul, hip-hop and world artists to participate. "The face of jazz is changing," said Hakim. "It has to change in order to appeal to a larger, younger audience." Some might see that as a diluting of the genre, but on the flip side, that same younger, larger audience is being exposed to great jazz alongside the seemingly more accessible pop genres.
Hakim also spoke eloquently about having the foresight to move between genres, and play in any style, no matter how disparate. He told the appreciative audience about his early days playing in New York, and quipped, "A musician's life is a life of faith. I call it the 30-day miracle." (He was referring to those monthly bills that come due every 30 days and, by some kind of miracle, get paid.) But Hakim also reminded the audience "Stay on your path," and never second-guess yourself when it comes to your career.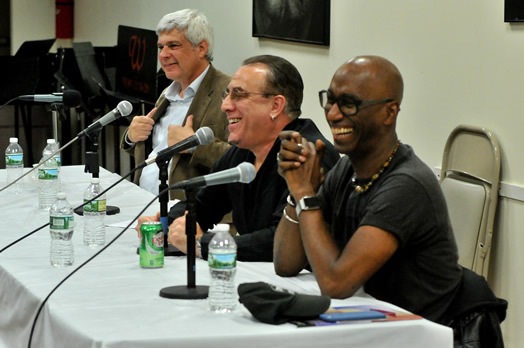 Grammy nominee Bobby Sanabria, a percussionist, composer, producer, filmmaker, conductor, educator, and activist, added his take on the changing musical climate. He told the audience, "When I was growing up, jazz was a part of our everyday lives, particularly in the TV shows and cartoon theme songs. I was born and bred in the Bronx. Salsa was everywhere. But today, there is no advocacy for jazz." Sanabria believes strongly in educating young musicians about the history of jazz in order to adequately serve the music.
Sanabria has performed with a veritable "Who's Who" in the world of jazz and Latin music, as well as with his own critically acclaimed ensembles. His diverse recording and performing experience includes work with Dizzy Gillespie, Tito Puente, Paquito D'Rivera, Charles McPherson, Mongo Santamaría, Ray Barretto, Marco Rizo, Arturo Sandoval, Henry Threadgill and the godfather of Afro-Cuban jazz, Mario Bauzá. As an activist, he has long been a champion for the recognition of Latin jazz as a legitimate art form and its proper place of recognition in the history of the jazz continuum. In April 2011 when NARAS (the governing body of the Grammys) summarily cut 31 categories, including Latin jazz, from the awards process. Mr. Sanabria spearheaded a campaign uniting well-known musicians from from across the country, resulting in a lawsuit filed in New York State Supreme Court. The outcome was a victory for musicians: NARAS reinstated the Latin jazz category.
Throughout his career, Sanabria had to deal with a variety of different areas of the music business. He stressed how important it is to remain versatile. He explained, "The key to making it in the jazz world is being versatile and being able to fit into any situation. You have to have an open mind and the chops to be able to play anything." There was a time when Sanabria even played country-western music.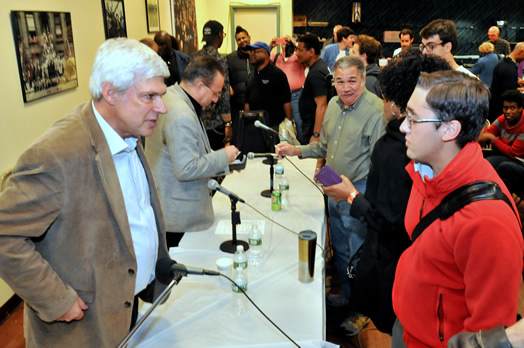 Panelist Randy Sandke, a trumpeter and composer, has performed at festivals, clubs and concerts around the world. Sandke's impressive recording career comprises over 30 albums as a leader as well as performances on multiple film scores including Francis Ford Coppola's "The Cotton Club," Neil Simon's "Brighton Beach Memoirs," "American Splendor," and five Woody Allen movies. His discography includes work with some of the world's great instrumentalists, including Michael Brecker, Benny Goodman, Kenny Barron, Dick Hyman, Mulgrew Miller and Bill Charlap. As a composer, Sandke has received two grants from the National Endowment for the Arts, and has had pieces performed at Carnegie Hall.
Sandke explained how he came to his New York performing career late – and that he did not begin to work professionally in New York City until he was 29. Sandke put it plainly and succinctly: "Jazz is a niche market to begin with. It accounts for 1.5 percent of record sales – and that includes classical recordings. I was lucky enough to find a niche within the niche as a swing player. I later broke out of that by becoming a composer as well."
The conversation turned to personal stories about the challenges of the music business. Hakim spun an engaging tale about his days with Sting. He had just finished recording Sting's first solo album and was subsequently invited to go on tour with the artist – the gig of a lifetime. However, he and the other band members had never received a contract, even after numerous attempts to contact the manager. But they believed in the music and in Sting, so they got on the plane. They arrived in Japan – and still no contract. The day of the first show arrived and still no contract. Something had to budge – it was unanimous. Minutes before going out on stage in front of a Japanese audience of 40,000 fans, the whole band agreed to go on strike, refusing to play, due to the actions of an unscrupulous manager. In the end, a contract was produced, proving that decisive collective action can accomplish powerful things. Hakim put it this way: "It's important to protect your value."
Afterwards, the panelists took questions from the audience and met with younger musicians to talk with them informally about their careers.
Attending a Jazz Mentors program at Local 802 is a great way to boost your business chops. Each event is free. The next Jazz Mentors is scheduled for Monday, Nov. 28 at 5 p.m. See www.local802afm.org/jazz-mentors for more information.