For the Love of Music
Member Spotlight
Volume 112, No. 5
May, 2012
David Shifrin speaks on the composers he loves, the virtues of chamber music, and playing without a conductor…
One of only two wind players to have been awarded the Avery Fisher Prize since the award's inception in 1974, clarinetist David Shifrin is in constant demand as an orchestral soloist, recitalist and chamber music collaborator.
An artist member of the Chamber Music Society of Lincoln Center since 1989, Shifrin served as its artistic director from 1992 to 2004. He has also held the post of artistic director of Chamber Music Northwest (in Portland, Ore.) since 1981 and of the Phoenix Chamber Music Festival since 2008.
Shifrin joined the faculty at the Yale School of Music in 1987 and is the artistic director of the Chamber Music Society of Yale as well as Yale's annual concert series at Carnegie Hall.
Shifrin's 1992 recording of the Mozart clarinet concerto with the Mostly Mozart Festival Orchestra, performed in its original version on a specially built basset clarinet, was named Record of the Year by Stereo Review.
David Shifrin has been a Local 802 member since 1966. He was interviewed by composer, pianist, multi-media artist and educator Matt Weiers, who has interviewed many high-profile musicians for Allegro.
Matt Weiers: How has the programming of orchestral and chamber music changed over the years?
David Shifrin: Since I started out, there is a generation's worth of new music. Composers are writing all the time! Much of the music written during the past century still sounds new and some of it has become part of the traditional canon. Musicians, scholars, critics and audiences need a chance to cull through music that was once new and determine which music will be included in the standard repertory. That process is never over.
The challenge of getting people to listen to new music is not a new struggle. There is a pendulum that swings back and forth between what is termed "cerebral" music and what is regarded as "popular" music: uptown and downtown. The line has always been blurred and the pendulum goes back and forth over centuries. Many audience members want to hear things that are familiar and are challenged by the idea of anything new. If you can get people in the concert hall to have a new experience and hear something new that has an affect on them, they will often want to return to hear more. When this happens you've really accomplished something. This has been the case for as long as I can remember.
The big difference between the 1970's – when I began my professional career – and now is that in many areas the audience seems to be aging and the numbers shrinking. One possible reason is that fewer people are learning and playing music in public schools. If your family is musical, if you're lucky enough to be in a private school or a school district that has a music program, then you are offered an initiation into the language of music and more likely to fully enjoy music and be an audience member later in life.
Even as there are fewer music programs in American elementary, middle and high schools, there is a great abundance of talented performers in conservatories, colleges and universities training to become professional musicians. Of course, the proportion of those coming from other countries to study here is much greater in recent years. We have all these tremendously talented musicians who are preparing to go out into the world and try to make and find opportunities.
For many performers it is fun to rediscover composers who may have once been tremendously popular and have gone out of fashion. In 2012 we are able to draw on every style and every compositional trend from all of the preceding centuries. Likewise, composers are influenced by every possible style, including early music, baroque, classical, romantic, opera, theater, impressionist, atonal serial, jazz, bluegrass and rock. Everything is fair game on today's concert stages!
It is impossible to form a singular description of exactly what defines or characterizes modern music. The early 21st century resembles the early 20th in the tremendous diversity of style and music, but in many ways we are also seeing a return to previous centuries when the line was less clear between popular and serious music. I think that as audiences continue to discover this, they will come to the concert hall in increasing numbers for the incomparable and moving experience of hearing real music performed live by great musicians.
Matt Weiers: Can you talk about chamber music?
David Shifrin: Chamber music is the most resilient of the performing arts because you can perform in any size room, large or small. There is such a wealth of repertory for one or two or three or four players, or you can have a larger ensemble of a dozen or 15. You can adapt the definition of what chamber music is, and there are thousands and thousands of great works of music to choose from. We do that at Chamber Music Northwest, where I am the artistic director. In the course of a year, we'll play in certain venues that may seat only 30 or 50 or 100 people, then follow that with a concert in a hall that seats 700 or 800. The repertory is so vast. When you look back, there are some composers who only wrote for large numbers, or predominantly so. If you look at Berlioz or Mahler or even Strauss and Wagner, they wrote for big operatic ensembles, but if you look at Beethoven and Mozart and Schubert and Schumann, there's far more chamber music than symphonic music.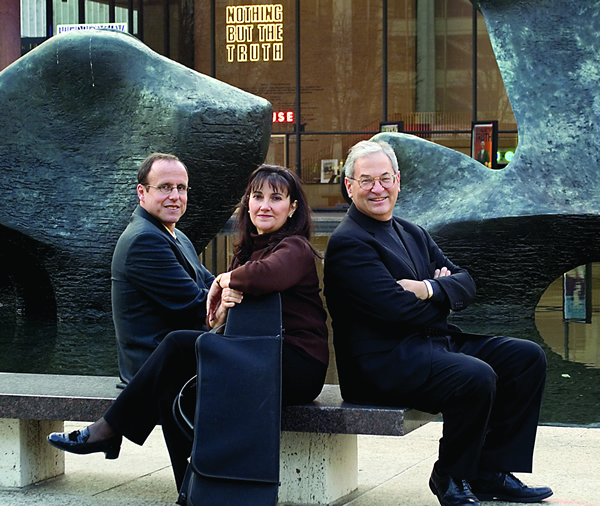 David Shifrin (at far right) with the Kavafian-Schub-Shifrin Trio, featuring pianist Andre-Michel Schub and violinist Ani Kavafian.
Photo: Bernard Minich
Matt Weiers: I know that you've performed the chamber music of Claude Debussy. What are your thoughts on Debussy?
David Shifrin: Debussy was one of the great music influences of all time. He was a game changer, inventing and exploring new ways of expression through music. I have a special love for his music. He wrote a wonderful clarinet piece called "Première Rhapsodie" that I played as a teenager. It was a contest piece originally but could be considered chamber music. He had a small output of chamber music, but all masterpieces.
One of his earliest mature works is a string quartet that was written while Brahms was still alive and when the world was changing so drastically. Schoenberg was already beginning to compose, expanding the notion of tonality and then breaking from it. Then you have this whole other school of exotic influences in France, of Debussy and Ravel, working with different scales like whole tone scales, and being influenced by American jazz, Eastern music and their own innovations.
So Debussy's music is very interesting from that standpoint because it was another alternative for where music could go. He had planned to write a set of six sonatas. He wrote a sonata for violin and piano, one for cello and piano, and one for flute, viola and harp. He had planned to write three more sonatas for unusual combinations of instruments but died before they were finished. He was a composer who experimented in his own language, but across many genres – solo piano, chamber music, songs, operas, symphonic music.
Matt Weiers: How do you view the role of a conductor in music? You've worked with many conductors and also in chamber groups with no conductor.
David Shifrin: Conductors play a very important role. You could make a case against that because there are orchestras that play very successfully without a conductor. That may be an extension of chamber music. I would say that a group without a conductor is really one where everyone's a conductor.
A conductor is primarily a facilitator and a teacher. Of course, a conductor is also a performer. But by the time you get to the performance, it had better already be formed and prepared. So I think the most important thing the conductor does is to prepare the orchestra.
When you get large numbers of musicians playing, it becomes harder to play without a conductor because you can't see each other and you can't hear each other over a large distance. I find in chamber music that the more members there are in the group, the more rehearsal you need. There are more opinions to be reconciled. So in chamber music you share the duties of a conductor.
I suppose this could become a semantic discussion about politics and anarchy and consensus and leadership. When you have a conductor you immediately have a deciding voice and an arbitrator of how things are going to be done. This solves all the arguments because there's one person making the decisions. But a chamber musician has to be a conductor in helping to decide when to coordinate motions and breaths.
The best relationship between a conductor and an orchestra resembles chamber music because a conductor helps the musicians to listen, hear, and understand what the other musicians are doing, not just to visually respond. Some of the greatest conductors have their own physical language to communicate when to watch and when to listen.
Matt Weiers: How has being a teacher changed you as a musician?
David Shifrin: It's made me think about everything. I think we're all students and we're all teachers in music and in life. When you teach, you have to think what ideas you want to convey, and in order to do that first you have to have the ideas. You have to have a concept of the music that you're teaching, of how you're playing an instrument, of how you're physically making sounds, how to adapt that to produce the composer's music.
I was kind of thrust into teaching just because it was there. When I was playing in the Honolulu Symphony, I supplemented my income with a position at the University of Hawaii. It was going to be a part-time position, but just that year their full-time clarinet teacher Henry Miyamura took a sabbatical and I temporarily taught full time. So I was a 21-year-old kid and suddenly had a full class of university students. How do you teach? I had never thought about how! It was a truly enlightening experience for me.
I had some wonderful students, many who became professional musicians. It was a challenge for me to work with students who were the same age as me and very talented. It was as much an education for me as for them. I began to really love doing it and it has become an inseparable part of being a musician for me, trying to understand the music, teaching and sharing with others.
Now that I'm older, I have a lot of years of performing behind me, and I have the amazing opportunity of teaching at Yale. I have a small class of six or seven clarinetists and I coach chamber music groups. These are not just students, they are professionals who are extending and finishing their education as they begin their careers. I have the opportunity to try to share ideas with young people who can do so much already. They may not have the experience with a piece of music or have thought of a solution to a certain problem, but they are virtuoso instrumentalists, very intelligent and ready for professional careers. I get the chance to work with them as they are flying out from the nest, so it's a fascinating thing for me. It's about as close to being a conductor as I would ever want because I don't feel that I have the particular mindset and skills to lead an orchestra, but I love getting to work directly with musicians in a small group or one on one.
Matt Weiers: What can you do with a student who already has such a high skill level?
David Shifrin: You can point things out. You look at a masterpiece of the literature. The piece we do the most with the clarinet students is Mozart's clarinet concerto. It's the first masterpiece concerto for the instrument and still the ultimate work for the instrument. There are so many different ways to play it, different aspects of it that you can bring out. I try to get the students to look at the structure of it, what the harmony is doing, what the meter is doing, what the shapes of the phrases are, how one phrase could be interpreted several different ways depending on how you emphasize different things. I try to help them use their skills on the instrument so that they can make the phrase project and communicate as clearly as possible to the audience.
That's not like saying, "Play your scales this week; play them a little bit faster on the second day, a little bit faster on the third day." But there is plenty of technique to work on, too – how to play in tune and how to make a sound.
But when they come to me they already can make a sound. In fact, many of them can do things technically that I will never be able to dream of playing. Just like every generation can run faster and jump higher, it happens on the instruments, too. But thank goodness there is still a role for people like me who have cumulative experience.
Matt Weiers: What have you noticed when you perform a piece like Mozart's clarinet concerto to a rural audience compared to an urban one? Or an audience in Hawaii compared to one in New York? Are all audiences essentially the same?
David Shifrin: I think that audiences, on some level, once they settle down and listen, are all the same. Of course you have different levels of sophistication, and I don't mean that in a snobbish way, but I mean the levels of experience the audience has with a piece. Some people have heard a lot of this music and others are hearing it for the first time.
There is something about the pieces that have endured which speaks to people on different levels. Mozart's concerto is a perfect example of a work that can astound you on an intellectual level because of its amazing construction. You can hardly imagine how a single note could have been written in a different way. Yet it has the magic of being able to be shaped in different ways and still be effective. And no matter how many times you hear it, play it, look at the score, it is still amazing. Yet it is a work that could speak to a new listener or a child who could respond to the rhythmic energy or the colors of the sounds or the levels of emotion that come from how the harmonies change in the slow movement.
So the music itself has the ability to communicate across so many different lines that it really doesn't matter if you're playing in a Quonset hut on an island in the middle of the Pacific or in Carnegie Hall. The music really does speak for itself. And if the performer believes in the music and is communicating in a direct and precise way, being true to the composer, then people in any situation – if they can see you and hear you – are going to respond.
Matt Weiers: How would you characterize the clarinet? What are its strengths and limitations?
David Shifrin: I wanted to play music when I was in elementary school. Some of the same kids who played stickball, stoopball and touch football in street in Queens, also played the cello or the violin or the flute. I chose the clarinet because I saw the movie "The Benny Goodman Story" and I just loved it. I saw the versatility of the instrument.
There was a scene portraying Benny Goodman as a boy my own age playing a solo from a Tchaikovsky piece called "Mozartiana" for a lesson. I thought, "This is an instrument that can do anything!" It can sing, it can dance, it can jump, it can sound like a voice, it can whisper, it can shout, it can play high and low, it's like a chameleon, it can have any color. I thought, "That's what I want to do."
And that's how I decided as a kid. It was my first instrument. I experimented with other instruments, but the clarinet was my first and still is my great love.
I keep going to back to Benny Goodman as somebody who made it seem effortless, but there were several classical orchestral clarinetists who were inspiring to me. There were some influential teachers, too.
One of my most significant teachers in high school was Fred Ormand, who taught at the Interlochen Arts Academy. And there was Herbert Blayman from the Metropolitan Opera, Anthony Gigliotti from the Philadelphia Orchestra and Robert Marcellus from the Cleveland Orchestra.
These were guys who really studied music and the clarinet and thought about ways to make the clarinet sound more consistently beautiful and raise it to another level.
Being able to hear them perform and then have lessons, to be able to ask them how they did a certain thing or about equipment was important for me.
The equipment hasn't changed that much over the years, but it is always evolving.
Just like the golfer is always looking for the club that's going to get him on the green in two, musicians are always looking for an instrument that's going to make it easier.
But I keep coming back to the versatility of the instrument and how you can sound so many different ways.
You can get angry at the instrument sometimes, too when it doesn't respond the way you want it to. It's a metaphor for life. Then you have to look at yourself. Why is it not responding? What can I do about that? You look at it as a lifetime effort and as a journey. You say, "Next time, next time…"