Frank Gant: Essence Beyond the Illness
Volume 122, No. 8
September, 2022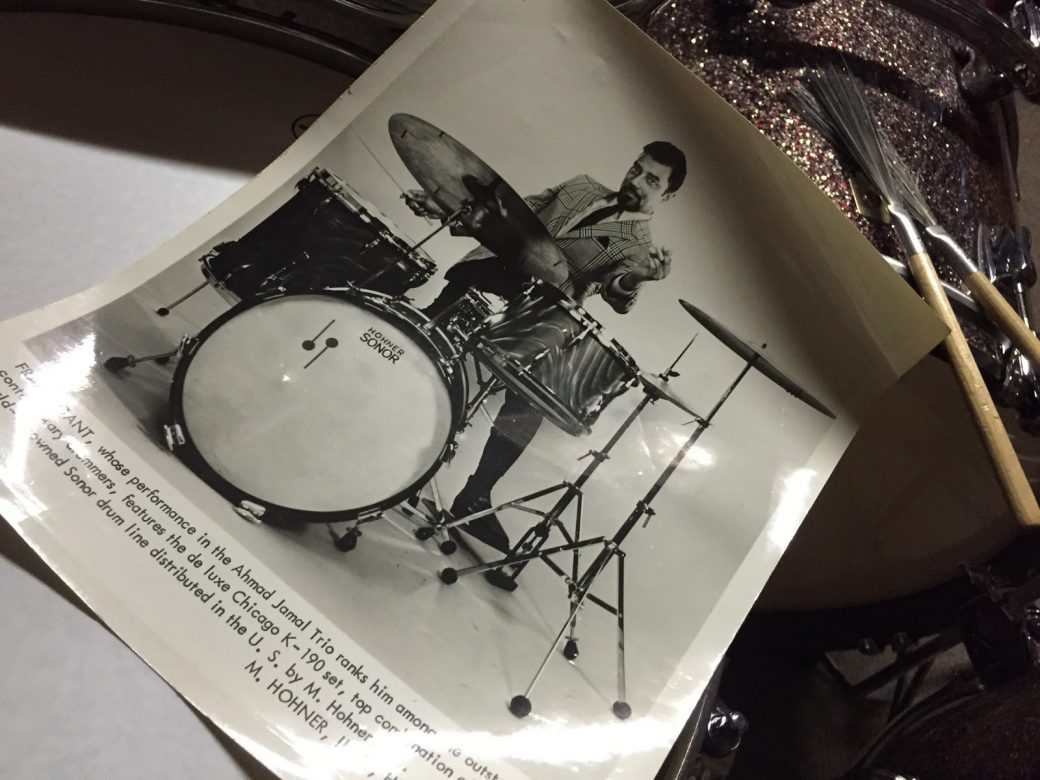 Frank Gant's passing, just over a year ago, did not come easy. The drummer (who joined Local 802 in 1960) experienced a slow descent into Huntington's Disease, fighting the illness dutifully even as he struggled against a landlord of particular contempt. Though Frank performed with legends Billie Holiday, Miles Davis, Lester Young, Yusef Lateef, Sonny Stitt and Red Garland, and was deemed a top line touring and recording drummer, he also experienced the harsh reality faced by far too many professional musicians: aging into serious illness. For Frank, the trauma was magnified by an inability to continue the career he'd worked so hard to cultivate.
In the late spring of 2016, I heard from Trudy Silver, downtown pianist and veteran 802 member. She'd long known Gant and sadly explained his then current circumstances: Frank was now almost fully disabled; the illness' encroaching tremors, aphasia and confusion were devastating his very being. And following yet another hospitalization, the drummer was beleaguered by a building management seeking his eviction from a rent-controlled apartment. "Can you possibly write an article for The NYC Jazz Record as a way to increase donations?", she asked. He'd been getting help both from the union's Emergency Relief Fund and the Jazz Foundation, but money was very tight. At Trudy's suggestion I contacted Frank's daughter and arranged a visit and not long after, spent several hours in the small apartment on East 3rd Street, its state of landlord neglect marked by water damage, a badly torn carpet and general disrepair. My time there, however, was a lesson in one man's sense of pride and survival; noting the determination in Frank's eyes amid the pains he took to overcome the ravages of disease was indeed life-altering. The following article, published in the August 2016 issue of The NYC Jazz Record, honored the man and included contact info for the Jazz Foundation where readers could contribute.
---
When Frank Gant first moved into his Lower East Side apartment, the community had been battered by decades of neglect. These days, in the midst of arduous gentrification, the area stands among the most sought-after in a city notorious for displacing its poor. And for an octogenarian stricken with Huntington's disease and embattled by his landlord, downtown has become a bitterly cold place.
Gant was raised in Detroit, first exposed to the drums in a school band where he quickly came to the attention of peers Barry Harris and Hugh Lawson. "The band director told me I will never be able to play professionally", he said, with a restrained laugh. "But I practiced. I was serious. Played in my basement every day and I took lessons."
The drummer's words were labored, but intent on being heard. His voice, broken with coarse spastic utterances, channeled lasting memories. "Barry, Hugh and I played together, but my first record date wasn't until 1954 with the Billy Mitchell Band. It was a 7-piece," he stated. As he searched his memory, Gant's eyes became riveted, indicating an excitement stifled, perhaps manacled, by illness. "Right after that, I recorded with Sonny Stitt." This was the event that put him into the category of top-flight sidemen. Among the gigs that came along in the immediate period were several revered nights accompanying Billie Holiday.
Frank served as house drummer at Club 12, a Detroit space which hosted giants including Thelonious Monk. He quickly moved beyond local status and began touring with a wide array of musicians. During one of these road trips he crossed paths with Charlie Parker. "Bird was the man. That's all there's to say," Gant affirmed. "I asked him which drummer he liked best, Max Roach or Roy Haynes," he reminisced, citing Parker's groundbreaking percussionists. "Bird said it was Max." Gant, too, viewed Roach as the master, the architect of modern jazz drumming, while also honoring Haynes. "Be-bop. That's what I played. I don't care who I played with, but I played be-bop," he added tersely.
Other decisive factors in Gant's career included several gigs with Miles Davis. "I met Miles in Detroit and played in his band with Red Garland and Reggie Workman." He also performed with Lester Young and came to drive many ensembles at home or on tour. Recording dates with Harris were followed by those with Donald Byrd, J.J. Johnson and Yusuf Lateef, leading names of the day as post-bop cast new genres to a hungry listening public.
"And then in 1960 I came to New York to play a gig at the Apollo — and stayed. Every club had music then. Uptown, downtown, everywhere." Gant rarely refused work as he was raising a young family. The drummer picked up a regular spot in Harlem with organist Bobby Foster but also performed in this period with Ernestine Anderson, George Coleman and Monty Alexander, gigging quite regularly at the Village Vanguard, the Village Gate and countless other spots. Concurrently, Gant joined Ahmad Jamal's band, the leader he was most closely associated with over the years. Publicity photos of the day feature the dashing drummer behind a set of glimmering Sonors, indicating the level of esteem he carried. As a member of the Jamal band during a seminal period, he recorded albums such as "Heat Wave" (1966), "Cry Young" (1967), among many others. The band was also captured in concert to great effect on several other releases.
In the 1970s, 80s, 90s and into the early 2000s, Gant's touring and recording schedule rarely if ever let up. In addition to the full-time gig with Jamal, he played in bands led by Al Haig, and was called back into service for major label record dates with Garland, Stitt, Anderson, Lateef and Johnson. This steady pulse that bridged decades, however, only wavered his course when his own hands came to betray him.
HUNTINGTON'S DISEASE WAS ONCE KNOWN AS HUNTINGTON'S CHOREA due to the dysrhythmia which causes arms to flail, legs to wander. This is the terrible irony for Gant. As he emoted during the interview, he demonstrated the illness's manifestations, reaching repeatedly into the space in front, perhaps ongoing perseveration, perhaps a means to ground himself. Beyond his chair was a small drumkit, spare pieces, really. A mini bass drum, snare drum, mismatched tom-tom, conga, and tabla stood beckoning. Gant ambled awkwardly over, his body threatening to misdirect each step. But once seated behind his instrument, spastic movements became swinging drumstick dances over cymbals and skins. His eyes remained riveted, unmoved, but a certain burning essence fought to surface from deep within.
Read Frank Gant's obituary previously published in Allegro.
---
John Pietaro is the organizing director for Local 802. In addition to being a labor activist and a musician, Pietaro is also a writer and poet. From time to time, we'll share his poems in Allegro after one of his stories. Below is "Stand, Sonny."
"Stand, Sonny" by John Pietaro
Sonny, Sonny,
Sonny standing at the bridge,
Sonny, Sonny Boy,
Man, man of many men.
Dancing through his hands,
Fingers astray,
Liberate!
Of mind that they
Shredding what was.
Stand Sonny,
Sonny, Stand.
Dark Midnight, Oxford tone,
Blackest-blue,
The bird already flew to
Paths unknown,
Improvisationally free.
Dum-dum-dap,
Dum-dum-dap,
Dum-dum-de-dum-dum-ber-dum
Dum-dum-de-dap!
Streams of this and
Oceans that;
Phrasing, phrasing, phraseology,
Catch me, catch me,
Oh, Colossus,
St. Thomas,
Saint This or Daemon That,
And old cow hands,
Babs and Bud, Fats, Miles and Monk,
Max and Brownie
Stand, Sonny,
Sonny stand.
Clarinet in newsprint,
Carried in hand,
Choco the sound, no matter
No matter the land.
Stand Sonny, stand,
Freedom banned.
Sonny, Sonny, oh,
Sonny stand!
Flatbush Avenue, June 19, 2020, 6:19PM
-For Sonny Rollins and Juneteenth-
-From John Pietaro's new book of poetry and fiction, A Bleeding in Black Leather (Uncollected Press 2022)