From the Heart
Scenes of Summer
Volume 112, No. 9
September, 2012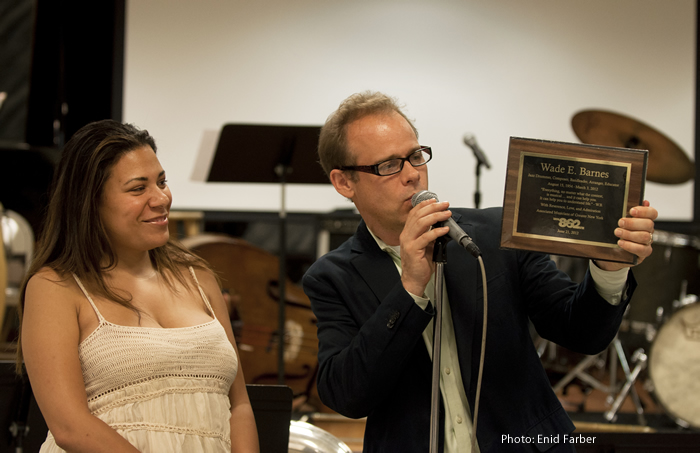 Naima Barnes and jazz rep Todd Weeks, holding a tribute plaque from Local 802 to Wade Barnes.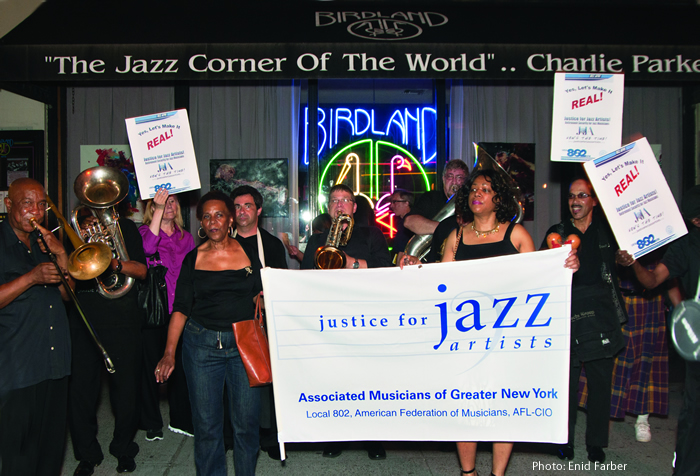 Jazz supporters take their message to Birdland.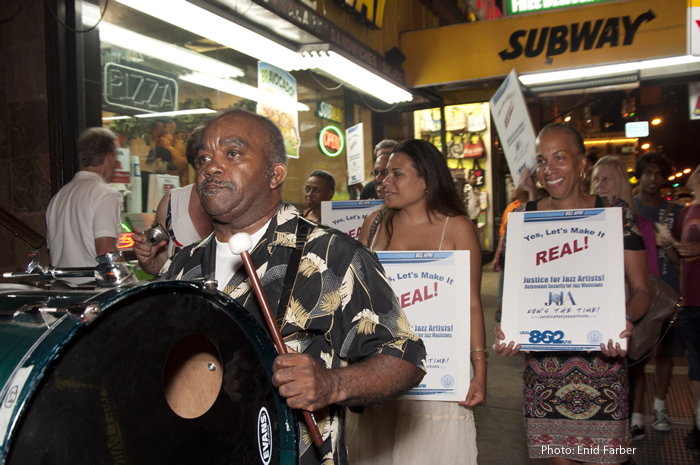 Taking it to the street are percussionist Richard Rivers, Naima Barnes and other jazz supporters.
It was a long, hot summer in more ways than one. Supporters of the union's Justice for Jazz Artists campaign were out in full force, demanding that local clubs begin a dialogue with musicians. The summer started with a tribute to the late, great Wade Barnes (see story below). After a spirited memorial service at the union, musicians and friends marched to Birdland and other clubs. Other rallies followed on July 12 and Aug. 8. For the latest news and to sign our petition, see www.JusticeForJazzArtists.org. Photos by Enid Farber.
The spirit of Wade Barnes will never leave us. On June 21, Local 802 held a memorial for the beloved Brooklyn-based drummer, educator and composer, who passed away on March 3 after complications brought on by diabetes and a heart condition. Barnes, 57, had been a Local 802 member since 1996. The following remarks were made by jazz rep Todd Weeks at a service held on June 18 at St. Peter's Church in Manhattan.
I met Wade Barnes on my first day of work at Local 802, in the summer of 2007. Within a month of my tenure, he was calling me "Toddski," which I now hold as a badge of honor.
At that time, though, Wade wasn't always easy to get along with. That summer he used to come by quite a lot and sit in one of the desk chairs near my cubicle and he generally wasted no time in telling me A) Why the union didn't do anything right when it came to jazz, B) How the union didn't really care about jazz or jazz musicians, and C) How all the work I was doing at 802 wouldn't amount to "a hill of beans," as he put it. Since I had only been at 802 for about a month, there was little I could say in response.
The thing about Wade, and I learned this a little bit later, was that just because he was critical of you or what you were doing, it didn't mean that he wasn't your friend.
As time passed we got to know one another, and I worked with him on a couple of projects – a concert honoring Martin Luther King, Jr., and a tribute to Leonard Gaskin. I think it was at the Leonard Gaskin gig that Wade really started to open up to me, and took me a bit more seriously. We took the LIRR back from Leonard's retirement home deep in Queens and Wade and I learned that we had a mutual love of jazz history, and Wade immediately started giving me lessons on everything from James Reese Europe to Philly Joe to Beaver Harris to Cecil Payne.
I also learned that Wade actively supported advocacy for jazz and jazz musicians; that he supported the union in principle, and that just because he was critical, it didn't mean he didn't care. Just the opposite. He cared so much, and that's why he took the time to be a critic.
And even when he was pointing out to me in no uncertain terms how I didn't know what I was talking about, he never made me feel small or silly or uninformed. He just straightened me out, and usually slipped in a joke or two to lighten the mood.
Then Wade got sick, and he started looking different. But he pretty much acted the same, so it was easy to imagine that he was getting the treatment that he needed or that he was on the road to recovery – or at least managing his illness. I used to ask him about his eyes, about his diet, things like that, and he usually had a way of minimizing his suffering or changing the subject. He really didn't want to be perceived as being in need or being unable to take care of business – and we all know he was capable of taking care of business. That was part of his overall charm. The business part of Wade.
When Wade died, like many of us, I was shocked. But frankly, I guess I wasn't entirely surprised. I was surprised and deeply saddened to hear that he had lost his apartment, that he was unable to keep his medication dollars flowing, that he hadn't been eating well. And like many of us, I felt a sense of personal responsibility for Wade's passing. And I never imagined that he would just disappear like that. I wish I could have done more for him. I'll always wish that. And yet, today, when I hear the beautiful sounds of his music – of his great bands – I know that he hasn't truly left us. That he's still here.
When I approached Wade for an interview back in the summer of 2009 for Allegro, he was really excited. He opened up and told me a lot about his childhood, about his experience with the school strikes in Brooklyn back in the 1960s, about teaching, about how his mother had participated in the march on Washington, and about how his father had been a cop at Malcom X's funeral. And about his own political awareness:
"There are still a lot of people who are a part of that," he said to me, "if not the movement, then the whole idea of arts as a central part of any kind of a community or development. I mean that's really where I got this idea – from that whole era…of the arts as a part of a community and part of social development. I mean this idea of being creative, you can't have a decent, healthy society unless there are some people who are at least somewhat creative."
I remember him laughing out loud when he said that.
This notion of reaching out to the community through a love of music, it seems to me, was really the essence of what Wade did, and, if I may presume to hazard a guess, at least part of the way he saw himself. And the notion of the creative mind, the creative hand, as it were, as being central to who we are as a people – as Americans – I feel strongly that he believed in that. And I find that inspiring.
Anyway, I thought the Allegro interview went really well, and I hoped that Wade would be happy with it when it came out.
The day it appeared in the paper, he came upstairs to the 3rd floor at 802 with a copy in his hand, and I waited to hear what he had to say. He was uncharacteristically quiet, and I asked him what he thought. He said, "Well, it wasn't bad…but you know, my man, you had me in there as saying something grammatically incorrect, which I would never do. You had me in there as saying 'him and me' instead of 'he and I.'"
I was disappointed and it must have shown. Wade looked at me, and he smiled, and then he put his hand on my shoulder and he said, "That's all right, Toddski. You did good."
That was all I needed from Wade Barnes in that moment.
It felt hip simply being in his presence.
I'll miss him.
Allegro published Wade Barnes' obituary in our April 2012 issue, which also included a link to the full interview mentioned in this essay.