Game On!
New AFM Videogame Agreements Gain Traction
Volume CVIII, No. 6
June, 2008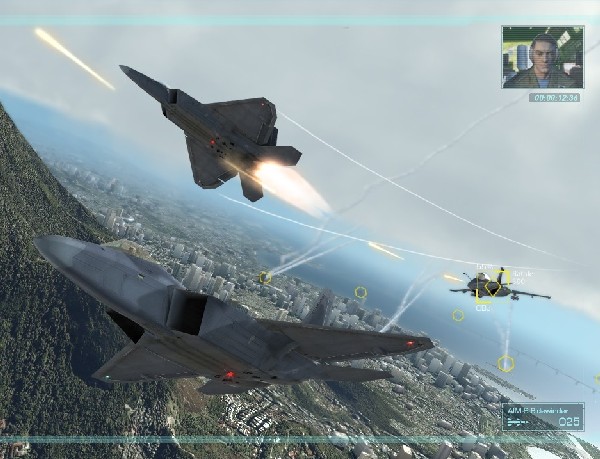 Fighter jets duke it out in the upcoming videogame "Tom Clancy's HAWX: High Altitude Warfare."
As anyone who plays videogames knows, they've come a long way since the bloops and the bleeps of the 1970's. Now there are fully-scored videogame soundtracks recorded by studio musicians. And, more and more, these videogame sessions are being done under the AFM's videogame agreements, which have led to a major increase in union work for musicians.
Six years ago, in 2002, the RMA developed the first videogame agreement, which was adopted and approved by the AFM's International Executive Board. In October 2006, the board reviewed the use of the contract. The board consulted with musicians who were doing this work and also musicians who were losing this work to nonunion competitors. It also consulted with those in the industry, including videogame music composers. The conclusion was that there was huge potential to get more of this work under contract. The IEB considered proposals from Los Angeles, San Francisco and New York about how to capture more work in this rapidly developing field.
The IEB decided to put forward a new version of the agreement, this time with two options. One essentially continued the past; it was called Option One. The second, which became known as Option Two, was the framework that had been developed by the New York Recording Musicians Committee. This was presented to the IEB in 2006 by committee members David Weiss and Scott Healy and 802 Recording Supervisor Jay Schaffner.
The AFM continued to fine-tune the agreement, and today there are several versions, including one called a "special agreement" and one called the "combined use" option.
The combined use option, which was modeled on the former Option Two, provides an additional 50 percent in session wages, 13 percent pension and a significant health benefit contribution. The contract allows the game's producer to make limited use of the game's music in commercials for the game. It also allows other artists to use loops of the game's music — but not full songs. In essence the 50 percent is an up-front new-use payment.
"It's a critical moment for recording musicians," Schaffner told Allegro. "We could have lost the videogame field altogether. The AFM agreement gives musicians the chance to record videogame music under the protections of a union contract. If it weren't for this contract, the field would be completely off the books and musicians would be at the complete whim of the employer."
Recording musician Dave Weiss agrees. "The numbers speak for themselves," Weiss told Allegro. "According to figures provided to me by the AFM, I could see that nationwide gross wages for musicians in the videogame market went up roughly 216 percent in 2007, the first year that the AFM adopted these new agreements. I consider that figure a conservative reading of the data. Others have read the data, and say that it is actually somewhere between 300 and 400 percent."
Weiss added, "Whatever way you look at it, this new approach translates into a significantly higher volume of work for AFM musicians. This is extremely good news, as this is a new media market that is essential if the AFM is to succeed. This world of online entertainment, and interactive media, is where tomorrow's recording jobs will be."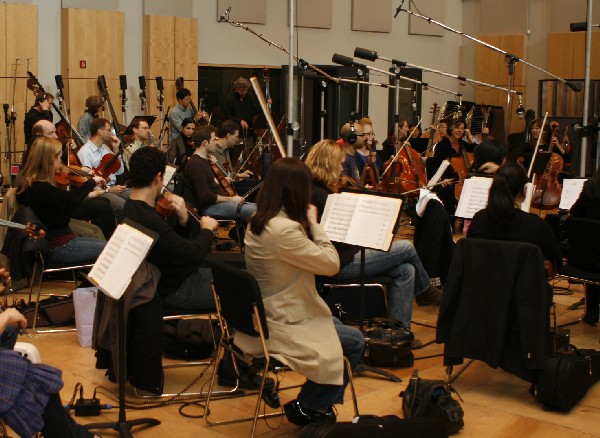 Local 802 musicians record music for the game under a union session. An AFM videogame agreement was used.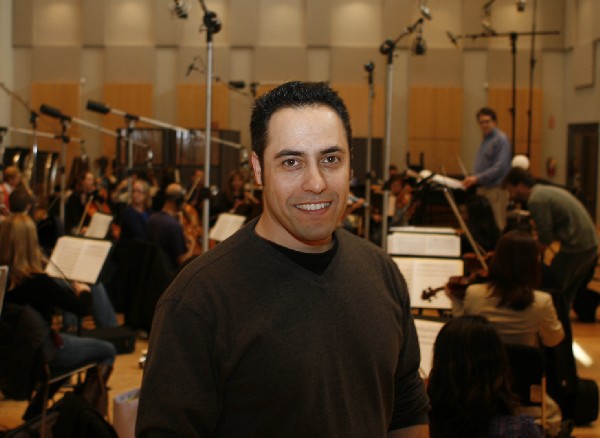 Tom Salta, composer of the music for "Tom Clancy's HAWX: High Altitude Warfare." Photos by Seth Kushner.
MAJOR TEST IN NYC
The AFM Videogame Agreement's latest test in New York City took place in early May. Working with
Local 802 recording musicians, composer Tom Salta led two union sessions — one with 43 musicians and one with 21. Musicians worked at Legacy Studios on West 38th to record the soundtrack to the upcoming game "Tom Clancy's HAWX: High Altitude Warfare" by Ubisoft. Previous to this, there had been six smaller videogame sessions in New York.
Salta told Allegro, "Recording an orchestral score for a video game is very similar to recording a film score, except that you're not scoring to picture. Also, the cues in games are often much shorter than film cues, but there can be a lot of them. Therefore, you have to be aware of the number of starts and look for ways to be time-efficient during the sessions."
Salta also said that he likes the AFM's Videogame Agreement.
"With this agreement, the AFM has proven that they understand the game industry and how different it is from the film industry," Salta said. "The new agreement is an easy-to-understand, one-page document, which is fantastic. I think it gives composers and game companies peace of mind in knowing that there aren't any confusing rules and regulations they might overlook."
According to a recent story in the daily newspaper A.M. New York, there are more than 1,200 people working in 85 videogame companies in New York City and this could double in the next few years. The same story said that videogames contribute $3.8 billion to the nation's gross domestic product. And a recent story in the New York Times reported that videogames are selling faster than CD's and movies, when the data are crunched in certain ways. It's obvious that videogames are a fast-growing field. The question is: can union musicians be a part of it?