George Ricci: cellist extraordinaire, lover of sound
Reminiscences
Volume CX, No. 9
September, 2010
George Ricci, 89, a cellist and a Local 802 member since 1941, died on March 12. In the last issue of Allegro, we printed an abbreviated obituary for Mr. Ricci. Since then, we've learned much more about his life, and we are pleased to print an essay below by violist Eric Shumsky, son of the late violinist Oscar Shumsky. We are also indebted to Mr. Ricci's friend, Greg Zayia, who added some important details to this story.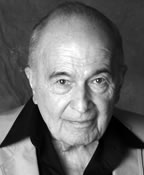 Photo: John Kringas
George Ricci was one of the great American cellists, and, like many great musicians, his family is musical. His brother is the great violinist Ruggiero Ricci and his sister Emma retired as a violinist from the Metropolitan Opera a few years ago.
Born in California and raised by Italian immigrants, George and Ruggiero performed together as child prodigies. A wonderful recording of Brahms' "Double Concerto in A minor" for violin, cello and orchestra features the two brothers with the Leipzig Gewandhaus Orchestra under Kurt Masur. They also performed the concerto at Carnegie Hall.
George Ricci resided for a great part of his life in New York City and was one of the most in-demand cellists in the concert and movie industry.
Early on, Mr. Ricci won a scholarship to study with Alfred Wallenstein, principal cello of the New York Philharmonic.
Next, his journey continued with the famed cello teacher Dirian Alexanian, who was the assistant of Pablo Casals. Alexanian, who often taught Casals' class, taught Antonio Janigro, Pierre Fournier and Emanuel Feuerman, among other greats in the cello world. In 1937, Alexanian moved to New York and taught in New York City. Among his prize students was Mr. Ricci, as well as Bernard Greenhouse, David Soyer and Raya Garbousova.
Mr. Ricci's versatility was outstanding. In addition to being a classical virtuoso, he was a cellist in the Tommy Dorsey Orchestra when the young Frank Sinatra first came on board. "In fact, George was frequently mistaken for Sinatra by the young girls who would wait at the stage door after their gigs," wrote Mr. Ricci's friend Greg Zayia, in an e-mail to Allegro. Mr. Ricci was also the cellist on many other Sinatra recordings.
Mr. Ricci became principal cellist with the ABC Orchestra in New York. In the heyday of recordings, spectacular players were needed who could sight-read new scores and sound tremendous on the first take. George Ricci was such a virtuoso. He was legendary and his scintillating technique is still talked about by many great musicians who knew and heard him.
With cigarette in hand he would dazzle even the greatest of violinists, playing their works at breakneck speed with tremendous accuracy of intonation and artistic beauty on the more cumbersome cello. In fact, he could also pick up a violin, turn it upright like a miniature cello, and bedazzle everyone around him by playing virtuosic violin parts.
Mr. Ricci and the great violinist Arnold Aidus formed Stradivari Recordings, essentially for the preservation and distribution of their art. This kind of self-sustained recording venture was really ahead of its time – and this was 50 years ago!
Mr. Ricci was married to Elaine Vito, whose father was Edward Vito. Both father and daughter had been harpists with the NBC Symphony, with Edward holding first chair under Arturo Toscanini.
With the passing of George Ricci, the concert world is left without one of its great proponents of this gorgeous instrument. Mr. Ricci was a truly serious artist. To him actions spoke much louder than words. He cared about sincerity, beauty and – above all – sound.
George Ricci will be missed by so many who were touched by his glorious artistry. He is survived by his brother Ruggiero, son Edward and sister Emma. Mr. Ricci's wife Elaine passed away a few years ago, as did his other son Robert.