Goodbye, Glenn!
Glenn Dicterow to step down as NY Philharmonic concertmaster
Volume 112, No. 7/8
July, 2012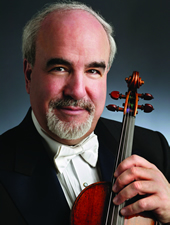 Glenn Dicterow, the New York Philharmonic's concertmaster since 1980, has announced that he will step down from his position at the end of the 2013-14 season. His 34-year tenure makes him the longest-serving New York Philharmonic concertmaster.
Beginning in the fall of 2013, Dicterow is expected to hold the newly established Robert Mann Chair in Strings and Chamber Music, a faculty position at the University of Southern California's Thornton School of Music, one of the country's oldest and most prestigious music schools.
Dicterow will be dividing his time between New York and Los Angeles, and he will continue to perform as soloist, collaborate in chamber music, and give master classes around the world.
Tributes to Dicterow, including further solo appearances, will be scheduled during his final season and announced at a later date.
"Glenn is one of the all-time greatest concertmasters," said New York Philharmonic violinist Fiona Simon, chair of the Orchestra Committee, and Associate Principal Oboe Sherry Sylar, chair of the Artistic Committee, in a joint statement.
Simon and Sylar added, "His musical integrity, phenomenal technique, and that warm, unmistakable 'Dicterow' sound have inspired us all over the years. An icon in the business, he is admired equally as soloist and concertmaster, and his warm personality and good humor have certainly made him a beloved leader of our orchestra. His tenure of almost 35 years is one of the most outstanding in the history of the New York Philharmonic."
A native of Los Angeles, Dicterow made his solo debut at the age of 11 in Tchaikovsky's Violin Concerto with the Los Angeles Philharmonic, where his father, Harold Dicterow, served as principal second violin section for 52 years.
He graduated from Juilliard, where he was a student of Ivan Galamian. His other teachers included Jascha Heifetz, Henryk Szeryng, Joachim Chassman, Naoum Blinder and Manuel Compinsky.
At age 18, Dicterow soloed with the New York Philharmonic in the Tchaikovsky Violin Concerto under the baton of Andre Kostelanetz.
He went on to win numerous awards and competitions, including the Bronze Medal in the International Tchaikovsky Competition in 1970.
Before joining the New York Philharmonic as concertmaster, he served as associate concertmaster and concertmaster of the Los Angeles Philharmonic from 1972 to 1979.
Appointed by Zubin Mehta as concertmaster of the New York Philharmonic in 1980, when the violinist was 31 years old, he has served under a total of four Philharmonic music directors, including Kurt Masur, Lorin Maazel and Alan Gilbert.
In addition to his memorable performances of concertmaster solos in works such as Rimsky-Korsakov's "Scheherazade" and Richard Strauss's "Ein Heldenleben," Glenn Dicterow has performed as a featured soloist with the New York Philharmonic every year, both on tour and at Avery Fisher Hall.
Beginning with the first solo turn of his tenure – Vieuxtemps's Violin Concerto No. 4 in October 1980 – through the end of May 2012, he will have appeared with the orchestra as soloist 209 times, in works by composers as varied as J.S. Bach and Mozart, Brahms and Bruch, Prokofiev and Shostakovich, Korngold and Menotti, and Aaron Jay Kernis and Karel Husa.
He has also been featured on the Philharmonic's concerts that feature theatrical and film music, playing solos from the soundtracks of "Fiddler on the Roof," "Schindler's List," and more.
Dicterow is also a frequent performer in the Philharmonic's chamber concerts both at home and abroad, including embassies around the world.
In 2008, he joined colleagues from the orchestra and members of North Korea State Symphony Orchestra for Mendelssohn's "Octet" during a 48-hour visit to Pyongyang.
Dicterow frequently appears as a guest soloist with other orchestras. His discography is impressive. And he teaches on the faculty of both Juilliard and the Manhattan School of Music.
He and his wife, violist Karen Dreyfus, are founding members of the Lyric Piano Quartet and the Amerigo Trio. Ms. Dreyfus will also join the faculty of the University of Southern California's Thornton School of Music in the fall of 2013.
For more on Glenn Dicterow, read Karen Fisher's interview with him in the Feb. 2012 issue of Allegro at www.TinyURL.com/GlennDicterow
'An honor and a pleasure'
It has been an honor and a pleasure to spend more than 30 magnificent years with the New York Philharmonic. What a privilege it has been to make music night after night, in New York and all over the world. I have been so fortunate to work with the best colleagues imaginable, both those of longstanding and the extraordinarily talented younger generations that have come into the Orchestra, always bringing fresh enthusiasm and vigor. To have worked with four brilliant Music Directors over the years – Zubin, my friend, to whom I will always be grateful, Kurt Masur, Lorin Maazel, and now Alan Gilbert, is more than one could hope for. I've known Alan since he was a young conductor with exceptional promise, and have enjoyed indelible musical friendships with his entire family – and I've watched the New York Philharmonic change, grow, and evolve under Alan's leadership. I'm looking forward with tremendous excitement to the next two years with him, and especially to a season of celebration in 2013-14.
–Glenn Dicterow