Got the post-election blues?
News from the Actors Fund
Volume 117, No. 1
January, 2017
The Actors Fund is your one-stop shop for almost any kind of service you can imagine. We offer counseling – both one-on-one and in groups – as well as information on all kinds of social services, including health insurance, housing, substance abuse, financial counseling, food stamps and more. The Actors Fund is open to musicians, actors and all entertainment professionals. All services are free to Local 802 members. Contact us at (212) 221-7300, ext. 119 or IntakeNY@ActorsFund.org or see ActorsFund.org
No matter who you voted for or your opinions on the issues, most people can agree on one thing: the presidential election season was stressful. With the inauguration just around the corner, it's safe to say that the tensions and anxieties related to this race are going to take time to resolve. Whether you are celebrating a victory or facing feelings of disappointment, this election has certainly made us aware of the impact of our words and rhetoric and is forcing us to examine how we speak and listen to one another.
So how do we manage when we find ourselves getting anxious about the future? Or what if we find ourselves in an argument with a friend, loved one or even a stranger? Here are some tips: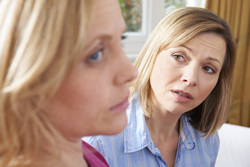 Breathe. One of the simplest ways to address overwhelming feelings of angst is to take a moment to focus on your breathing. Research has shown regular practice of what's called "optimal breathing" can help reduce stress and anxiety and increase a sense of calm. Breathe from your belly rather than your chest, and try to breathe in through your nose and out through your mouth. While doing this, relax and notice what's going on with your body. Is your heart still racing or is it starting to calm down? Do you still feel anxious or is the fear melting away? The point of the exercise is to help you feel grounded and allow you to take a moment to be aware of yourself.
Maintain perspective. It's easy to get caught up in thoughts about worst-case scenarios. But remind yourself that that's exactly what they are – and that dwelling on them won't change things or help you feel better. Becoming aware of what triggers your emotions can help you remain centered.
Be proactive, not reactive. Being aware or mindful doesn't mean you should just be passive in your life. But it does mean you should think before speaking or before making rash decisions while emotions are running high.
Be part of the solution. If this election has motivated you to become politically involved, to volunteer or to follow a new passion – go for it.
Acknowledge your judgments and stereotypes, try to have respect for others, and be a good listener. Listening without judging or criticizing can be one of the hardest things to do, particularly when emotions are running high. But if you can listen with the goal of having a conversation  – instead of a disagreement – it will allow you to engage in a way that invites you to ask questions, gather information and gain a clearer understanding of the person's opinion, and possibly offer feedback that can be taken in. When you are able to put yourself in someone else's shoes, everyone learns and it can help bridge differences and act as an agent of change.
Lastly, during these highly emotional times, what happens if you witness a hate crime or if you are victim of one yourself? New York State has strict laws against hate crimes and discrimination which Gov. Cuomo has stated will be fully enforced. To that end, New York State has established a toll-free hotline at (888) 392-3644 where people can report incidents of bias. If you should experience or witness such behavior on a gig, you should also let Local 802 know at (212) 245-4802. Additionally, the Actors Fund is here to provide support. Call our intake line at (212) 221-7300, ext. 119 or e-mail us as IntakeNY@ActorsFund.org.
Our changing political landscape is challenging us all in new ways and requiring us to examine how we interact. But as musicians, we are natural collaborators,  whether it's collaborating with our bandmates or responding to our audience. We are experienced in the benefits of working together. Our ability to stay truly connected to one another will only enhance us as individuals and make us all stronger.