Happy 90th Birthday to Local 802!
Organizing Matters
Volume 111, No. 7/8
July, 2011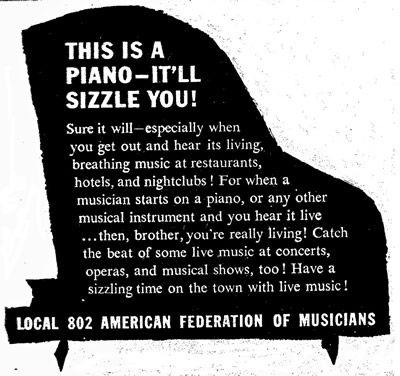 Live music forever! Above, as ad promoting live music from an early issue of Allegro.
When looking at our history, we see that live music campaigns are as old as the union itself
Happy birthday to us! On Aug. 27, Local 802 will turn 90. While other unions have passed away through mergers, their membership absorbed into larger unions with more inclusive-sounding names, the musicians' union continues on, serving the same membership since its inception.
While exploring topics to write about for this July-August double issue, I decided that I would like to look back through the Allegros of the past to see what was happening with organizing and other issues relevant to today's Local 802.
Allegro itself did not begin until April 1947. There was little notification that the newspaper was going to change its name in the months prior to the name change. The change was from the "Official Journal" of Local 802, which had begun in 1925. The Official Journal was exactly that for many years: it printed Trial Board and Executive Board minutes, changes to the constitution and bylaws, election results, terminations of membership and the ubiquitous notification that members should always carry their membership cards and pay their dues or they risked being fined 25 cents!
The Official Journal began morphing into a newspaper in the 1930's with regular reports on work relief (a union program that helped find jobs for musicians), legislation updates and convention reports. There were also articles on WPA opportunities for musicians. Interestingly enough, the union was at first worried about the WPA, because it paid less than scale for musicians. Later, however, we embraced it.
Also, glancing through the many lists of terminated and new members, you would be hard pressed to find the name of a woman among the membership.
You can find a report on the 1935 convention of the AFL, where the Committee of Industrial Organizations, led by John L. Lewis, challenged the supremacy of the craft unions, which founded the AFL. In early 1936, the CIO left the AFL to become the Congress of Industrial Organizations. It was also at this meeting that the president of the Brotherhood of Sleeping Car Porters, A. Philip Randolph, claimed that he was getting the runaround as the convention failed to take up the critical issue of civil rights.
There were numerous articles on the rise and dangers of fascism which continued into the 1940's, only to be replaced by articles about the rise and dangers of communism, which continued into the 1950's.
There were also articles condemning Senator Joseph McCarthy's witch hunting and condemning attacks on labor from conservative politicians.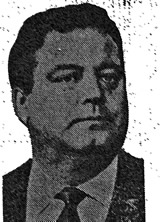 Jackie Gleason lends his face to the union's 1959 campaign for live music. The text read: "Try giving a bang-up party with live music! Hire some musicians, as some pals in, and just wait till those bugles blow! You'll have a party that will fly along with the wonderful beat of live music!"
In 1941, there was a story on Felix Mendelssohn on the anniversary of his birth – Feb. 3, 1809. The cover on every Official Journal of that year, save January, was of a famous composer whose birthday was in that particular month. In April the article on Sergei Rachmaninoff ended with this paragraph:
"This then is the story of a genius of our century, now a citizen of our great country, a resident of our beautiful city and a life-long honorary member of Local 802. May he hold his membership card for many years to come and continue to enrich our musical consciousness."
The articles were scholarly and informative and a celebration of that music that Local 802 continues to celebrate in the 21st century.
The commitment to the protection of live music has been part of the union's fiber since its birth 90 years ago. In 1959, there was a major push for live music that tapped into the celebrity of Jackie Gleason, Judy Holliday and Jimmy Durante.
In February 1959, Local 802 President Al Manuti was interviewed by the New York Post. Allegro reprinted the article, in which Manuti berated those who said that musicians should retrain themselves and learn a new profession in the wake of the introduction of new technologies.
"We're a profession," he declares. "These men are artists. They have thousands of dollars invested in their education. They have to practice all the time. Many of them are in their 50's and 60's. A man doesn't change so easy. And if they all suddenly went looking for new jobs – what then? We'd have no opera, no symphony. We'd be in a hell of a state. "
Like all the former administrations, Local 802 has continued the fight for live music, respect for the American musical traditions, and the rights of all musicians to earn a decent living at the profession they have chosen and which continues to entertain all Americans.
Happy birthday Local 802 – and many, many, many more!
THE ENEMIES OF LABOR
"The enemies of labor have set themselves the task of poisoning the minds of the general public. Through their newspapers they have been carrying on an insidious campaign of slander and misrepresentation. They are preparing the public mind for an acceptance of legislation which, if it is voted by Congress, will throw labor back to the dark days before the New Deal and the Wagner Labor Relations Act."
– Local 802 President Jacob Rosenberg
writing in 1941. These words would become
reality six years later with the passage
of the Taft-Hartley Law
UNION CONSCIOUSNESS IN 1935
"By union consciousness we mean that every member appoints himself a committee of one to fight for maintenance of union standards, scales and conditions; that he attends every meeting of our local and develops pride therein and determines he will do his bit at all times and in all places to further the union's fight for unionization.
"The member who works under the scale, who silently accepts lower standards, hinders our struggles; he is not union conscious. The contractor – and there are many of them-who contracts and employs under scale is the enemy of our organization; he should be and must be exposed; he, too, is not union conscious.
"The union conscious member understands that his fight on the job to protect union standards adds to the strength of his fellow members, which strength is all he has to rely on when his own struggle against his employer becomes critical. That is why he carries a union card."
– From the October 1935 issue of the
Local 802 Official Journal
(the predecessor to Allegro)
Michael Donovan is the director of organizing and supervisor of the union's single engagement department. If you're playing a job where you feel disrespected or know that you aren't being paid fairly, contact Michael at (212) 245-4802, ext. 141 or MFdonovan@Local802afm.org. You can also call the Local 802 hotline anonymously at (212) 245-4802, ext. 260 to report a job or working situation.