Hear My Voice: Peace Through Music in Palestine and Israel
Perspectives
Volume CVII, No. 11
November, 2007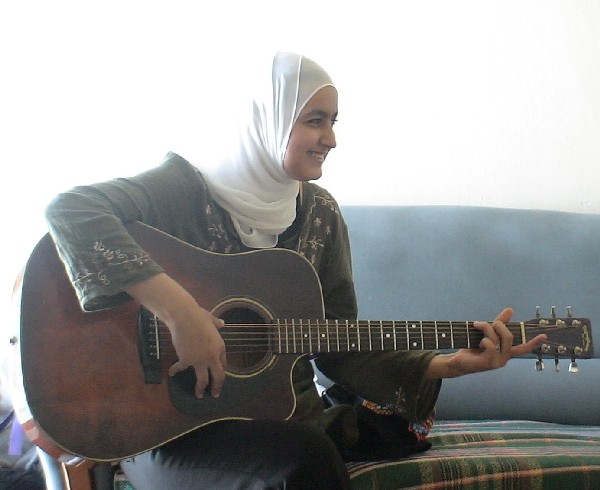 New singer-songwriter Asia works out a tune on the guitar. Asia took part in a workshop to celebrate peace through music. Photo by Sarah Allen.
"How do you say, 'Hear my voice,' in Arabic?" I ask Hannah.
We have just come in from the narrow walkways of Dheisheh Refugee Camp, near Bethlehem, where 12,000 people live on little more than half a square mile.
Houses are stacked on top of each other and, in the midst of intense summer heat, the camp hasn't had running water in two weeks.
A group of little girls that our guide has been talking with in her near-fluent Arabic want to hear a song from the American musicians, so Hannah answers me: "Issma soti."
My partner, Pat Humphries, originally wrote "Refugee" for an organization in Atlanta, and the message of hope and strength is perfect for this moment.
Pat sings lead, and the three women musicians we're traveling with add drumming and harmonies to my repeating phrase, "Issma soti."
It's the first song the five of us perform together, but we'll end up singing "Refugee" many times during our 11 days in Palestine.
As a Jewish person, I was concerned about visiting Palestine, but we are all welcomed warmly and Palestinians speak openly of wanting to live in peace with Israelis.
THE TRIP
We have come to lead a week-long cultural exchange and music camp for girls from more than 20 villages in the rural Salfit region of the West Bank, about an hour north of Dheisheh.
Armed with donated instruments, we begin the first day of camp with name-games, a body percussion routine that becomes an instant favorite of the girls, whose ages range from eight to 18. We also perform our song "Refugee."
We divide the girls into four groups to cycle them through an introductory class from each teacher: drums, guitar, keyboards, and songwriting.
One of our songwriting groups really gets the hang of improvising music and words. They sing in Arabic, of course. A lot rests on the older girls — our translators — many of whom have honed their English by watching TV.
But our last group is three shy girls: Mayisa, Ala'a and Meyada and the translator, Sylvia.
To build confidence — and volume — we improvise a game.
Each of us sings our name so that the person across from her can still hear her, even as we step farther away from each other.
By the end, the girls are proudly — and loudly — singing their names across the room!
REALITY HITS HOME
The occupation is an overwhelming obstacle in all Palestinians lives.
People live in a constant state of fear, humiliation and resentment.
Considered "residents" — not "citizens" — by the military, Palestinians can't hold title to their own homes and constantly live in fear of them being demolished.
Women's and girls' lives are further constrained by strict cultural and religious codes. They must cover themselves in public, they can't speak directly to men, and they can't perform in public.
The girls' camp — where we taught — challenges those codes by creating an opportunity for girls to sing their own stories and have access to instruments that are customarily reserved for boys.
The girls also have to challenge the risks and dangers of traveling on Israeli-only roads and through checkpoints to come from their villages each day.
Asia is Mayisa's sister and we visit their house one afternoon at the end of the village of Mas-ha.
When construction of the wall began to separate Mas-ha from the new settlement — literally next door — their family pleaded with the military not to demolish their home.
Instead, the military built the 30 foot concrete wall in front of their house, with razor-wire topped fencing on the other three sides and a gate they have to pass through each time they leave or enter the house.
Asia was a quick study on the guitar and, when the end of camp came, we all agreed that she and her sister should have the guitar we donated.
Another tool to help their voices be heard.
Sandy O is one-half of the duo "Emma's Revolution." They are members of AFM Local 1000, the traveling musicians' local. For more information about their trip to Israel and Palestine, see www.myspace.com/EmmasRevolutionFans.