Heaven on Earth
Marsha Heydt's New York
Volume CXI, No. 1
January, 2011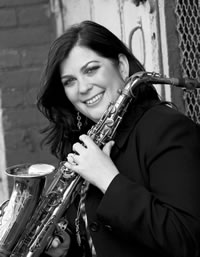 Photo: Jimmy Katz
Marsha Heydt, a member of Local 802 since 2004, grew up on a farm on the outskirts of Allentown, in rural Pennsylvania.
As a youngster, Heydt studied piano, sax, flute, clarient, voice and guitar. Each year she was selected to participate in district and countywide festivals and played with local rock bands in high school. When she saw Phil Woods perform in nearby Reading, Penn., she knew that saxophone was what she would pursue in life.
Her music spans the gamut of Latin, funk, jazz, and rock. She has performed with Grover Washington, Bill Watrous, Bob Mintzer, Randy Brecker, John Stubblefield and with Paul Shaffer in a guest appearance on the David Lettermans show.
In and around New York City, Marsha plays with her own ensemble, performing in both private and public venues. She also performs each month for recovering patients at NYU Hospital's Rusk Institute.
Marsha works as a teaching artist for the Midori & Friends Foundation, where teachers won a Local 802 contract in 2002. (Marsha was on one of the negotiating committees.)
Her latest CD is "One Night" (2007), a mix of originals and standards. She has a busy performance schedule; her next date is at the Garage on Jan. 8 from 6 p.m. to 10 p.m.
For more background and more performance schedules, see www.MarshaHeydt.net.
Jazz rep Todd Bryant Weeks caught up with Marsha recently and was all ears.
Todd Bryant Weeks: I want to start with the story that you told me about your unscheduled appearance on "Late Night with David Letterman" because it's intriguing, and it's also kind of silly.
Marsha Heydt: I was working at Sam Ash Music on West 48th, in the brass and woodwind store. And at that time I had been working there for about three years. And one afternoon these TV cameras appeared out in front. We didn't know exactly what they were doing, but they were walking around, asking people "Could you say hello to David?" And everyone was kind of freaked out. So I asked "David who?" And they held up this black box and said, "David Letterman." And so I said, "Hello, David." I had a sopranino sax in my hand, and I tried to explain that it was the smallest instrument in the saxophone family. And the voice asked me if I played the saxophone, and I said I did. And the box proceeded to ask me if I would like to come on Late Night and play, and I said, "Sure." I'd played in a lot of different settings; I figured I could handle it. Funny thing is, that turned out to be my first union gig.
TBW: As an improvising musician, do you think it's been more difficult for you as a woman than if you were a guy?
Heydt: I have always had to be very up on my game. Sexism is not as bad now as when I started, but it exists. Overall, I've worked with some really great people and I've learned a lot about my craft from both men and women.
TBW: How long have you been a bandleader?
Heydt: For ten years. I'm very serious about what I'm doing with my own music. And my own sound. Nowadays I'm calling the group Marsha Heydt and the Project of Love. Because we collaborate, and everyone contributes.
TBW: I want to know about the name "Project of Love."
Heydt: Well, first of all, my last name is "Heydt" [pronounced "hate"]. And being a teaching artist in New York City, I have to go under "Miss Marsha," instead of "Miss Heydt." Because children tend to pick up on that word.
TBW: Hate is a big word for kids.
Heydt: So that's why it's Marsha Heydt and the Project of Love.
TBW: Tell me about your music background.
Heydt: When I was ten years old, I wanted to play flute or clarinet, but my mother wanted me to play the saxophone. She wanted me to play the "Yakety Sax."
TBW: A la King Curtis?
Heydt: Well, yes. But it was inspired by the British comedian, Benny Hill. His show had a "Yakety Sax" theme to it. I still don't play that tune. I remember my sister having friends over, and I'd be in my room practicing, and they would whisper, "What is she doing in there?" And my sister would say, "I don't know. She sounds like a dying cow." 'Cause I grew up in the country, see?
TBW: You actually know what a dying cow sounds like. You came to New York to be a musician?
Heydt: Yes, I went to the University of the Arts in Philadelphia, and I graduated with a bachelor's degree in performing jazz saxophone. I moved out to California, but I didn't really feel like that's where I wanted to plant myself. And I got in touch with an old college roommate, and I bought a one way ticket, and moved into her apartment up in the Bronx.
TBW: And when was that?
Heydt: That was in 1992. I started calling up all the music stores on 48th Street and asking, "Are you hiring, do you need help?" And I called up Sam Ash and somebody said "Yeah, we're hiring."
TBW: How long did you work there?
Heydt: I worked there for seven years. At the same time I got introduced to the Merengue circuit. I was playing tenor.
TBW: You were playing in restaurants and clubs?
Heydt: They were clubs. And I was usually not understanding anything that was going on, because I didn't speak the language. The only thing I had to know, really, was when to go up and play. And when to stop. I communicated mostly in sign language. Later I got my master's at the Aaron Copeland Music School. I studied arranging with Roland Hanna.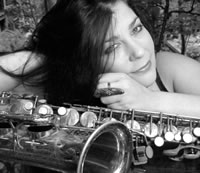 Photo: Evelyn Dunn Steiner
TBW: Tell me about your work with Midori & Friends.
Heydt: I've worked there for seven years. I was on the negotiating committee.
TBW: You've always struck me as someone who is fairly outspoken when it came to getting your rights.
Heydt: Well, quite simply, you have to fight for what you want. As an artist and as a musician, I've found that people will just try and walk all over you; expect you to work practically for free. There is no other industry where somebody comes in and says, "Thanks for your time. Here, you want a cookie? Here you go, see you later."
TBW: Most people in the jazz field are not unionized. Why is union membership important to you?
Heydt: Well, some of the guys in my band are non-union. And I've told them what it is I'm getting from membership. Besides helping with the job security and benefits, there's just the camaraderie there. You can always find someone if you're seeking some type of information. Plus this is a national thing; there are locals in every state. There are some other educational companies that I work for where I have discussed the issue of going union, and I find that musicians are very scared.
TBW: They don't want to lose the gig.
Heydt: But going to staff meetings and hearing some of their issues, I want to say "If we were union, we wouldn't be having these issues."
TBW: What about the music? You're a very lyrical player.
Heydt: I grew up in the 1970's, so I was listening to Grover Washington. And at that time I was studying with John Blake; he's a jazz violinist from Philadelphia. Of course, I still listen to Miles, and Charlie Parker and David Sanborn.
TBW: So are you recording another CD?
Heydt: Getting ready. My goal for 2010 was to write 20 originals. I wrote ten.
TBW: Do you write on the piano or the saxophone?
Heydt: Both. The song "One Night," it's silly to say, but it came to me "one night." I live over in Long Island City, where I can see the Manhattan skyline. I have this Indian flute, and I just go up on the roof and start playing. I'll be up there, feeling the energy of the city, especially at night; the lights, the Empire State Building, the Queensborough Bridge. The number 7 train going by. It's heaven.
TBW: You strike me as somebody who has always been able to put your best foot forward and start again if things don't go your way.
Heydt: If I'm teaching or playing, to me the most important thing is if I can touch one person. That means a whole lot.
TBW: Have you ever had a teaching situation that was really difficult?
Heydt: Working with Midori & Friends, the foundation will sometimes get contracts that are in difficult areas. I taught in a school over in Weeksville, in Brooklyn, which is a very interesting place.
TBW: One of the oldest African American communities on the East Coast, I believe.
Heydt: Underground Railroad stop. Hillary Clinton visited there a couple years ago. That was really something. But a lot of people who live there are Section 8, and the schools are not good. I was teaching 6- and 7-year old children, and they were coming from crack addicted parents. For them, music was one of the only ways they could express themselves. And feel an emotion of love. Instead of just rage and frustration.
TBW: Was that early in your tenure with Midori?
Heydt: It was my first assignment. I was at that school for five years.
TBW: Before I forget, tell me how that Letterman gig went down? Did you end up playing on the show?
Heydt: I did. Once I agreed to go on the show, the camera crew said "OK, you have to come up here right now." So, I grabbed my saxophone and my bag. The next thing I knew, I was running through the streets with this woman who had a stopwatch in her hand. We made it to the Ed Sullivan Theater. So, as I'm panting, trying to get my breath, suddenly she says, "OK, go!" And then a door opened up, and I was running right into the house, which was filled with a live audience.
TBW: Right off the street.
Heydt: National television.
TBW: Had you any idea this would happen?
Heydt: Nope. They had me go right up on stage and Paul Shaffer greeted me and the band said hello.
TBW: What happened next?
Heydt: Paul asked me what would I like to play. And I said "Let's play the blues." He said 'Which blues?" And I said, "Let's do 'Straight No Chaser.'" So, after they did the Top Ten, I soloed on that tune. Throughout the show, David had me doing patter with Paul and the band, they had me playing on the commercial breaks. Then David interviewed me, asking me where I was from and all that.
TBW: So the show was on the air that night. Were you able to watch it?
Heydt: I watched it with my girlfriends and we were like, "Oh, my God." Because when something happens to you so spontaneously – I mean, yikes. And when the broadcast was over, the phone started ringing. My girlfriends called – my dentist called – I even got international long-distance calls from strangers. My mother had already called everybody under the sun, you see.
TBW: I saw it on YouTube and you seemed very calm under fire, a lot of poise.
Heydt: Well, you know, whatever it takes to make the gig.