His Own Sound: Jimmy Owens looks back and looks ahead
Member Spotlight
Volume CVIII, No. 12
December, 2008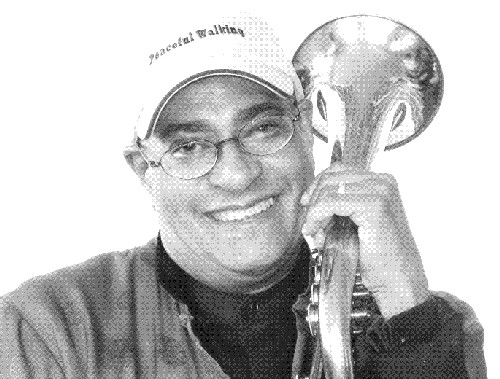 Trumpeter Jimmy Owens has been an 802 member since 1959 and is the Local 802 Jazz Advisory Committee's liaison to the Executive Board. On his website, you can learn about his new CD, "Peaceful Walking," plus see tour information and more.
Jazz is a huge part of the past, present and future of Local 802. Below, Local 802 Jazz Rep Todd Weeks interviews trumpeter Jimmy Owens, who joined Local 802 in 1959 and who turns 65 this month. Owens is a member of the union's Jazz Advisory Committee as well as that committee's liaison to the Executive Board. We are proud to share his history.
Jimmy Owens reaches up to one of the many shelves of records that line the walls of his downtown apartment and pulls out a disc. There's something different about the record: it has a brilliantly colored image of several jazz musicians holding their instruments, poised to play. The musicians are white. Down on the right hand side is a small image of a black man in a suit and tie holding a trumpet. "This was my favorite," remembers Owens. "It's Charlie Shavers. My father would say to me, 'Jimmy go get your favorite record and play it.' And he would pick me up and dance with me. I was all of three or four years old. We had a huge mirror in the living room and I'd love to see him dance with me."
There was other music in the house as well, and Owens realizes now that "all of these records had featured trumpet solos and my father was programming me unconsciously to be a trumpeter."
Owens was born in Morrisania Hospital in the Bronx and is a product of the New York Public School System: "I started to play at the age of 10," Owens remembers. "I actually started to play trumpet a little before that, but I didn't have a trumpet — I had a bugle. It was given to me and that was what had started me wanting to play — that and hearing Louis Armstrong."
By 1958 when he was in his mid-teens, Owens had already decided to be a professional musician and had begun study with trumpeter Donald Byrd. He had also met Dizzy Gillespie and Miles Davis.
"My father took me to Small's Paradise and I had heard all of these stories about Miles being such a nasty person," he recalls, "and they were on a break and I went and looked at his horn. I kept my hands behind my back. I had never seen a blue trumpet. I was looking at it and all of a sudden I felt somebody sit down at the piano next to me and start playing some chords. I looked up. It was Miles. He said to me in that voice [whispering a la Davis]: 'You play trumpet, kid?' And I said 'Yeah.' And he grabbed his horn and gave it to me and said 'Play me a tune.' So I played "Walkin'." And he was impressed. And the band was coming back on and the last person was Bill Evans and he said to Evans "Heh, Bill — you hear this kid play?' Evans said 'No.' So Miles said 'Go ahead play it again.' And I played "Walkin'" and the band joined me — Cannonball Adderley and Coltrane were there. And after that we played "Bags Groove."
Owens's first regular engagement was with the Newport Youth Band which was a union gig: "[Leader] Marshal Brown made us all join the musicians' union. And I had to go down and audition. And the guy that interviewed me was named Tino Brazzi. 'Do you know this scale? Do you know that chord?' he asked me. And I said 'Yes, yes, yes.' And he said 'O.K. You're good enough to be in the union.' I didn't even have to take out my horn! But that's how I got in.
It was important for me because Marshall Brown emphasized that this was what it took to be a professional."
Over the years Owens has worked with some of the greatest names in jazz — Lionel Hampton, Charles Mingus, Thad Jones and Mel Lewis, Duke Ellington and Count Basie. He has also been a leader in the field of jazz education and union advocacy — of which he is very proud. Jazzmobile and the New School are just two of the places he has hung his teaching hat.
Owens became the jazz liaison to the Local 802 Executive Board in the early 1990's. "I've always felt strongly about the concept of solidarity — and the lack of it in the jazz community," he says. "Right now we're trying to get pension in the jazz clubs. It's a completely reachable goal but in order for it to happen we have to have solidarity in the community — and that comes with education. I think what has to happen is that the whole concept of solidarity has to be infused into one's life being. Solidarity. It's a word and a concept that's used in unionism that has completely different implications when you look at the history of jazz. We didn't want to be together as individual musicians. It was one thing to be in a band…we played together in the band, but everywhere else you wanted to stand out from your bandmates. We couldn't sound like one another. Individuality of sound. Individuality of perspective. These were important and they still are. This is why Ellington's band of the 1940's sounded the way it did because they were all individual voices that added to the way the band sounded as a whole."
"I think that jazz musicians today have to look at the concept of solidarity and re-approach their attitude towards trade unionism," Owens adds. "We built the record industry but it's the producers that have reaped the benefits — they have all the money. We have to find ways to bring people together. It's already a part of the music. When we look at the history of African American music and the African retentions that were left when people were brought here to the Americas we experience that element of participation: collective participation. If we can harness that we can really change things for the better."
Todd Weeks can be reached at Tweeks@Local802afm.org or (212) 245-4802, ext. 185.