Holding Hands with the Next Generation
Labor History Month
Volume CIX, No. 5
May, 2009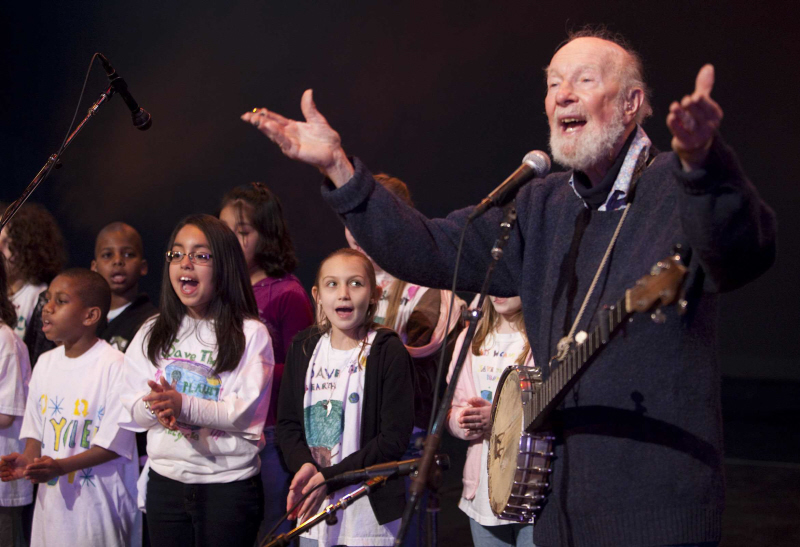 Pete Seeger at 90 is still inspiring others. Photo courtesy Clearwater.
The lifelong labor and music activist Pete Seeger turns 90 on May 3 and a star-studded group of his friends and fellow musicians will celebrate with him at Madison Square Garden that day. As the troubadour of the labor movement, Pete needs no introduction; we've covered his musical history many times before in Allegro. Now, Thomas Staudter writes below about Pete's very latest work with children. Staudter is communications director at Clearwater, which is the Hudson Valley's flagship environmental organization. Clearwater also operates a large sailboat — a sloop — which Pete helped build decades ago.
Long-time fans and followers of folk music legend Pete Seeger know that he still possesses great energy and industry, even as he turns 90.
His abiding mission as both a musical artist and activist has been to inspire others with song to make a difference in the world, and this was evident this spring at the "Spring Splash," an annual fundraising concert for Hudson River Sloop Clearwater, the environmental organization Seeger helped found over 40 years ago.
The headliner was Jeff Tweedy, front man and chief songwriter of Wilco, the critically acclaimed rock band that works in a variety of Americana musical spectrums. Much of the buzz about the concert revolved around Tweedy, who was set to play a rare acoustic solo show, and tickets sold out quickly.
Opening the show, however, was Seeger and a handful of other musicians leading a chorus of two dozen Beacon fourth graders known as The Kids From Room 12 in a program of songs about protecting the environment and civil rights.
The annals of show business abound with stories of performers being upstaged by cute children, and to some extent this was true here.
Making this group of kids even more remarkable was they were well rehearsed and already used to the footlights.
Seeger and Dan Einbender, one of Clearwater's education directors, have been working with the youngsters since the beginning of the school year in a special "Power of Song" curriculum, and together they have already performed in public several times.
The Beacon school kids, all of them from the J.V. Forrestal Elementary School and under the supervision of teacher Tery Udell, hit the stage wearing homemade T-shirts emblazoned with environmental slogans like "Recycle" and "Save the Earth."
The enthusiasm displayed by the kids, and the brio of their singing, had Pete smiling throughout. Nothing makes Seeger happier than being part of yet another "youth movement."
Seeger has always found work with kids, even during the time he was blackballed in the entertainment business because of his political views and refusal to sing Joe McCarthy's tune.
Earlier this year, Clearwater launched its "Next Generation Legacy Project," an ambitious environmental education initiative that will create new green leaders in the Hudson Valley. Pete wants Clearwater to keep reaching out to kids, especially from the inner cities, and teach them about the river and how to achieve the sustainable future this planet so desperately needs.
Nearly half a million school children and countless adults have sailed on the Clearwater sloop in the 40 years since its launch. Seeger started performing and raising money at outdoor concerts and potluck dinners in 1966 with a vision that a replica of the majestic 18th- and 19th-century sloops that once traveled up and down the Hudson would inspire people to work together and clean up the river. Ask around the EPA, DEC and other environmental organizations how folks at these places first thought to be interested in wanting to "save the earth," and before long someone will tell you about a youthful voyage on the Clearwater and a sing-a-long led by Pete.
In song and deeds, Pete Seeger continues to inspire people of all ages to make a difference. In many ways, he's the original "Yes, we can" man. Seeger once said, "The question is not whether music is any good but rather what is music good for." On Father's Day weekend you can see Pete in various inspirational guises, including a reprise with the Beacon kids, at Clearwater's Great Hudson River Revival environmental and music festival at Croton Point Park.
At the end of the "Spring Splash" concert Seeger and his grandson Tao Rodriguez-Seeger joined Tweedy on stage for a special encore, performing rousing renditions of "Midnight Special" and "Jacob's Ladder." Tweedy mostly looked on in utter amazement as Seeger belted out the tunes and gave his banjo a workout. As usual with Pete, a sing-a-long ensued. No pedestal for Pete: he'd rather be a part of the group than its shining star.
For more information about Clearwater, visit www.clearwater.org.