How do the new Local 802 health plan changes affect you?
Volume 114, No. 10
October, 2014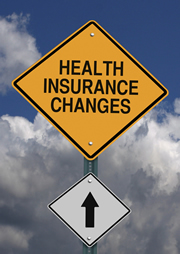 Change is here. As of Oct. 1, the modifications to the Local 802 Health Fund went into effect. In this article, we'd like to review some of the changes, answer some questions, and announce some news.
First of all, here's a quick overview of our health plans for new musicians who may have just joined the union. Our health plans are not private plans that you buy into with your own money. Instead, when you play union jobs like Broadway or freelance classical engagements, your employer pays money on your behalf into the fund. Every six months, the fund evaluates how much money you have in your account and that triggers what kind of health coverage you earn, if any. The full details can be found at www.Local802afm.org/health-benefits. Also on that site is an explanation of the new changes to the fund described in this article.
By now, fund participants should have received the notice about the new Plan B dental and vision networks. You qualify for Plan B when employers contribute $500 or more on your behalf in a six-month period. You also drop to Plan B if you qualify for Plan A or A+ and either choose not to or fail to pay the participant premium ($300 per quarter for individual and $1,200 per quarter for family). Enrollment in Plan B is automatic, but if you want dependent coverage for the dental and vision plan you should enroll them as soon as possible after Oct. 1. The dental and vision benefits are free to Plan B folks but if you are on Plan A or A+ you can buy them. The premiums for these benefits if you are on Plan A or A+ are $42 per month for an individual and $116 per month for a family. If you decide to do this you should enroll yourself and dependents as soon as possible after Oct. 1. If you enroll late, you will still be required to pay the full premium retroactive to Oct. 1.
If you are on Plan B and have no other coverage, bear in mind that Plan B is not considered actual health insurance and you may be subject to the "individual mandate" under the Affordable Care Act (Obamacare). If you did not qualify for Plan A or A+ you may be (depending on your income) eligible for a federal premium subsidy for health insurance bought on the exchange system or marketplace. If you did qualify for Plan A or A+ but declined coverage (by not paying the participant premium), you will likely be barred from the subsidy because you had an offer of "minimum value" insurance. The only exception to this is if the premium for self-only Plan A/A+ ($300 per quarter) is greater than 9.5 percent of your household income.
Let's pause for one second and acknowledge that the new health care law in this country may take some getting used to. You may need help buying health care on the exchange system (now called the Marketplace) as described above. We've published a number of articles in Allegro to help you. (Use this site's search feature with the words like "Marketplace" or "Obamacare.") That will get you started. You can also start at fededral government's master web site, www.HealthCare.gov.
The dental and eye benefits through Local 802 are both PPOs. This means you will be covered in and out of network, but the coverage is less costly to you if you stay in network. The dental plan covers the same percentage in or out of network, but because non-network dentists did not sign onto the network rates, they may "balance bill" you for the amount not covered by our provider, Delta Dental. Also, the Delta network will likely pay you directly the same percentage if you see a non-network dentist and it will be your responsibility to pay the dentist yourself. There is also a $1,500 maximum per person per year and a $1,500 lifetime orthodontic maximum. The eye coverage through EyeMed has co-pays of $10 to $20 in network and pays up to a certain amount to non-network providers. Again, non-network providers might "balance bill" you.
Since the special membership meeting on April 16 when the changes to the plan were announced and discussed, Segal Company, the plan's actuary, did a study on the cost of the Empire HMO. It found that the Local 802 plan is taking large losses on the HMO. Because of that, the trustees voted in their July meeting to discontinue new enrollment in the HMO. Folks who are already enrolled are grandfathered in, but new enrollees will not be permitted. Questions were asked at the meeting about the cost to participants of the HMO and whether or not they would have to pay the Plan A/A+ participant premiums in addition to the buy-up cost of the HMO. The trustees decided that the participants would indeed have to shoulder both costs. If you're on Plan A+, the cost will be $60 per month for an individual plus the participant premium of $300 per quarter. The cost to a family will be $220 per month plus the participant premium of $1,200 per quarter. If you're on Plan A, the cost will be $225 per month for an individual plus the participant premium of $300 per quarter. The cost to a family will be $450 per month plus the participant premium of $1,200 per quarter. Again, these costs were imposed because the financial burden of the HMO to the fund is growing too fast.
There were other questions asked at the meeting and we are now able to answer some of them. There was a question about the possibility of three-tier coverage (family/couple/single) instead of the two-tier system (family/single) we have now. According to Segal, neither the participants nor the plan would save enough money to make it worth making all of the administrative changes. It would inflict a potentially painful cost to families without a real payoff for couples.
There were questions about coordinating benefits if two spouses or domestic partners in a family qualify for Plan A or A+. If both spouses or domestic partners pay the family participant premium ($1,200 a month times two), they will be able to coordinate their benefits, meaning they will be eligible for extra coverage. They cannot have this while only paying for only one family plan. There are two reasons for this: the administrative nightmare this would create for the fund office and the actuarial projections for the fund, which predict that it will barely break even with the changes that have already been made. Allowing coordination of benefits without double participant premiums would place too great a financial burden on the plan.
There were questions about banking your benefits. Right now the "bank" runs for two six-month periods. There are no plans to change that right now because the trustees need to see how the plan performs economically with the changes that have already been made. Adding another change that affects the bottom line complicates this too much right now.
One more question had to do with allowing members to access employer contributions to buy coverage on the exchanges/Marketplace or elsewhere. The fund is legally barred from this practice by the Affordable Care Act. Lawmakers' reasoning likely had to do with discouraging employers from dumping their employees onto the state exchanges.
There was also a question about COBRA coverage. COBRA is the federal law that allows a beneficiary to pay 102 percent of the premium for employer-sponsored group coverage for 18 months in the event the coverage is lost because of loss of employment. It will be interesting to see if there is usage of COBRA in the new world of state marketplaces and guaranteed coverage. In any event, if there is a loss of coverage because of a loss of employment, divorce or death, the individual is entitled to a special enrollment period on the state marketplace and does not have to wait until the yearly enrollment period. One caveat: if a member enrolls in COBRA, he or she may not purchase a policy on the marketplace until the open enrollment period begins each year. In other words, taking COBRA negates the "qualifying event" status of the loss of qualification for Plan A or A+.
A much more detailed description of the plans including the benefits and requirements can be found at www.Local802afm.org/health-benefits.
The changes we made are probably the most sweeping ever in the history of our health plan. There are many moving parts and issues may arise that were not thought of. The fund office and the trustees will have their hands full trying to keep up with the results of all the changes. If there are further questions, please feel free to e-mail me or call the fund office.
Martha Hyde is a multi-woodwind player who performs on Broadway. A member of Local 802, she is also a trustee on the Local 802 Health Benefits Fund. Contact her at EarMar4@verizon.net.