HOW THE LAW PROTECTS MUSICIANS PRACTICING AT HOME
Legal corner
Volume 120, No. 6
June, 2020

The quarantine has compelled musicians to practice in their homes more than ever before. Unfortunately, this extra practice time may come with a price. Case in point: an article in the Wall Street Journal on May 5, 2020 was headlined, "Can You Mute That Tuba? Lockdown Forces Musicians to Practice Quietly." Writer Angus Loten found that a host of noise complaints have recently been lodged against New York City musicians who are practicing in their own apartments. While the influx of complaints is understandable, the fact still remains that in New York State, professional musicians have the right to practice in their apartments during reasonable times. It has been noted in judicial decisions that hearing people practice music is simply one of the many inconveniences people living in populous areas must tolerate.
Ample case law exists on this point. Here's a brief sampling of some of the decisions on this topic that remain valid.
One New York court found that an hour of drum playing daily is O.K. Douglas Elliman & Co. v. Karlsen, 59 Misc.2d 243, 298 N.Y.S.2d 594 (Civ.Ct.N.Y.Co. 1969).
Another court found that six hours of guitar playing per day is permissible. Florence Realty Corp. v. Shakespeare, N.Y.L.J., 8/12/77, p.12.col.3 (Civ. Ct. N.Y. Co.).
In another case, the efforts of a co-op board to restrict the playing of musical instruments to 1.5 hours per day per person and prohibiting any playing after 8 p.m. were deemed impermissible. The court found that such a restriction was arbitrary and unreasonable. Justice Court Mutual Housing Cooperative, Inc. v. Sandow, 50 Misc.2d 541.270 N.Y.S.2d 829 (Sup.Ct.Qns.Co. 1966).
(The ruling above took place in a co-op setting, but if a similar restriction were written into a general residential lease, it would be deemed unreasonable by a New York court.)
More recently, disturbed neighbors have attempted to prosecute noise offenders in the criminal forum, also without success. In one case, neighbors in a residential area brought a case for criminal harassment against a defendant because of his daily drum playing. The court, which sided with the drumer, stated that the "development and practice of one's musical talents is just as much a pursuit of a legitimate business or livelihood as the operation of a factory or auto repair shop which also necessarily involves the emanation of sounds or noises." People v. Cifarelli, 115 Misc.2d 587, 588, 454 N.Y.S.2d 525 (Crim.Ct. Queens Co. 1982). This same court held that the proof was insufficient to prove the criminal charge, and that defendant's conduct was not a subject for criminal prosecution, citing People v. Markovitz, 102 Misc.2d 575, 423 N.Y.S.2d 996 (Crim. Ct. N.Y. Co. 1979). The court also observed that the defendant's conduct was also insufficient to support a claim for private nuisance since "musical instrument practice" is one of the "certain inconveniences which people living in populous areas must tolerate."
In another decision, the court held that a pianist's daily practice did not create a nuisance. The pianist in question had an international reputation. Furthermore, the residential lease contained a provision that permitted piano playing during reasonable hours. Twin Elm Management Corp. v. Banks, 181 Misc. 96 (Municipal Court of the City of New York, 1943). The plaintiff could not ultimately prove a violation of that clause.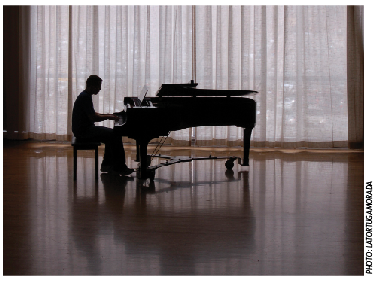 In my December 2015 column, I outlined the details of a nuisance suit that a condo owner had lodged against two young piano students enrolled at Mannes. The suit, premised upon the defendants' alleged violation of the New York City noise code, sought money damages and a permanent injunction barring the children from practicing in their apartment. An injunction is an extraordinary remedy to ask for. It is used when monetary damages are insufficient to compensate or abate a claimed loss.
In order to prove the existence of a common law nuisance, a litigant must adequately demonstrate that the noise disturbance unreasonably, intentionally and substantially interferes with the person's right to enjoy and use the land in question. The plaintiff was required to demonstrate to the court that he had no adequate remedy other than an injunction. He also had to show that the "balance of equities" (fairness) tipped in his favor. Finally, an injunction is only granted if the plaintiffs can demonstrate that they have a likelihood of prevailing in their suit. Fortunately, the court sided with the music students. On Sept. 20, 2016, New York Supreme Court Justice Gerald Lebovits, who is also a rock drummer, issued a decision in which he denied the plaintiff's request for a permanent injunction. Ezrapour v. Schaffer, Index No. 15157/15, Supreme Court, New York County. First, Justice Lebovits held that there was absolutely no proof submitted by the plaintiff that he would be "irreparablely harmed" if the children continued to play. While the plaintiff contended that he would become "mentally and physically ill" if the court denied his motion, no specific evidence supported that contention. His failure to demonstrate that money damages could not adequately compensate him if his claims were sustained also prompted the denial of the injunction.
The court also found grounds to deny the motion on the basis that the equities of the case were decidedly balanced in the defendants' favor. The court noted that in order for the children to remain in the Mannes program, they were required to practice at least two hours a day. If they were barred from practicing, it would severely hamper their chances of becoming professional musicians. Clearly, the children would suffer greater harm if the permanent injunction were granted than plaintiff if it were not granted.
The court also addressed the merits of plaintiff's nuisance case. First, the plaintiff had submitted no evidence that the children were not complying with the condo rules with respect to practice of musical instruments. They clearly practiced within the time frames established by those rules. Furthermore, the acoustical report presented by the plaintiff did not demonstrate that defendants had violated the noise code when they practiced. Significant in that regard was the fact that no noise complaint or code violation was lodged with the city. Finally, the court relied upon the fact that the defendants had taken measures to dampen the noise levels in their apartment and had followed the requirements suggested by their own acoustical experts. For these reasons the court concluded that the plaintiff had not sufficiently established a private nuisance claim.
In New York, noise code violations are extremely difficult to prove with respect to acoustic instrument practice. A sustained violation must be documented proving that sound is more than 10 decibels above the ambient noise level of the surrounding environment. For reference, midtown traffic registers at about 80 decibels, while a lawnmower at 10 feet registers at about 90. Comparing the two, that is approximately how much louder than the surrounding environment your practicing would need to be to be in violation of Section 24-203(34) of the NYC Noise Code (Local Law No. 113). That law also provides that music is not considered an "impulsive" or instantaneous sound, like a jackhammer. Section 24-218 of that same law states that a violation occurs if sound (other than impulsive sound) is 10 decibels or more above the ambient noise level during the hours between 7 a.m. and 10 p.m.
During the quarantine, musicians should take comfort in knowing that the law is on their side and that if they make efforts to comply with the noise code, they will defeat a complaint lodged against them with the city or their landlord. Local 802 is here to help you navigate these issues and others during these tempestuous times. Contact me at HsmLaborLaw@HarveyMarsAttorney.com.