A tribute to Howard "Tex" Rittner
Volume 122, No. 9
October, 2022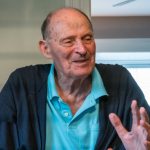 Howard George "Tex" Rittner died on August 29, 2022 in Delray Beach, Florida at the age of 89. He had been a member of Local 802 since 1950.
Howard was born in the Bronx in 1933 and raised on City Island, a childhood he described as idyllic. He learned to play the clarinet as a youth and began a lifelong passion for music that turned into a career spanning decades. Howard attended Juilliard, where he also learned flute and saxophone, until his lessons were cut short by oral surgery. He paused his musical education and enlisted in the Army, where he gradually healed from his surgery and became the leader of his own orchestra. It was in the Army that he acquired the nickname "Tex" (after Tex Rittner, the singer and Western movie actor). Following his service, Tex resumed his studies and graduated from the Manhattan School of Music. He played on Broadway and in many productions throughout the Northeast. One of his most memorable jobs was performing in a Broadway review starring Mike Nichols and Elaine May from 1960 to 1961.
Seeking more stability, Tex took a job with NYC Health + Hospitals, where he was loved by his co-workers and promoted to supervisor of patient accounts, while still working as a musician on the side. He retired in 1989 and moved to Delray Beach, Florida. There, Tex kept up his music but was also known as an accomplished tennis enthusiast, earning trophies and playing daily until well into his 80s. He enjoyed baseball, poker, jai alai and word games. Tex loved and maintained a vast network of friends ranging from his youth on City Island, through his Army and college years, from his day job and the music business in New York, to his tennis buddies and music colleagues in Florida.
Howard will be greatly missed for his humor, talent, generosity and enormous heart. He will be fondly remembered by his favorite line: "That's showbiz!"
He is survived by his daughter Lori Rittner, of Andover, Mass.; his stepchildren Larry Howard of Boynton Beach, Florida and Leslie Howard of Las Vegas; and his grandchildren Len Tetta of Boston and Laura Howard of Maine. He was married to Sandra (Sugarman) and Roslyn (Howard) and was the partner of Marilyn Kozin.
Obituary submitted by Lori Rittner